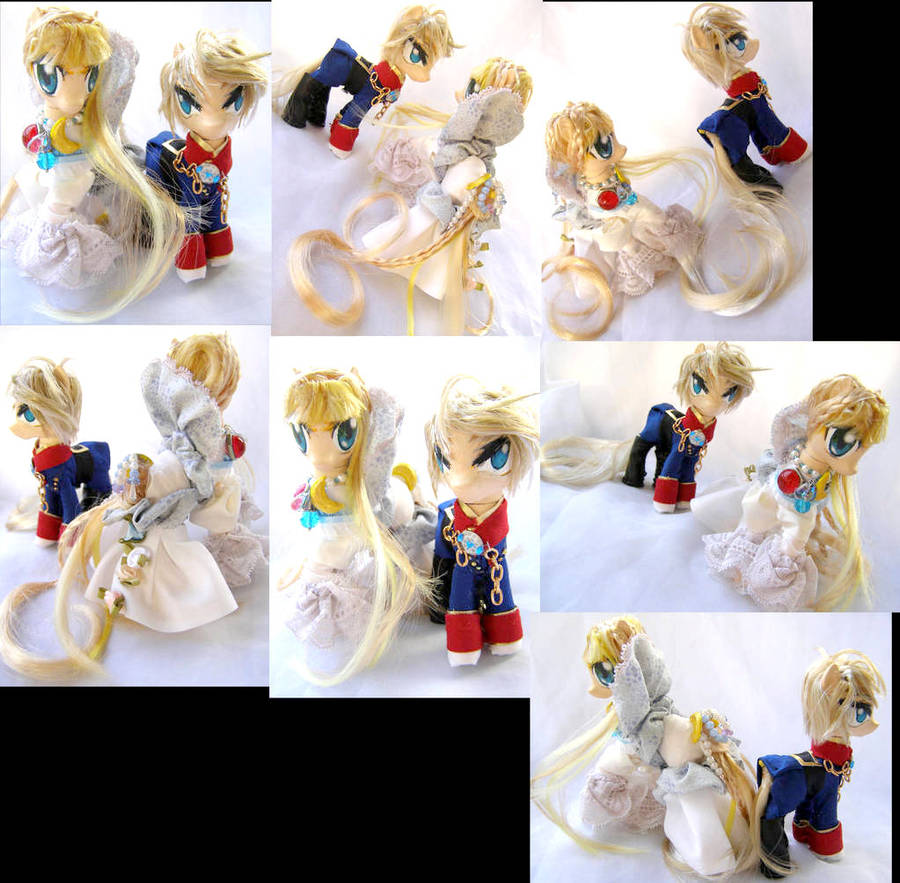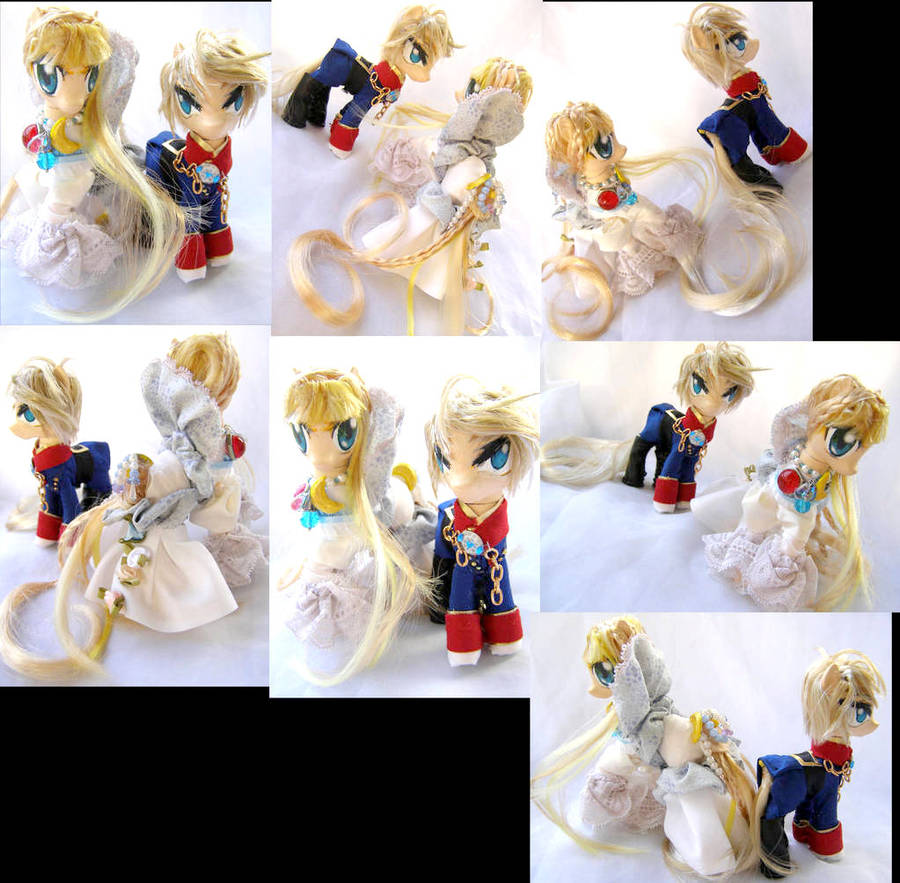 Watch
Aldnoah.Zero Princess Asseylum Vers Allusia and Slaine Troyard
~~~FOR SALE: $95.00 (2 piece set)~~~
Message me if interested
2-3 partial payments accepted
No trades or hold amounts under $45
Watched the anime on Netflix in January and have been moved by it ever since. Slaine and Princess Asseylum were my favorite characters from the anime so I decided to make a set of just them. Without exposing too many spoilers, I'm quite angry at the writers for the direction they put Slaine in, the later seasons. So I still like him anyways.
Pony bases are generation 4.5 princess poses, princess Asseylum's was a larger Celestia base (she needed it for all her ruffley froof) and Slaine is a smaller Princess Luna base, I like the uniform standing straight pose for him, it seemed most suitable.
Bases coated in white gesso primer, full body repaints in sunkissed peach acrylics.
Reshaped the eyes so the fit the characters better, painted in acrylics also. All paint work sealed in Artists Varnish.
Manes and tails are rooted in nylon mlp dollyhair in the colors:
Slaine- Sunlight, Moonlight, Blonde 4 and Honeysuckle.
Princess Asseylum- Butterscotch, Buttercreme, Lemonade, Golden Delicious and braided hair extensions from Claire's Boutiques. Both manes permanently and elaborately styled in hair gel method.
Outfits are hand-stitched/crafted. Slaine's suit is a sleek fabric with faux black vinyl boots with real boot leather soles, red wide bias tape used for his cuffs and collar but with gold vinyl hemming. Black ribbon belt with a gold vinyl buckle, the princess's medallion adorning his collar which is a painted silver rhinestone with blue rhinestones on it and gold chain on each side. White bias tape gloves underneath the sleeves.
Princess Asseylum's dress is wide white bias tape pleated for the ruffled train, bias tape for the sleeves and across the chest. Used a sheer white fabric material for the bodice and puffed upper sleeves. Layered lace on bottom sleeve cuffs, A powder blue starry fabric used to detail ruffled parts and the raised collar behind her head.
Blue ribbon detail stitched to adorn the front chest.
Added strings of beads for her necklace and on her tail, the moon accessories are painted rhinestones and the round red detail is a magenta plastic stone with the flat back painted and glued to a cog.
Fabric roses adorn the train.
#anime #aldnoahzero #martianPrincess #Earth #PrincessAsseylumVersAllusia#SlaineTroyard #celestial #celestia #moon #mylittlepony #mlp #mlpcustom#custompony #textiles #handStitching #handpainted #artisanCraft #syntheticHair#pearls #floral #generation4 #g4 #FriendshipIsAldoah #MartiansAreMagic #mlpfim#mlpfandom #AldnoahZeroFandom #animeFandom