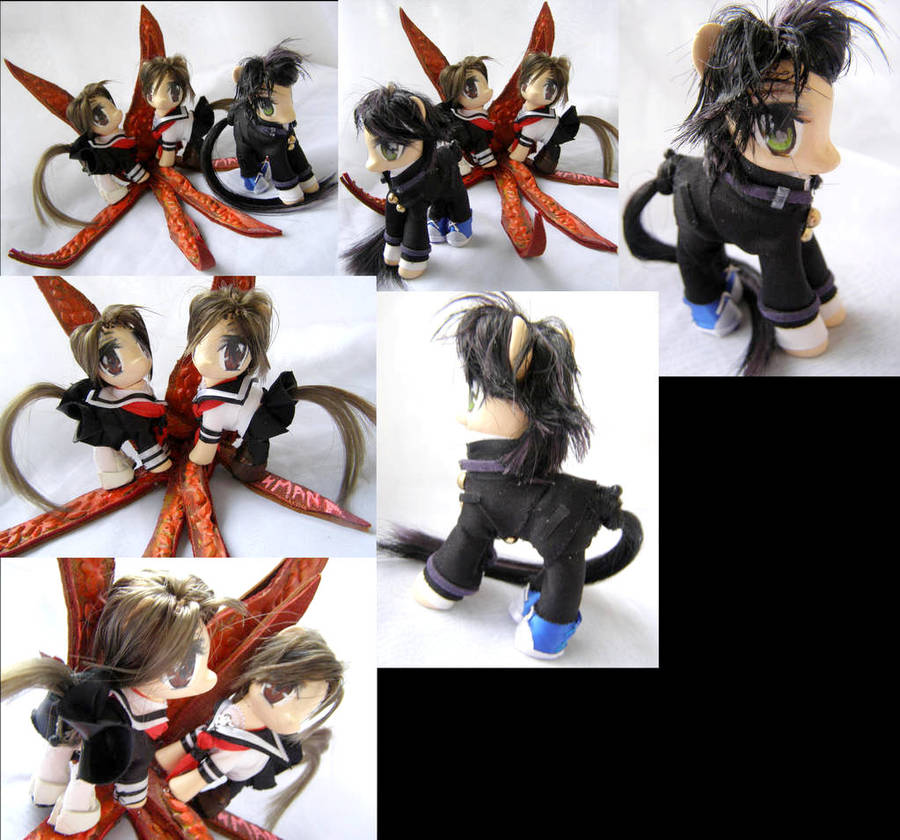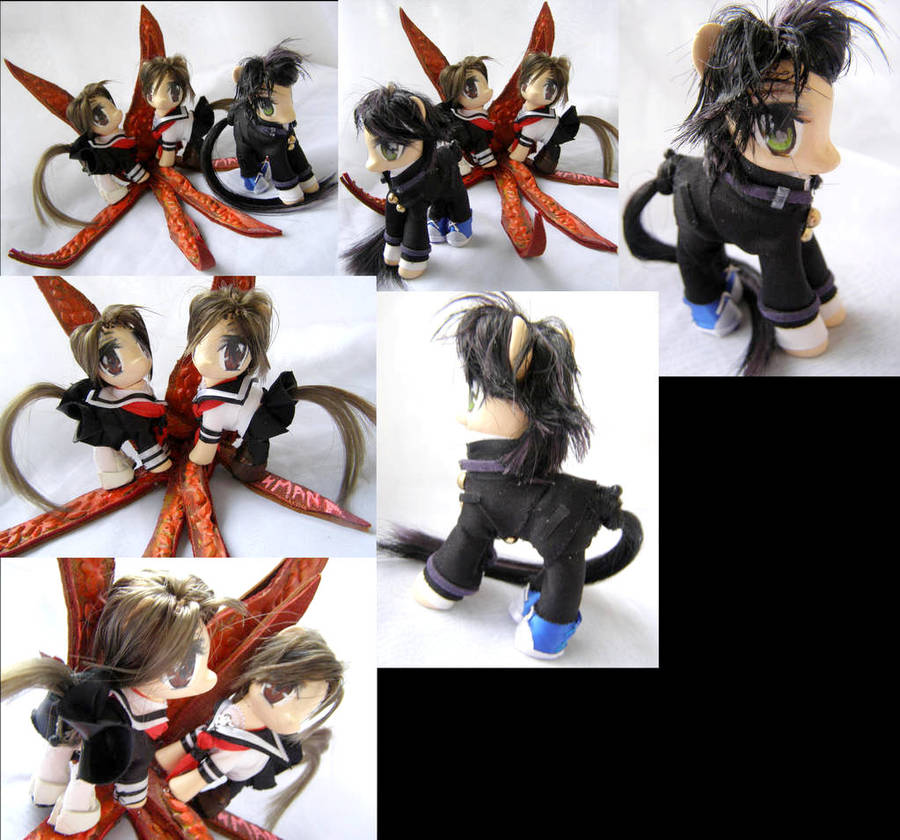 A.I.C.O. Incarnation custom figure set
~~~FOR SALE; $110.00~~~
Message me if interested
2-3 partial payments accepted
No trades or holds accepted (unless hold amount is amount of partial payment)
A.I.C.O. Incarnation is a anime on Netflix and I felt inspired to craft a set of customs.
The girl in the full black school uniform is the real Aiko, and the girl in the white school girl outfit is the fake A.I.C.O. created by the professor dude in the black suit named Yuya Kanzaki.
I decided to craft the girls on a base of red "matter" that was caused by the incarnation of the fake A.I.C.O.
The matter tentacles are crafted from a layer of brown boot leather on the backs, sandwiched with thick red dyed leather. Glued rhinestones for the texture then painted over them. Punched holes with leather puncher then wired the tentacles together with thick black wire.
AICOs' pony bases are 2 generation 4.5 Pinkie Pies that are the same. Coated both with white gesso, then hand painted full body repaints and painted their eyes in acrylics. The professor's pony base is a generation 4 princess Cadence. Wings and horn severed off and figure coated in white gesso, acrylic full body repaint and eye paint job, paint work on all 3 figures sealed in Artists Varnish.
Manes and tails are rooted in nylon mlp dollyhair.
Professor Yuya's hair colors are black magick and hematite.
Both Aicos' manes and tails are rooted in colors custom blended hazelnut & dark chocolate, and RetrodollUS's burnished brown.
All 3 manes are permanently styled in hair gel method.
Both school girl outfits- wide bias tape stockings on hind legs, thick real leather shoes crafted, faux black vinyl pleated skirts, wide white bias tape used for the white shirt, wide black ribbon used on the black longsleeved top, ribbon details on sleeves and fukus. Red bias tape red scarves, lace on front chests with silver sequins in middle.
Yuya's suit- hand stitched inverted faux black vinyl in 6 pieces, wide blue ribbon used for his blue sneakers with white hemp cord laces, white bias tape on front and ribbon lining the soles and leather soles.
Wide white bias tape used on under layer of sleeves and neck, navy blue strips of leather detail cuffs and neck. Rhinestone button details to finish.
#anime
#aicoIncarnation
#animefandom
#mlpfandom
#mylittleponyfriendshipismagic
#MatterIsMagic
#FriendShipIsINCARNATE
#mlpfim
#mlpcustom
#custompony
#handcraft
#artisancraft
#handpainted
#textiles
#synthetichair
#tentacles
#professor
#YuyaKanzaki
#generation4
#g4
#schoolgirlUniform