Thanks to

for the icon.
*Outdated*
Hi, as you can tell I'm not really an artist.
I do however, have a lot of ideas, ones that I would like to share.
I mainly got on because

, who I had watched for a long time here on deviantart.
I like nature a lot, and science, so when I go to college, I plan on studying the perfect fusion of nature and science, which is biology, the study of living things.
Lukas is why I got on deviantart. I love his stories. Also, just like Lukas, I am also my OC.
Girlfriend: None
Sisters:



Brother:

Friends:



*outdated*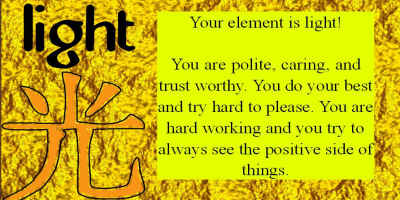 What Element Fits You Best?
Hosted By theOtaku.com:
Anime
Get a FREE visitor map for your site!