2K Favourites
284 Comments
9K Views
Happy upcoming Pride Month!
I was a part of this year's LGBT+ celebration on the site! I feel so honored and happy!

30 Days of Pride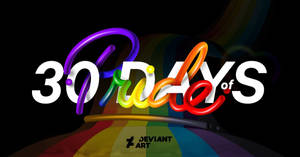 DeviantArt is brighter and more diverse thanks to the many LGBTQ+ members that contribute to our vibrant community. Celebrate #30DaysOfPride with our Eclipse-friendly cover images and avatars, then join the conversation to get the #Pride2019 Profile badge!

Join DeviantArt in celebrating Pride Month! Eight artists have created Eclipse-friendly Pride-themed cover images and avatars, and we'll be featuring 30 LGBTQ+ artists throughout the month.
Around the globe, June is celebrated as LGBTQ+ Pride Month, with an outpouring of love, self-expression, confidence, and solidarity. Along with the many talented artists who call DeviantArt their home, we are proud to put forward our own celebration of the LGBTQ+ community for Pride!
Pride Month is a time t
My picked color was blue, which represents peace and harmony.

I did two sketches, but was given freedom to pick and went with this one, featuring the boys in AU fantasy setting.
The premise is that two lovers fight in war on the opposite sides until eventually deciding to quit the fight, uniting under the same colors. To signify their decision, they break their swords, choosing peace in each other's arms instead.~ This may be a bit literal definition of "peace", but I love it nevertheless and find the two overall being here in the moment of harmony.

IMAGE DETAILS
Image size
4800x2400px 15.08 MB