UPDATED December the 10th of 2018


IMPORTANT:
If you live within the European Union, I must add an extra (VAT) 21% to the price by law. Sorry.

These basic prices are for personal use. If the piece will be used for commercial purposes (a book cover, merchandising etc), please let me know.

You can also contact me at:
LiberLibelula@hotmail.com




HOW TO ORDER?


Send me a
note
(or contact me via email) and tell me what's your order. If you can, give me some image references. Tell me about the character's personality and story!

I'm
flexible
with prices, themes and poses. If you can't afford something, we'll find a more
economical
way by changing the background or the coloring technique, so don't worry and ask for anything you need.

After agreeing and accepting the order, send me the payment to my
PayPal
gmail, and I will start doing your comission. I'll show you the uncolored sketch, so you can point any mistakes or needed changes. When everything's allright, I'll go on and send you
updates
, so you know I haven't been abducted by aliens, until I finish it. Just be sure of all the big fixes needed before I start the hard work and color; otherwise I'll have to charge you some extra.

No big waiting! No angst! I'm fast! (Or so it's said) I´ll try to finish your commission
as soon as possible
. The time needed depends a lot on how complex is the picture and how busy I am at that moment, but I don't need more than a month to finish a big commission.

I will post the final work in mi DA Gallery and in my Social Media. You can ask to remain anonymous, no problem with that.
_______________________________________________


For FASHION COMMISSIONS, please go HERE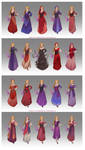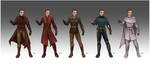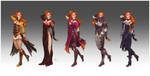 May charge extra for:
-Winged character
-Animals
-Weapons or items
-Very complex outfit (e.g: WoW tiers)


The background price goes apart and will rise depending of the complexity and extension.


The price overall varies according to difficulty and quantity. I can't tell you how much it would be without knowing your order, so don't hesitate to ask me anything.
Please note that these are the
very basic numbers.


Bust


Colorless 10€ / Simple Color 40€ / Detailed Color 70€
+ With color, a plain-colored background shape will be added for free.


Half body
(per character)


Colorless 20€ / Simple Color 60€ / Detailed Color 100€
+ With color, a plain-colored background shape will be added for free.


Full body
(per character)


Colorless 35€ / Simple Color 80€ / Detailed color 140€
+ With color, a plain-colored background shape will be added for free.
From between 100-450€ (aprox), I can also design your book cover! What will it be? Mystery, fantasy, romance? Whatever your needs are, I'll make sure to meet them.

Price includes a simple back-cover, the spine and text/title (but I'll need the printed dimensions to make sure it fits)
_________________________________________________

Rules


I draw:
Portraits of you and your friends, OCs, fanart, LGBTIA+ (of course! No need to even ask!), erotic, furry, robots, symbolical stuff, virtually anything. Even if it doesn't appear on my gallery, I can probably do it for you. Gotta love challenges!

I don't draw:
Massively-exposed genitals, explicit gore, political stuff, dead children... you get it. All the rest is fine by me.
____________________________________________
Please send me any note if you have a question. I´ll do my best to make your commissions worth to pay for, I promise.
Thank you!