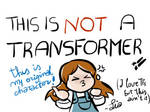 Elisha Rosden of Rolamaton, as she appears in 2014, while she works on her blog (that used to be a real blog until I ran out of time and money to keep managing it).

Like Danara Selenta (another Robocitan that I will show you soon), Elisha is an ALL-Life robot who's able to partially grow up physically. This is how she appears as an 18 year old in 2014; her adult version is identical but slightly different in terms proportions.

Elisha is an Experimental robot and she has a position as a Leader's Assistant in Rolamaton for the quinquennial 2014-2019.

Until Elisha had her blog in the real world, her About page read:
"My name is Elisha Rosden and I'm a Robocitan.
To be a Robocitan means many different things, from living a good lifestyle and respect life in all its forms, to try to forgive and move on each day.
But that's not all about me.
I'm an artist, a book lover and a poetry writer.
You will see more of those 3 sides of me in this blog.
I don't stand out and I'm generally shy, unless you earn my complete trust. But that's okay, my heart is always open, so earning my trust shouldn't be too hard, unless you do or say something really outrageous (and that's rare).
I love Korean dramas and language, but don't ask me to write in Korean. I'm not a good language learner, even though I try hard.
You asked for my age, didn't you? A lady never tells, but I'll make an exception for you– I'm a 1996 baby. Do the math. "

Artwork by RoboMommy . She used traditional pencil and ink, then she scanned and colored the picture digitally in Photoshop 7.
Rolamaton, The Robocity and all its characters (CC-BY 4.0) Lia Dospetti

Image details
Image size
935x726px 207.7 KB

Thanks!

Elisha is an amazing person. She's strong and resilient, one that many in Rolamaton have started to look up to as a role model.
She's also one of Rolamaton's newer Leaders!

She was elected in 2019.
Ah, if I only were faster at writing stories! That's one I really itch to write, but I have other two in the making and more older ones to fix.