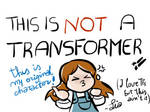 Destroyer Soldiery, the rude but brain damaged father of Meron Soldiery and one of the first I.A.R. Military robot to have found a home in Rolamaton.
Artwork by
RoboMommy
(Luana Spinetti) drawn in traditional pencil and ink for the lineart, scanned and colored digitally in Photoshop 7 and Paint Tool SAI.
Rolamaton The Robocity and all its characters are (CC-BY-SA) Lia Dospetti. Some rights reserved.
Image details
Image size
941x1689px 200 KB

I will do my best to have his profile fully written and published on Rolamaton.com before the year ends