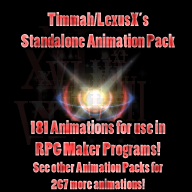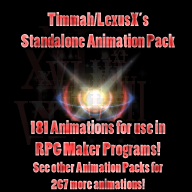 === CLICK THE DOWNLOAD BUTTON FOR THE ANIMATIONS! ===

A complete compilation of every individual animation that I posted on deviantArt, all 181 of them.

These animations are intended for use with RPG Maker programs, and all of the animations are protected under creative commons and are not for commercial use. Please give credit to Timmah/LexusX if you use these animations, as well as wondertouch for creating Particle Illusion 3, the program used to make these animations.