(Ese dAID fue creado como un regalo para mí en un foro, por mi 20avo cumpleaños).
(That dAID was made as a present for me in a forum, for my 20th B-Day.
2º dAID: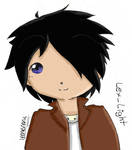 1er dAID:

Hombre de 20 años a quién le encantan, entre otras cosas, los videojuegos (especialmente los de Nintendo, como Super Mario, Zelda, Metroid, Kirby, "El Profesor Layton", "Ace Attorney", etc), algunas series (como "Littlest Pet Shop" y "My Little Pony: Friendship is Magic", ambas de The Hub, pero también me gustan otras series como "Magical Doremi", "He-Man", "Arthur", la vieja serie de "Pokémon" (Kanto, Liga Naranja, Johto), Bobobo, "Momo" (basada en el libro de Michael Ende), "1000 Maneras de Morir" y muchas series más), varios programas (La Noche de José Mota, Atrapa un Millón, ¡Ahora Caigo!, "Amar en Tiempos Revueltos" (temporadas de Carlota y Elisa, de Alicia y de Ana Rivas), entre otros)
Disfruten de las deviantions (y los faves) en esta cuenta, si es que pueden. xD
Mis canales de YouTube: LexLight1 y SeniorPokemon (en la que hay vídeos de Pokémon).
www.youtube.com/user/LexLight1
www.youtube.com/user/SeniorPok…
¡NUEVO! ¡Canal Pony de YouTube de Lex_Light!
www.youtube.com/user/LexLightl…
Twitter:
twitter.com/LexLight1
Tumblr:
lexlight1.tumblr.com
Steam: Lex_Light .
Cuentas PLZ que hice:



Current Residence: Mi casa... ¿no?
Favourite genre of music: Música de videojuegos, pero también escucho otras cosas.
Favourite style of art: Cualquiera, siempre que esté bien hecho...
Operating System: Windows XP SP3, Win 7 Ultimate SP1 x64
Shell of choice: Las azules del New Super Mario Bros.
Wallpaper of choice: El que tengo en mi PC... ¿no?
Personal Quote: Todo puzzle tiene una respuesta, y si no la tiene, es que no has leído bien el enunciado.