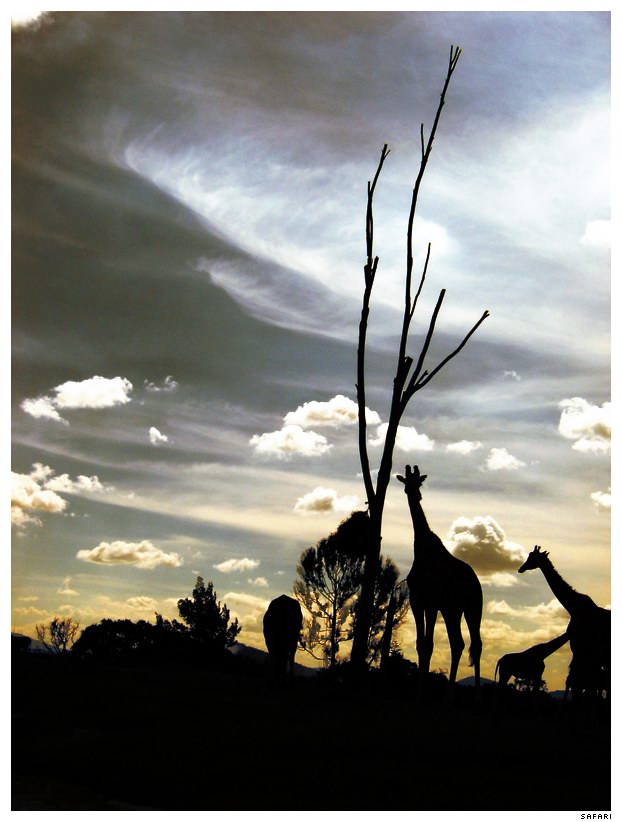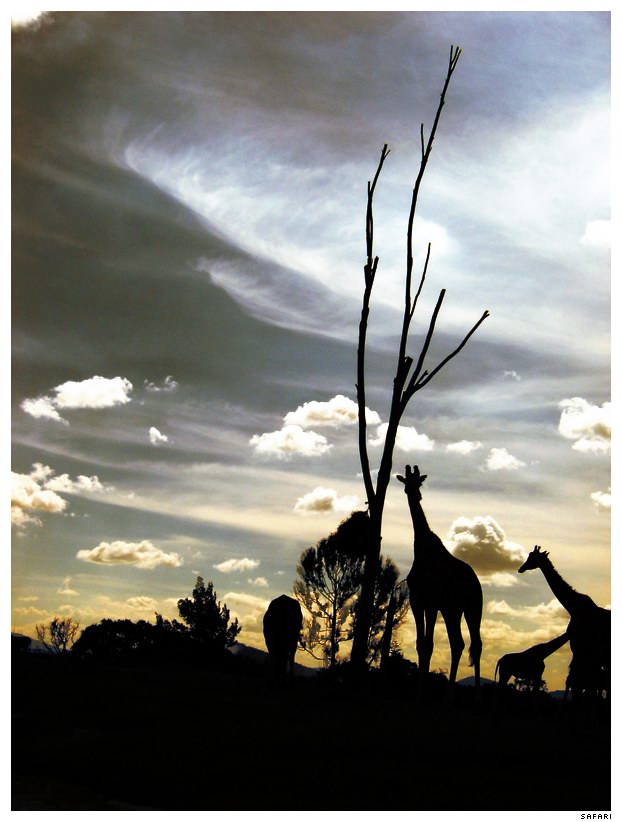 Taken in 'Africam Safari' in Valsequillo, Puebla, México a Zoo that keeps his animals in open spaces wich visitors cross in his own cars. just like a Safari.

Minor modifications in sky colours.

Reply

muy buena< muy buena

Reply

This picture is fantastic, I'm surprised you don't have prints available for sale
Reply


hermosa fotografia felicidades
Reply

WOW! Muy padre, camarada!
Reply

wow esta espectacular muy underrated como ta npocos comments/favs esta genial oye usaste filtros o photoshop o que ??

gran foto
Reply

Solo un aplique una equlización por histograma estandar, esto hizo que los tonos de las jirafas debajo de las sombras se hiciera visible, por lo que hize una mascara sobre las siluetas y lo copie, entonces aplique el filtro al fondo y conserve las siluetas encima, no me tardé mas de 2 minutos en la edición, lo dificil fue tomar la foto original que no es muy distinta de esta, solo un poco de menos color en el cielo.

Muchas gracias y si esta muy underrated.
Reply

sisis esta bien buena felicidades

y gracias por la info yo crei que habias usado un filtro en la camara para los tonos

Reply

No en mi camarucha esta dificil, pero eso aplico los filtros en Photo-Paint, siempre trato de usar filtros con equivalente en la vida real, este de mis pocos pecadillos de sobre edición
Reply

no por que pecadillos si queda muy bien da igual que sean filtros o con la compu
Reply

Pecadillo el de usar histograma, de ese no equivalente y me gusta sentir como si tomará las fotos con filme, antes usaba filme, pero los costos me orillarón a Digital, así que es una forma de sentirme como antes.
Reply

woah, great picture! couldn't believe it when I saw that nobody had replied to it :/ well done, the silhouettes and the colours are awesome!
Reply

thank you very much, it's my favorite right now but aparently i pick a bad day and hour to upload my photos.
Reply