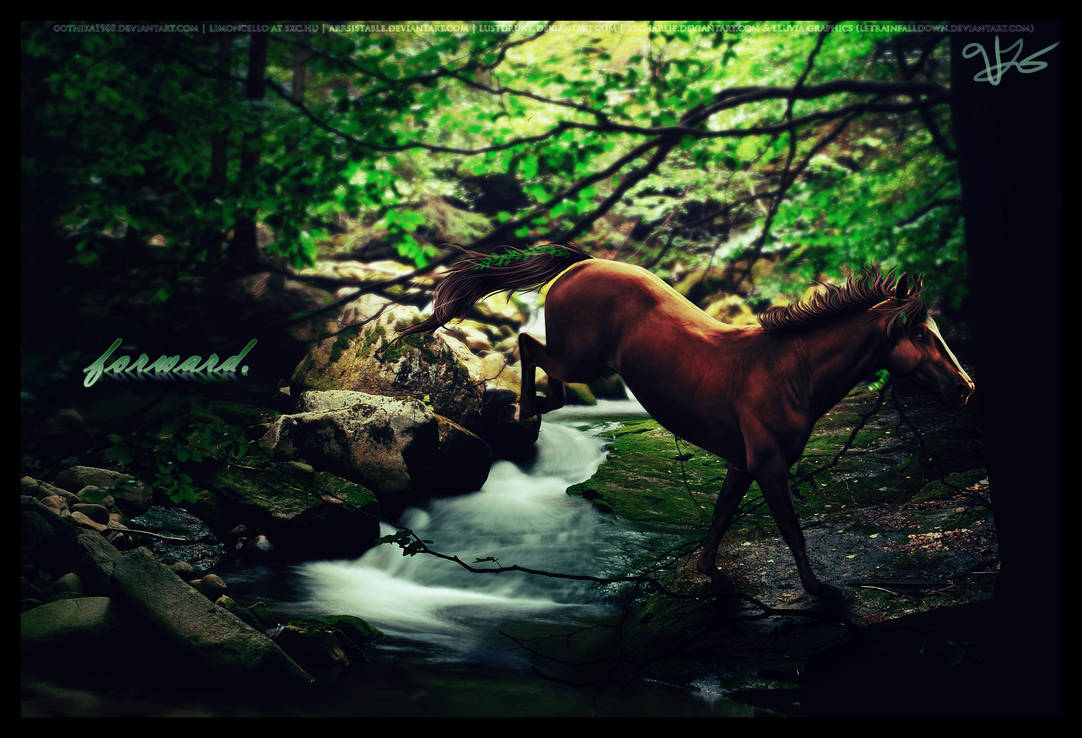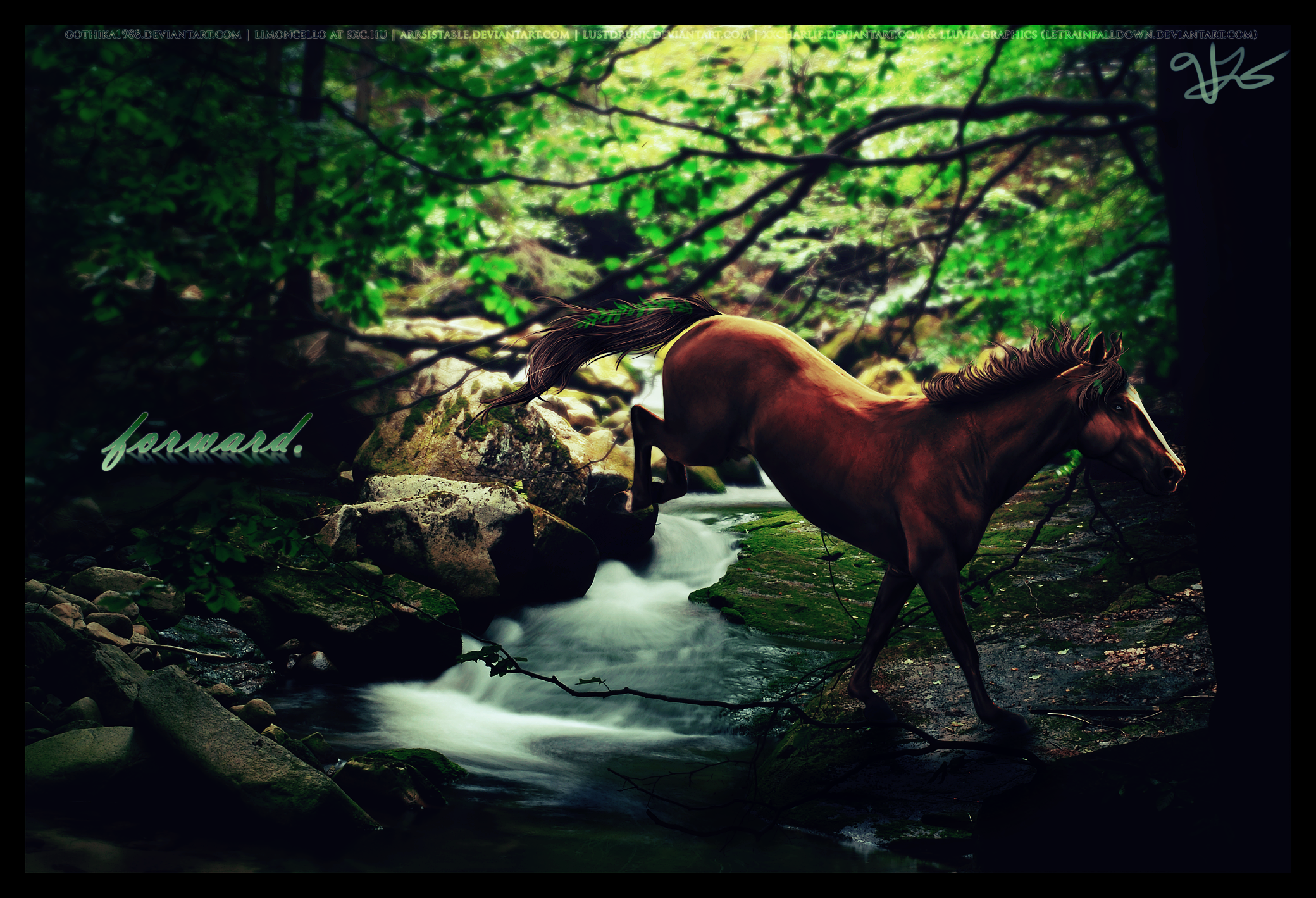 Watch
So this is my gift for ~
Shorty-x3
for `
CricketWings
' Equine Secret Santa! This is her HARPG stallion, RSS Frappucino.
In the description, it says that he hates water and loves to jump so I thought that him jumping over a river would be a good way to tie those two together.

And he's clumsy so I thought I'd add some leaves to his hair, haha.
I really hope you like it.

I know it's not a digital painting, which is what most HARPG art is, but I do NOT have the capacity to do a digital painting (no one wants a dumpy-looking one; that would be a shame to give), so I just tried to make a wow-inducing manip instead to make up for it.

I hope that's okay.
This wasn't meant to be a collab but it turned out being that way.
I spent 4-5 hours doing color change, hair painting, etc. and... didn't like the hair, so I asked my friend *
xxCHARLiE
to help me with it... Turns out she ended up hijacking it and redoing like half of it so now it's been completely "Charlie-fied" and totally in her style, haha. XD
She's the credit for all the background work and most of the lighting, as well as the shape and base of the tail, eye, and the dramatic definition (I did one set of definition, she did another XD). XD You'll want to check out the WIPs to see the massive change that this went through.
So this is actually my first color change in a manipulation. I had the HARDEST time finding a jumping chestnut Hano (first time I've had stock-searching trouble in a while) so I ended up using a friend's bay Hano-like horse (which she kindly uploaded just so I could use it XD)... and doing a massive recolor from bay to chestnut as well as removing all of the black points and white stockings. XD Took me like two hours because it's hard to get a chestnut to actually look a chestnut rather than a dull bay or crazy orange. XD
Also first time adding markings (the blaze) but that was easy, haha. (The one sock on him was from the white from the original stock image.)
And I'm going to break a record. I'm currently working on my third manipulation in a single month, woo (this is the second). XD
I actually really really like this, but I think it's more because I'm drooling over what Charlie's done. XD She's to credit for making it actually look awesome.


Info
:
Layers: 3 files - pre-Charlie work: 25 visible, 41 not visible; post-Charlie work (most layers were merged/scrapped): 50 visible, 13 not visible; final touches (new file): 11 visible = 86 visible + 54 = 140 total layers
Time taken: ~5 hours me + ~2-3 hours Charlie + ~2-3 hours me = 9-11 hours
WIPs:
[color change]
,
[further color change]
,
[first try on mane/tail, version I sent to Charlie]
,
[after Charlie's makeover]

Stock
:
horse:
[link]
by ~
Gothika1988
background:
[link]
by
Limoncello
at sxc.hu
leaf brushes:
[link]
by =
arrsistable
action: The "Old Photo" Action (first one) from
[link]
by ~
lustdrunk
manipulation: collab by Sir Charlie Designs (*
xxCHARLiE
) and lluvia graphics (=
letrainfalldown
)
As usual, all comments and critiques are highly appreciated! And thank you SO much for all your comments,

s, and critiques!