BEFORE YOU READ:

• Don't be fooled by this journal's date, we are fully active until we explicitly say otherwise.
• PLEASE EMAIL US. We only log in here to update the gallery or this journal. Please do not use deviantart notes or comments to place an order.

NEWS

Feb 10th, 2019
Current deal: 3x2 in RPG Character Sheets (up to 32x32px cell size)

-+-+-+-+-+-+-+-+-+-+-+-+-+-+-+-+-+-+-+-+-+-+-+-+-+-+-+-
WELCOME TO TEAM LEPIXELISTS!We are Team LePixelists!
(Scroll down to check prices)
Why hello there! We are a group of professional freelance pixel artists for hire.
We love freeware computer games. We love them a lot. A LOT. We like to play them at morning, noon or nightfall, at weekends and at school and at our jobs, and it pains us when a developer has an excellent, addictive game project, but has no money to afford a pro to make awesome art for it, that lowers it's bright and doesn't let it shine as brighter as it could with the proper help.
This happens because a lot of pixel artists charges thousands of dollars for something as little as 15 dragon sprites, when the developers, who won't be making any profit from his or her game, has no such way of paying that kind of outrageous amount.
Our main objective is to help indie game developers with small budgets to get good art for use on their games, this way we'll see AWESOME freeware games on the net, which we can play and enjoy! This of course, doesn't mean you cannot hire us for your commercial project. The prices below apply to indie developers making
freeware
games, if you desire to hire us for a commercial project, please send an email to
lepixelists [at] hotmail [dot] com
, talk to us about your project, we'll discuss things with you ASAP.
♠♣♥ PRICES! ♥♣♠
The following prices apply for Small Sprites, and are simple approximations. To get an accurate price estimate, please send us an email to discuss your request, and we'll give you a quote.

Small Sprites (around 32x32 pixels in size) →

Medium Sprites (around 64x64 pixels in size) →

Large Sprites (around 128x128 pixels in size) →



Huge Sprites (more than that) →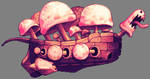 ◄ Charactes sprites ►
• RPG Overhead "eagle eye" View Style Character Spritesheets (standing and walking in 4 directions)
♦ Four frame walking animation = $20
♦ Six frame walking animation = $27
♦ Eight frame walking animation = $35

• Platformer Side Scroller View Style Character Spritesheet (includes a standing pose, a walking animation, a jumping and crouching sprite).
♦ Two frame walking animation (Retro)= $10
♦ Four frame walking animation = $15
♦ Eight frame walking animation = $30

• Character spritesheets, Extra poses (raising hands, blinks, emotions, dead poses, etc.) = $5 each.
• Character spritesheets, Animated Effects (Effects like dissolve, fade, teleport, explode, melt, etc.) = $10 each 4 frame effect, for a higher frame rate, please email us.
◄ Single Objects (decorative pixel art) ►
• Animated (glowing lamps, glimmering crystals, ringing phone, gameboys) = $10 - (Up to 4 Frames)
• Static (a table, a bed, hearts for health, power ups, etc.) = $5


◄ Tilesets ►
Tileset work depends on the size of the tile and color count, plus content of tile, the sizes below are measured in pixels and are by default of 32 colors or less, for any size you don't see below, please email us. Prices below are an approximation.
• Tiles (static):
♦ 16 x 16 tile = $1 each tile. (A platformer game floor of 9 tiles would cost $9)
♦ 32 x 32 tile = $3 each tile. (A platformer game floor of 9 tiles would cost $27)
♦ 64 x 64 tile = $5 each tile. (A platformer game floor of 9 tiles would cost $45)

If you have any doubts about assembling your order, do not hesitate to drop us an email and we'll be happy to guide you through the process.
We only accept Paypal as payment method. The total price of the order includes paypal transfer tax.
If you wish to make an order or would like to ask a question, please contact us at
lepixelists [at] hotmail [dot] com
and we'll get back to you as soon as we can! Our workspeed is great and convenient, short deadlines are not a problem for us!
Looking forward to work with you!
Regards,
Team LePixelists
-*-*-*-*-*-*-*-*-*-*-*-*-*-*-*-*-*-*-*-*-*-*-*-*-*-*-*-*-*-*-*-
- Prices bound to change drastically depending on the job specified by the client and by the usage purpose of the pieces in question, prices also change depending on the actual size of the sprites. We encourage you to read our
Terms of Service before placing an order. Urgent deadlines may include an additional fee, for any inquiries please write us an email to lepixelists [at] hotmail [dot] com.

Team LePixelists!