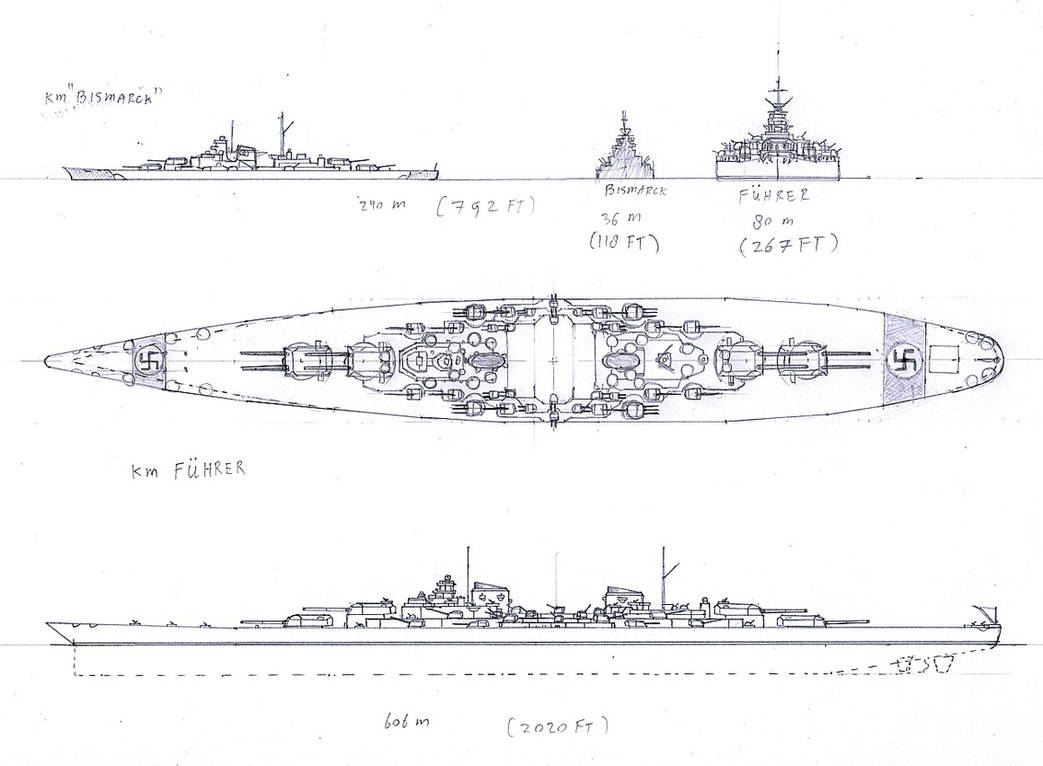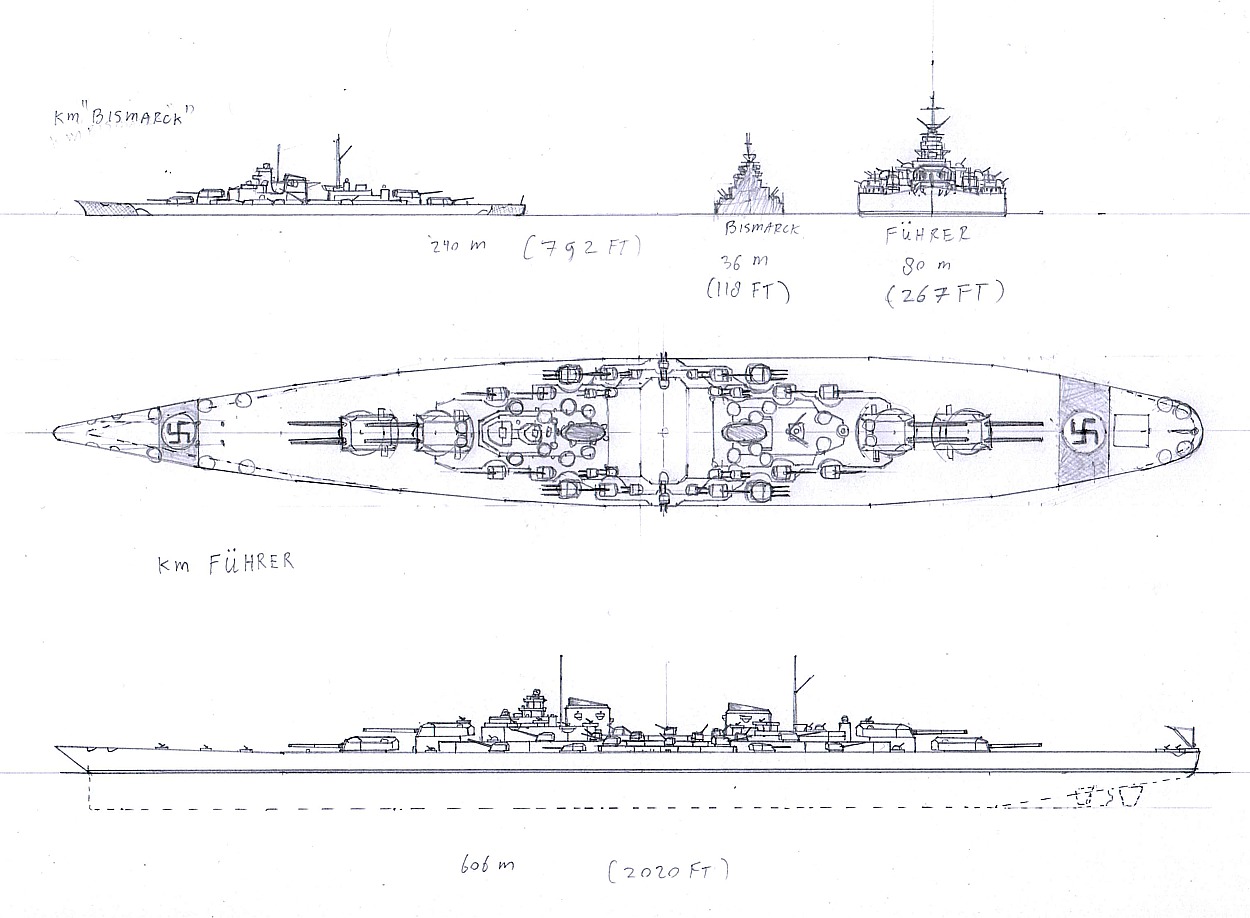 Watch
Pencil sketch here:
[link]
From the site;
The "Impossible" Never Were.
This is a little favor I like to ask of you guys who have a fully functioning Copy of Springsharp.
Mine refuses to work on my PC.
This is more outta Curiosity.
And it should be fun for those Curious enough too.
It's about a Very Extreme Battleship.
So Extreme in fact that if the H44 was regarded as a "Blue Sky" design then this ship would have floated somewhere in the Vicinity of INTERGALACTIC SPACE.
A while Back when the German Battleship section of Warships1.com was still on line I read this interesting story in the H39 page.
Don't know if it was Historically true, but it's still an interesting story nonetheless.
This happened shortly after the sinking of the Bismarck.
Infuriated by the news and fate of his "Pride of The Kriegsmarine" Hitler ordered his Battleship Designers ( The guys responsible for the H class of battleships ) to come up with a draft of an unbeatable type of battleship built around the 'Dora' and the 'Schwere Gustav' Rail Guns.
For those that aren't familiar with these Guns here is one fact about them.
They are the most Powerful Guns ever made by the Human species.
The battleship designers Protested against this idea.
After Hitler was Convinced by his designers that such a ship would have been Impossible to construct, ( The Idea bordered on the Insanity Anyway ) the caliber of the main guns were brought back to a more manageable 20 inch.
The following designs ultimately resulted in the H43 and H44.
But what if Adolph Hitler got his way with the designers and what would have resulted from the project?
The Schwere Gustav did some pretty Amazing things during the siege of Sevastopol around June 1942.
see this;
[link]
Here are some specs from one site of the Dora and Schwere Gustav rail guns.
Schwere Gustav
Bore 800mm L40
weight of gun 1,344 tons ( the whole weapon )
length overall of gun 164 feet (49.98 m)
height overall of gun 35 feet (10.66 m)
weight of projectile with windshield 16,540 lbs
diameter of projectile 31.5 inches (80 cm)
weight of explosive charge 2,400 lbs. of RDX
length overall of projectile 11 feet 6 inches (3.50 m)
weight of propellant charge 2,500 lbs. in 3 increments
muzzle velocity of gun 2,500 ft per sec
maximum range 51,000 yds. 30 miles
maximum elevation 50 degrees
More Specs of another site...
Gauge: 800 mm
Length of tube: 32.48 m
Range: 48 km
Total Weight: 1345 Tons
Shell Weight: 7.5 Tons
Explosive Portion of Shell: 700 kg
(And from the last site)
Effective range 40 km
Max. Elevation 53°
Total weight 1350 tons
Barrel weight 400 tons
Including 110 tons breech block & ring
Overall length 43 m
Width 7 m
Height 12 m
Barrel length 32 m (40 times its caliber)
Shell type Armor capped 3.75 meter shell (without propellant casing)
Shell Weight 7500 kg
Oh Yeah the fastest this thing could Fire as a rail gun is 2 rounds an HOUR!
I wonder how fast it would be in a BB Twin Turret configuration.
( And don't think that mounting this gun on a battleship was a weird enough Idea.
There were plans to put it on Tank tracks and turn this Gun into a 1500 ton Self Propelled Howitzer or a Tank armed with 2 additional 5.9 inch guns and 250mm armor.
With four 20 feet wide Tracks and Powered by 4 U boat Diesel engines ( Good luck steering it )).
The Design may have looked like the H39 so it might have 8 of these Guns.
If my copy of Springsharp worked I would have found out myself but it doesn't.
( I doesn't even want to install. )
That is why I ask you that have a Workable Copy of Springsharp.
So this is what I want to find out ( That made the H battleship designers Crap in their pants ).
How Big ( Dimensions ) would a H type battleship be to Support the 31.5 Inch L40 Gun? ( 8 of em )
How many Tons of Ocean would she displace?
If it was required that this BB would be Immune to its own shell at a certain distance ( Yeah right ! ) How thick would her armor be both Horizontally and Vertically?
If she were to go 30 knots Max speed how Much SHP would she require?
And last but not Least.
The Cost to Built- and the ( estimate ) annual Cost to Run this Beast.
--------------------------------------------------------------------------------
The reply came back and based the drawing on this spec;
This probably belongs in the 'new designs' section but it ties in neatly to this thread.
From our older website
H-45 Battleship Project
[link]
(This an interpretation of the original data)
[link]
Displacement: (700,000 tons planned) 462,750 tons light; 484,920 tons standard; 560,057 tons normal service; 617,927 tons full load
Dimensions:
Length: 2,000' (609.60m)
Beam: 300' (91.44m)
Draft: 55' (16.75m)
Armament:
Main: 8 – 31.5" (80cm) Gustav siege guns (4 x 2)
Secondary: 12 – 9.45"/73 (24cm) Long Range AA guns (12 x 1)
Tertiary: 24 – 5.04"/60 (12.8cm) AA guns (12 x 2)
Light: 5.5cm/77 Gerat 58, 30mm AA guns
(Broadside = 131,574 lbs/59,631 kg)
Aircraft: 15 aircraft
Armor:
Belt: 14.96" (380mm) Deck: 14.96" (380mm)
Turrets: 25.96" (660mm) Conning tower: 24.8" (630mm)
Machinery: 8 shafts, (480,000 shp planned) 498,735 shp/372,057 kw
Performance: 28 knots; Range: 30,000 nm @ 20 knots
Complement: (5,000 planned) 10,236 – 13,307
Distribution of weights:
Armament: 16,425 tons = 2.9%
Armor: 158,660 tons = 28.3%
Machinery: 11,931 tons = 2.1%
Hull, fittings & equipment: 274,955 tons = 49.1%
Fuel, ammunition & stores: 97,307 tons = 17.4%
Miscellaneous weights: 750 tons = 0.1%
This is a 700,000 ton German battleship built to carry a battery of eight 80 cm/31.5 guns, the siege gun Gustav. This is strictly a flight of fancy taken from remarks made by Hitler that he wanted to mount 80 cm guns on the H-class. It was estimated that it would take a 700,000 ton ship to mount them.
Rate of fire for the main battery would be quite slow, one round per gun every five minutes or more while the AA defense would be much more rapid. The AP shell weighed over 15,000 lbs with 441 lbs of burster while the HC shell weighed over 10,000 lbs with 882 lbs of burster.
The 24 cm/73 AA armament was based upon a Kriegsmarine late war study to develop a land based high altitude gun firing a 300 plus pound shell up to 59,000 feet. It is possible that a 700,000 ton ship could carry twelve of these in single double purpose mounts, partly to make up for the slow rate of fire of the 80cm main battery and to engage cruisers.
The 5"/60 were probably Germany's best AA weapon at the end of the war and would have served this mastodon well.
The 80 cm weight of shell is based upon reality. Initially, the 80cm gun was intended to bombard the Maginot Line but as it was not completed in time, it was intended then to use it against Gibraltar. As Spain would not give right of passage to German invasion forces, the Wehrmacht took the gun(s) to Russia and bombarded Sevastapol and possibly Leningrad. The Gustav fired approximately 46 rounds in two days and inflicted incredible damage.
The turrets on this ship are so huge in order to provide sufficient room to handle absolutely giant shells and hold the extremely extensive and strong hoist and rammer facilities needed to fire the shells.
There is no detail information regarding the ship's power plant. The total SHP required for a ship of this size dictated at least 8 shafts. Based on the extended range of these ships it would appear that a portion of the power plant was diesel.
This design does not 'compute' when plugged into Springsharp. The numbers in the weight distribution are extreme estimates.
--------------------------------------------------------------------------------
The sketch is based on the results.
This is KM Fuhrer.
A ship that is potentially just as dangerous to handle the guns by the crew as the ones that are on the receiving end by it.
Another detail.
Eventhough Schwere Gustav and Dora had caliber lengths of 40 calibers.
The Fuhrer uses the naval standard 52cal 800mm guns.
I used the KM Bismarck for size comparison.
.