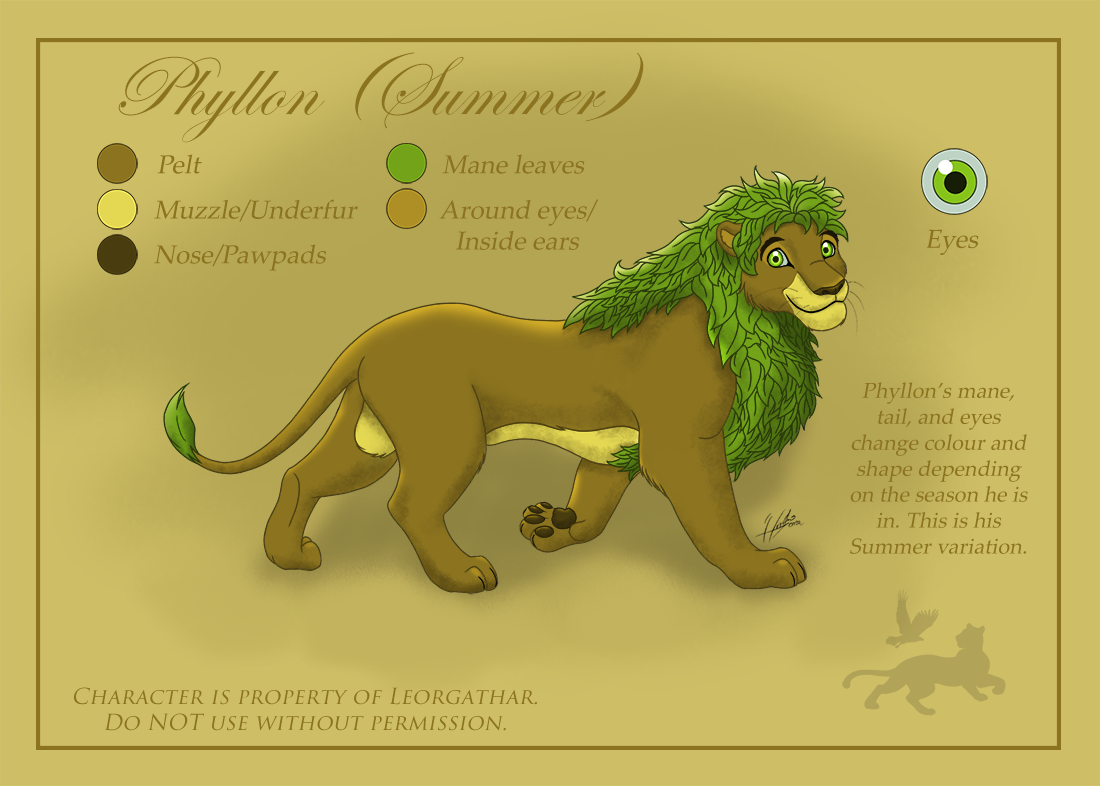 Watch


At last I did this for one of my favourite characters that I own

Phyllon has grown up, and he has
assumed the role of a forest guardian/spirit. He became a benevolent force of nature that keeps watch over his forest and the flora/fauna it holds. He prefers not to be seen by anyone who enters his forest, but he can watch everything that happens in it through the trees, who serve him as his spies. Phyllon's forest provides refuge for unfortunate souls who wander lost in it, but whoever represents a threat to his forest will have to face his anger, but he's usually very kind.


Just like his cub version, he can look into the past of any plant species. He is aware of all the history within the forest since their trees were young, and anything that happens in the present doesn't go unnoticed by him. He is able to absorb energy from the Sun, the more he is exposed to it, the stronger he becomes. He can share his own energy with a plant close to him, and through this link he gives it the ability to grow much faster and even move at his will, but at the cost of losing that energy for himself.


His mane's appearance, eye's colour, and general behaviour has changes depending on the season he's in. In this case it's summer, when
he is at his strongest. His mane is composed of healthy green leaves, quickly receptive to the Sun for his photosynthesis, which provides him with the energy he needs to fight and perform his duties looking over his forest with ease. During Summer he is mostly optimistic and very cooperative. He also can produce acorns and other small fruits to kindly share with other creatures.

He looks great - kind of like a lionised Bulbasaur

Look forward to seeing the rest of his seasons.
Reply

A lionized Bulbasaur xD yeah, he's pretty much that

Thanks KS! I'll work on his other seasons soon ^^
Reply

I love this idea and his design is plain beauty.It would be amazing if you made a picture with all the seasons of the year in a row and a different Phyllon in each of them. ^^
Reply

Oh yeah! I'm planning to draw Phyllon in all the seasons eventually. I think I'll work on that as soon as I'm done with a couple of Secret Santas

Thanks PhoenixMystery, I'm glad you like the design ^^
Reply

Aw what a cutie pie

Reply