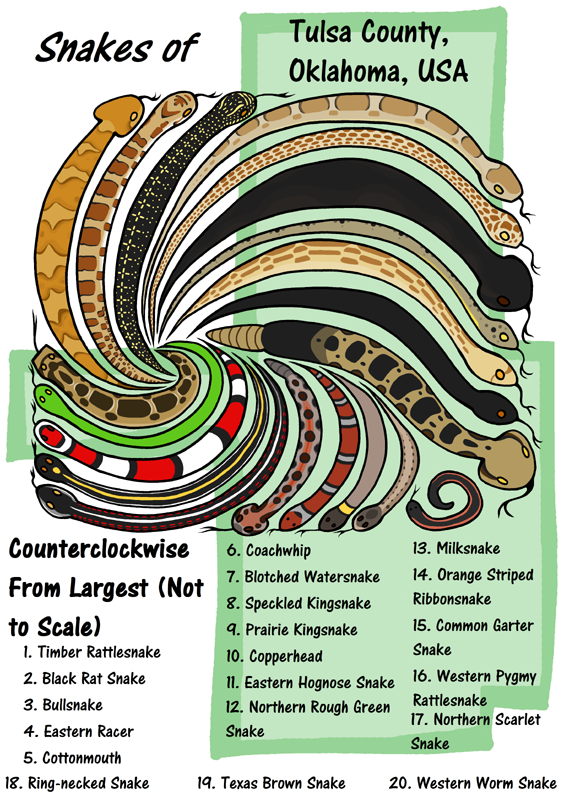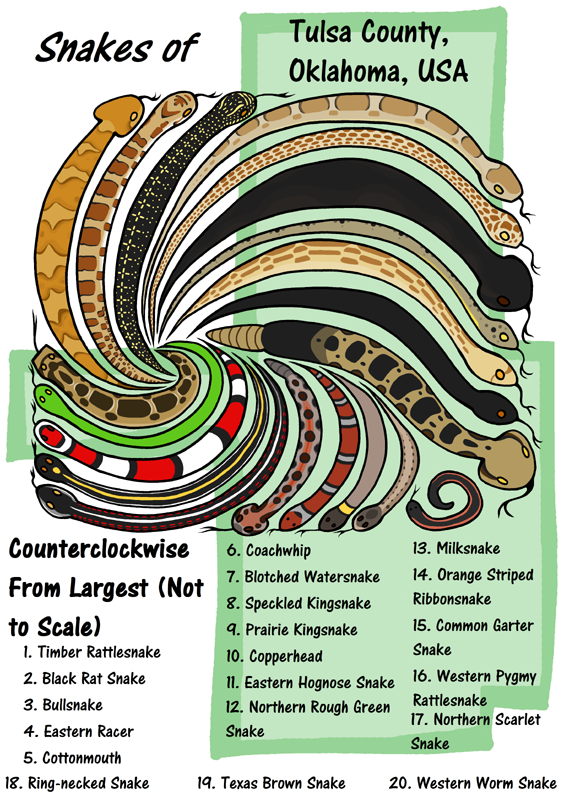 Watch
I was inspired to do this by a field guide which showed the incredible variety of snakes we have in Oklahoma. So many different colors and special adaptations.


Photographed
Blotched water snake
These migrate from a creek to the vet clinic where I work, apparently drawn by the smell of water in late summer.
Timber rattlesnake
One of my favorite photography subjects in zoos.
Black rat snake
The biggest wild snakes I have ever seen. As a child I saw one by a lake that was as long as I was tall.

Others seen in the wild- bull snake, garter snake, cottonmouth.

How does your local snake population compare?

Reply

It's a neat infographic but I must admit I have no idea which snake you're starting with and therefore it's not very useful to me. Largest could mean 'fattest' or 'longest' or whatever, and I'm not familiar enough with any of the species to be confident of which is which (although on looking at it again there are only 2 rattlesnakes, for some reason I thought there were more in the list, that does narrow it down..) Anyway, might be best to be more specific.

Reply

Thanks. Yeah, I've never done something like this so I made it up as I went.

Reply

Oh wow what a unique way to list these! Pleasing and informative.
Reply

Im from Czech Republic, we have four species and some lizards...dont sure If I envy you the chance to see the incredible creature, or to be glad that we dont have so much venomous ones...Im not afraid of snakes, our wild ones evacuate the premises pretty fast when encountering human, often faster than I would want because I would like to see them properly...
Reply

Wow, it would be very different to have only 4 species in my country. I have no idea what the total number for the United States is, but this isn't even the full list of ones in my state.

I do like the European grass snakes, if that is one of yours.

Reply

Yes, they are one of the common ones, they are harmless and nice...but they stink when surprised
Reply

I like the Western Diamondback Rattlesnake
Reply