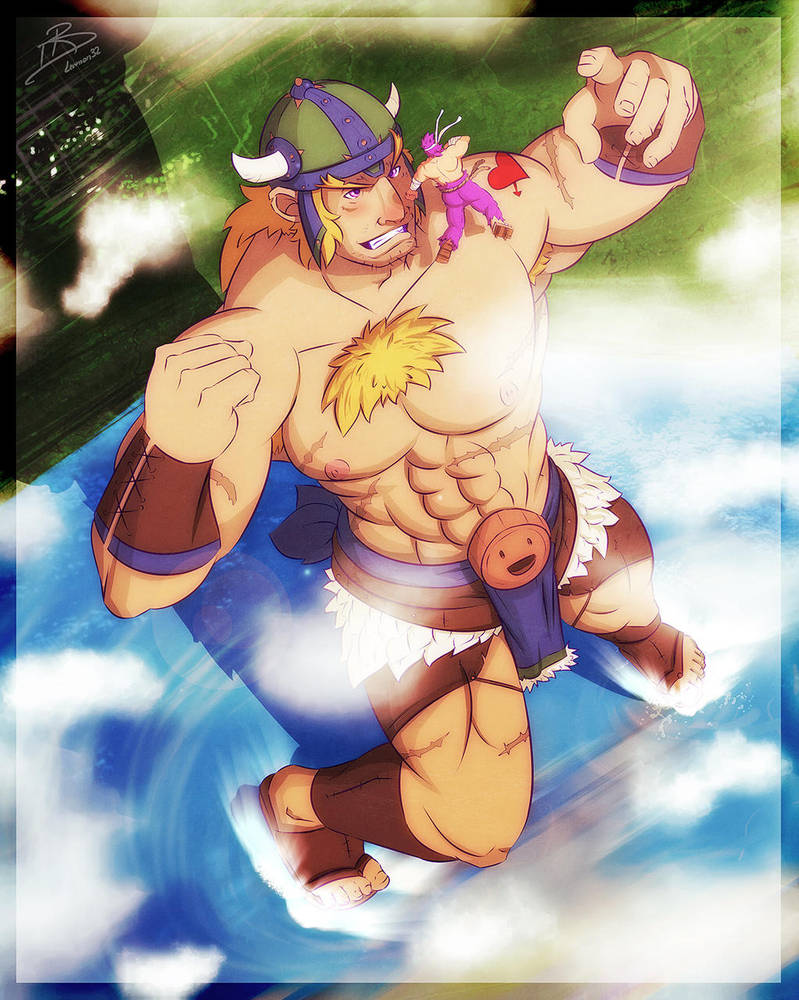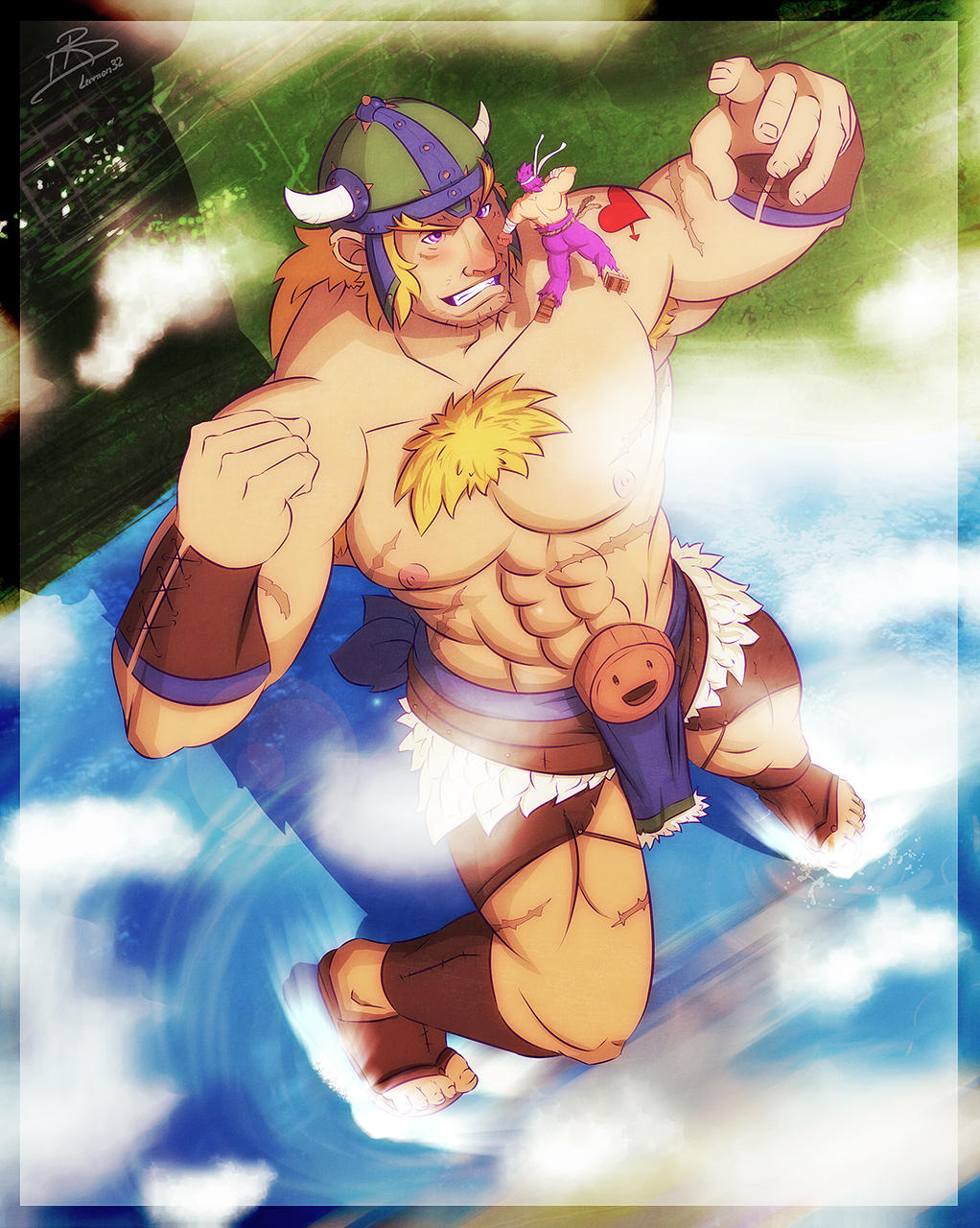 Talos VS Bahn

Enjoy as much as I enjoyed doing that one^^
Daily Deviation
Given 2012-05-29
Clash of the titans
by =
leomon32
The suggester writes
"I find the textures in the work really incredible, it makes the art seem dream-like, despite the fact it's an action scene."
The bright colors and crisp celshading are also quite appealing. (
Suggested by ikazon and Featured by Hiiragi-san
)
Yeeeeaaaaah!!!!! Critique Time!!! Who's ready to learn up! Well I know I'm ready to MAN-UP!! Critiquing a Daily Deviation... I must be mad... But we're going to do it anyway! FOR SCIENCE!! And art. We'll do it for art too.
Lets face it, we're all trying very hard here on DeviantArt to be the best damn artists we can be, and that's tough! I want to help you learn as much as you can from this piece, so that your future works are even more captivating!
Speaking of which, this piece is gorgeous! I love the vibrant colors, the textured background, and the cell shaded characters. Your lines are very clean, and the piece is packed with action. From the get go, this piece just screams "fun". I think this image is very entertaining, and that's what I love to see! If the artist has fun, then the audience has fun! You've definitely managed to capture a whimsical, comic book feeling with this image, and that's why it deserves the DD!
Before I launch into the full critique, I just want to say that this piece shows GUTS! Not a lot of people would even attempt to draw something like this! Wow, a top down action scene!! The perspective challenges alone are VERY intimidating! I fully understand and appreciate how incredibly difficult it is to achieve what you attempted to do. So kudos to you, you brave, handsome man-hunk you!
Now, what can we learn from this piece? What can be done better so that our future works can convey the stories that we want to tell? I believe that the main issues for this piece are anatomy, perspective, and composition, so lets focus on those!
Anatomy: I understand that you already recognized that the upper body is a little wonky. As others have suggested, using reference and study materials is key when drawing the human figure in motion. Even in cartoon works like this, accuracy is key! When using reference, it's very important to understand the underlying structures of the body. I like to start by drawing a simple "skeleton" to make sure that my structure and perspective is correct before I start layering on muscles and skin.
The main problem here is that his chest is twisted around, but his shoulders remained straight and aligned. That's downright weird! It seems like you couldn't quite decide which pose to use, so you went with "both". Hilarious? Yup. And that's ok, it's all a part of learning!
Study your anatomy. The pectoral muscles should move from the sternum(breastbone) up between the deltoid(shoulder) and bicep muscles. You also have a strange bump over his abdominal muscles in between his pecs. I too am guilty of adding extra non-existent muscles to my beefcake characters, so it's ok! Just make sure he isn't growing too many muscle tumors in weird places for the sake of macho. That's not healthy. Cartoons are fun! They have lots of room for exaggeration and expression. However, one needs to fully understand the rules before one can break them.
Perspective: Dun dun duuun..... every growing artist's nightmare. Perspective is HARD! I strongly sympathize with the incredible challenges you faced while drawing this piece. Again, I admire your courage. However, now that you took that big leap outside the comfort zone, we can look at this and learn from the mistakes we made. This is how artists learn perspective! By MANNING UP and drawing it! Well done!
Ok, srs face time. The perspective relationship between your large blonde man-hunk and the ground is pretty weird. From my view-point, it appears that he's either standing on a very steep hill, or he's bent over backwards. Do you see what I mean? It doesn't appear that he's standing up straight, it looks like he's falling over backwards. His feet may look stable on the ground, but when compared to the rest of the image it doesn't correlate well.
I think for this problem, the issue is the ground itself. While we're looking down at these two characters, we're not looking straight down at the ground. The ground does not have any perspective applied to it, it's just a flat background. That's where some of the confusion is coming from. The ground should still be sloping away from the characters, moving on into the horizon. Even if you can't see the horizon in this image, everything in the image still needs to behave as if it's still there!
In terms of size relationships, the waist of your character appears to be almost the same width as the shoulders. The feet and knees are still huge in relation to his waist! We're also getting a great straight-on view of his abs. For this image, we should barely be able to see his abs! His rib-cage should be over the pelvis, and his pelvis should be over his feet. Instead he looks like he's leaning back. This goes back to the understanding of skeletal structure that I was talking about earlier. It's very important to understand the relationships of the various body parts from different angles and perspectives. The cure? Research. If you're already familiar with Loomis, get back into his books, they are a boon. If you're not familiar with Loomis..... then look him up! Here you go!:
[link]
Here's a neat technique that would really help this piece: atmospheric perspective. I think this piece would have greatly benefited from the judicious use of atmospheric perspective to help communicate the relative distances between the objects in this image! For instance, his feet and the ground are so far away from us, they should begin to become faded. Atmospheric perspective is the concept that as things get farther and farther away in an outdoor environment, they appear to become obscured by fog. The ground should also have an atmospheric gradient applied to it. The water should be more distinct than the grass. The background towards the top of your image should be more obscured by fog. This will add so much depth to your images. Try experimenting with atmospheric perspective in the future.
Composition: This is where the rubber meets the road. Practicing good composition is what will help you clearly communicate the stories you want to tell in your images. Each image needs a main focus, a focal point, something that your eye is drawn towards. For this image, it should be your hero, Bahn!!
However, I don't think that we were fully able to achieve that in this image. He's so LITTLE! Of course, that was the goal! And that's perfectly ok! However, I had to look for the little guy. It took be a couple seconds of looking at your image to realize he was even there! I thought he was another little tattoo on the big guy! If he's the MAIN FOCUS of your image, he should be the very FIRST thing that my eyes are drawn to!
This is where contrast comes in! Color contrast, and tonal contrast. Your little guy blends right into the big guy because he's the same color, and the same tone. This probably wouldn't be a big deal if the two characters weren't overlapping. These problems occur when images aren't planned out beforehand. It's important to decide your main focus before you start drawing, and make sure that everything in your image complements and supports that focus. This is all a part of story telling.
If you move Bahn to a place where he's not overlapping Talos, then he'll pop out more! Since the background is dark, moving the lightly colored Bahn directly over the background will create a lot of tonal contrast. Do that, and BAM! He's suddenly the main focus of the image!
Ok, I've covered the main points, now here's a couple more nitpicky things. The clouds are interesting, but they don't appear to be helping your image. Certainly, they convey that Talos is really tall! However, I feel that their judicious application is a little distracting. Foreground elements need to support your main focus, not draw attention away from it.
The water is a little weird. Reference is key. Talos made a big splash but all I see are some whispy lines. Also, see on the left side of the image, where the water hits the ground? That's some sharp tonal contrast there! That's distracting! Look up reference of rivers, lakes, and such to see what this would look like in nature, and then create your own cartoon version of that. Make sure that the background complements your composition.
Aaaaaand.... done. Whoa, that was a lot to cover!! Whew! Well, you got through it, read it all. Thanks for hearing me out! Before I finish, I just want to say that this is a GREAT PICTURE! For srs! I know, I spent a lot of time and page space describing what could be better, but that's what I wrote all this for. For learning! If I just spent the entire time describing all the great parts of this image, we wouldn't have learned anything. Shoot, I learned a ton just by critiquing this, and I hope that this has been a help for you too!
In closing, I love this picture. I had a lot of fun critiquing it, and it's my hope that you're able to use this critique to fuel your creativity to create better art and tell even bigger stories! Good luck mate! Keep drawing, keep learning, and keep improving!!
~Steve
The Artist thought this was FAIR
12 out of 14 deviants thought this was fair.