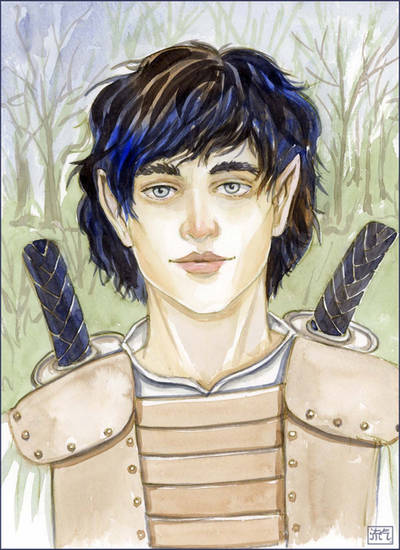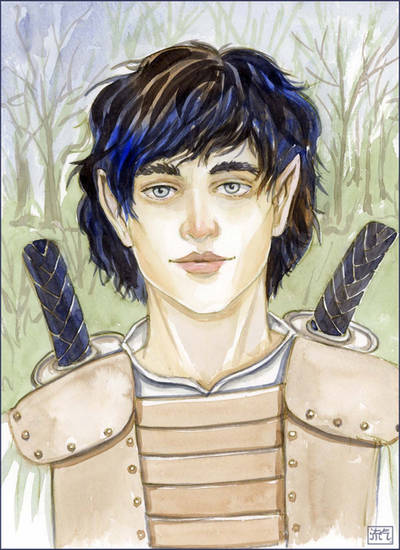 Watch
Edit: New scanner with much better resolution!

Not the pic looks a lot more like the original watercolour.
Title: Eamon of Lurness, King of the Dark Elves
Medium: Watercolours
Another character of "Elfenmagie" by Sabrina Qunaj.
Eamon becomes the king of the Dark Elves after his father's demise. He is originally described as a carefree and happy character. He falls in love with the young heroine and she likes him a lot, but not in a romantic way.
Original version in German:
www.amazon.de/Elfenmagie-Roman…
Two other characters of "Elfenmagie":
Glendorfil, oldest Elf of the Dark Elves and great friend and mentor of Eamon
Nevliin, former best friend and now rival of Eamon

rally cute!!!! his carefree and happy side show in your drawing

Reply

He was one of my favourites in the first part of the story, when he still was carefree and happy.

Reply

He looks amazing. I love his look, very good. (Will have to nag one of our publishers to print a translated version over here;D) With art like this, you are probably one of the best advertisments for this series.
Reply

Thank you so much! Glad you liked him.

Well, I'm afraid it's not that easy to get publishers to translate non-English fantasy into English. The English speaking market already seems saturated. (Unless the stories are best sellers in their own countries, of course.)
Reply

*steals*
I love those intense eyes.. The blue and black in his hair make for a great combination!

Reply