This month DigArt Challenge theme is "GOLD", so I've decided to create tutorial for painting a shiny golden textures!
analyse the colours
First, we need to find some references for various golden surfaces. They should be both polished and rough. I've used free photos from Unsplash as my references.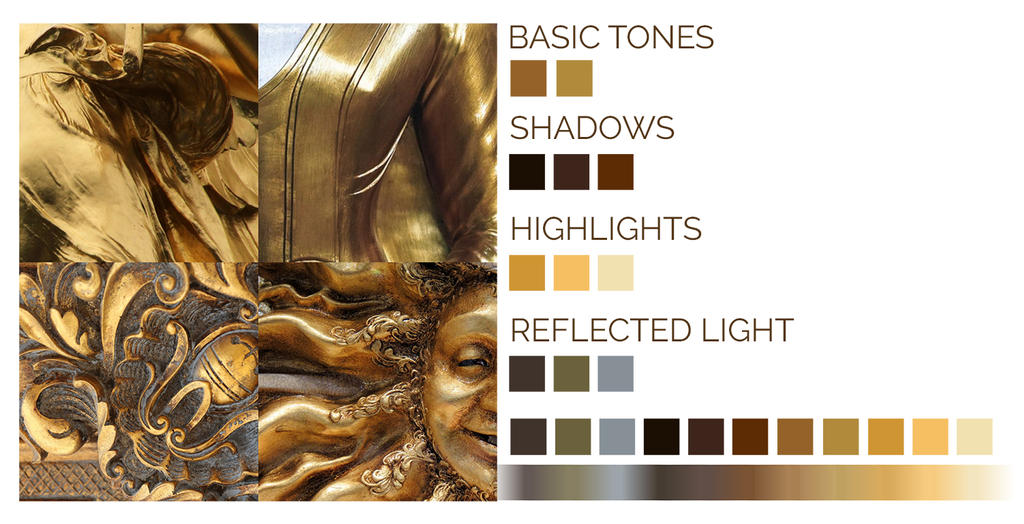 Basic tone is orange/yellow. It's quite saturated. Reflected light is usually cool and desaturated. Notice that shadow is never black, and highlight is never white. Keep this in mind while painting.
Base

1. Draw a basic flat shape.
2. Add shadow using soft brush at 20% flow.

3. Add highlight using soft brush at 20% flow..
4. Add reflected light using soft brush at 20% flow.
This unfortunately is not enough to create an object that will look like the one made of gold. The sphere looks plastic and matte, instead of metal and shiny. We need to create a texture.

texture
1. Take a shaded base.
2. Use a messy spotted brush at 50% flow to break smooth texture.
3. Add some random lines using soft edge brush at 50% flow to create scratches. Keep in mind the shape of the object you're drawing. Straight scratch on a sphere will be curved.
4. Use dark shadow colour and hard edge brush on 50% flow to make the scratches look deeper. Add a highlights on the edges.
Better, but it still lacks this shine we're aiming for!


Overlay spark

1. Take a textured shape.
2. Create an Overlay layer and use light, desaturated yellow to enhance highlighted area with a soft brush at 20% flow.
3. Use spotted brush at 50% flow to create some random highlights. Use light, desaturated yellow on highlighted area, and desaturated blue and green on reflected light area.
4. Create additional highlight in the shadowed area using saturated yellow colour, and soft brush on 20% flow.
And that's it!
It's a pretty, shiny golden texture!


Resources

What Is DigArt?

DigArt is short for Digital Art! We all DIG art, right? Right! The goal of these challenges, interviews and features is to offer the Digital Art community something fun and engaging to participate in on a monthly basis! As artists or art enthusiasts, we are always looking for things to inspire us, so what better way than to offer challenges each month to help with your creative flow!

We will be running a series of events such as challenges, interviews, features and more that you can participate in! We want to offer a platform to engage in the community and bring something fun to the table! These events are open to everyone and we welcome all to participate in the digital art community! Let's be creative together and share in the same passion we have for art!