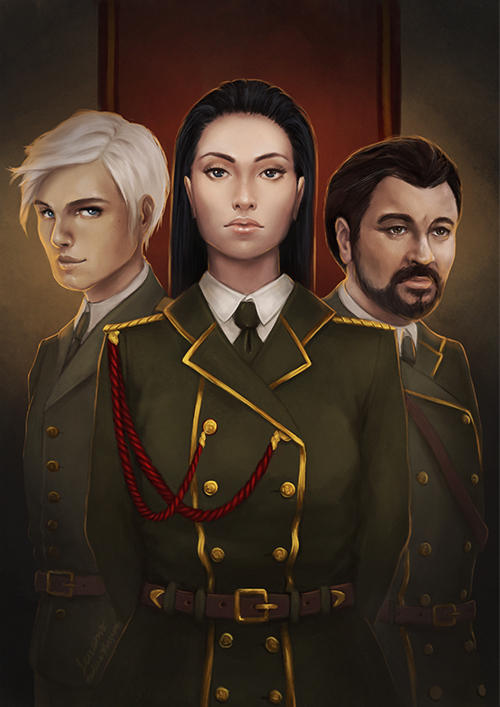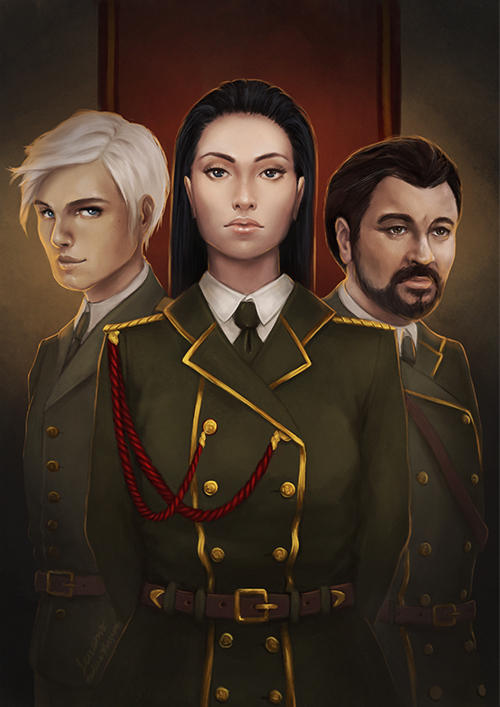 Watch
---
---
An awesome commission for
Wulfenman85
showing three officers from his
'The Fathomless Expanse' book series!
From left to right:
Lieutenant Junior Grade Arlo Tidmore, Communications Officer TCS Hessian
Captain Marsil Wolfsbrig, CO TCS Hessian
Commander Oberon Gobeli, XO TCS Hessian
My recent illustrations:
---
Commissions: OPEN
FREE SKETCHES
or
PAID ILLUSTRATIONS
.
Commission FAQ

Woow! I really like this piece, it is very inspiring!!

Reply

Reminds me of some of my own characters! Very nice work!

I may track you down for some commissions for me later on...
Reply

Thank you! This was something quite different from what I usually paint, but I really enjoyed it!
Reply

I cannot thank you enough for this work! I'm more than impressed with the fantastic work you've done, and to see some of my characters come to life like this just takes my breath away. I'm looking forward to future projects with you as well, both of my characters and of some more entertaining things as well.

Reply

I'm already so excited about the next one!

I just need some free time to start putting the ideas into the perspective grid!
Reply

This is so fantastic, I love everything about it. Marsil looks perfect ; ;
Reply

This is epic, fabulous and very well done! I love this, so amazing! Superbly done!
Reply