A fellow former Toonbooker that does things. Art things to be exact. Anyways, feel free to ask for an art request! (As long as it's appropriate, of course.) Also, talk to me if you want to!

Daffy Lemonburger pixel art credit!:





Status (May change when I increase in art experience):
Ask for Request, Collabs and Trades
Gifts are a secret
I don't do kiribans and commissions (whether points or money)
Art Request/ Art Trades/ Collab Info! (Who knows if there might be changes!):
-Don't ask for multiple requests,trades, etc. all at once/short time period!
-Sorry, no NSFW!
-No controversial messages if there's any sort of sayings shown on the piece!
-I accept OCs, FCs, Adoptables, Canon characters, etc. (If I don't know what the Franchise is, give me a reference, as always with OCs, FCs, etc.)
-Apologies if some things like trees, cars and certain things look wonky (it's due to lack of experience and I will eventually be better)
-For requests, no ridiculously detailed thing
-Same applies to trades, but to a lesser degree
Some of the websites I'm in! (Mind you that there will be really old art there in some of them, especially Toonbook...):
www.toonbook.me/profile/Lemonb…
ttrforums.com/members/daffy-le…
citrusburger.tumblr.com/
And an ask blog for some reason (In which I should really work on!):
ask-d-lemonburgers.tumblr.com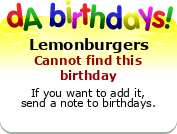 Favourite Movies
Some animated movies usually by Disney, Pixar or Dreamworks
Favourite TV Shows
Clips of Whose Line Is It Anyways and currently going through Star Trek:TOS and some sci fi anime
Favourite Bands / Musical Artists
Vocaloid(?), Weird Al, Michael Jackson and some others that I can't think of at the moment. (Oh, and then there's Beethoven)
Favourite Games
Toontown, Super Mario, Splatoon, Space Channel 5, Star Fox, Earthbound, Sly Cooper and Overwatch. There's more that I can list, but these are the primary stuff usually.
Favourite Gaming Platform
Nintendo Switch and PS3!
Tools of the Trade
Various (I mainly scan my sketches to be inked and done with a tablet in some art software, but I sometimes use traditional media). The art softwares I use are Clip Studio Paint Pro, Medibang Paint/FireAlpaca and Photoshop.
Other Interests
Playing video games and writing. (Also making characters!)