Blog Structure
-Message of the Day
-Difference between Commissions and Requests
-Samples of Commission Types
- Payment Details
-Originals for Sale from Gallery

-Commission List & Status
10/7/15
-
Important- Commissions VS Requests

I take commissions (provided that they are open at the time of inquiry). A commission is artwork you purchase.

I do not take requests. A request is asking for free artwork.

Colored Traditional Image

Hand-colored picture of one character in traditional media (copic marker) w/o background - $100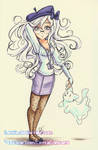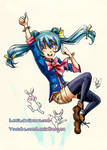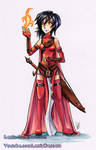 A Simple Background is an extra $10.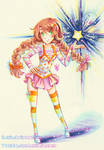 Additional characters in same image is an extra $50 per character. If there are more than 3 characters in a single image, each additional character is full price.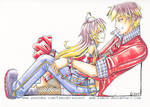 If you request something HIGHLY detailed there is an additional charge because it takes me MUCH longer to complete these types of commissions. Detail prices range from $25-50 depending upon how intricate the design is. (This is usually for gowns and dress design, or if the commission is very specific with detailed scenery. See samples below.)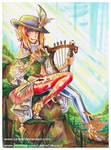 -------------------------------------------------------------------------

Chibis


One Chibi Character w/simple background (Traditional Media - Copic Markers) - $50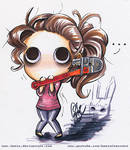 Additional Chibis in one image is $25 each

If there are more than 3 characters in a single image, each additional character is full price.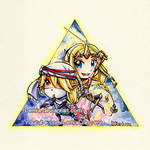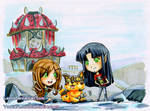 -------------------------------------------------------------------------

Payment & Details

User Rights

If you commission me I have the right to create a YouTube video, if I desire, on the creation of your image which will be monetized. I will not claim your character as my own, I want to simply be able to show a process video and will credit who owns the character.

If you let me know in advance, you have the right to not have a YouTube video created showing the process of your commission. Please let me know if you do not wish to have the video created at the time of commission inquiry, before payment. If you change your mind after the video is created, you have already waived your right to have it taken down.


If you plan to use my images for commercial use you must notify me first as most images I create are not intended for commercial use.

Shipping Originals


If you want the original image, it is $10 for shipping, handling, and materials provided the buyer lives within the United States.


I do not ship outside of the U.S.


If the buyer does not order the original within our transaction, I am not responsible for keeping the commission in pristine condition. If I lose the original, my cat claws it, I eat it, etc. It is not my responsibility. I draw many pictures and I don't always know where I have stored yours. If you want the original I will mail it at the time of creation. If you ask for the original later on, it's up in the air if I have it available to send.


If you order more than one commission I can condense the order into one package and not charge for additional "shipping." There will still be a $5 fee (instead of $10) for each additional original sent for cost of materials.

Method of Payment


I do not accept Deviantart "Point" commissions.


I only accept PayPal payments. I expect to be paid before I start the commission. Also, I only accept payments when I am ready to work on your commission.


Buyer has to pay PayPal commission. Find calculator here: thefeecalculator.com/

Time Sensitive Commissions


If your commission is time sensitive and I do not have adequate time to complete the commission for reasons (which are not restricted to) given limited notice, not receiving payment on time, line of other commissioners in front of you, cannot get the original mailed in time, etc. I may refuse your commission. In such a circumstance, you will be completely refunded if the payment has been sent.


If your commission is time sensitive and you have your heart set on receiving a picture from me that makes it so that I have to go out of my way with any of the above reasons, you may be subject to an additional fee. This fee would be discussed between the commissioner and myself before any payments would be made.

Misc. Information


If there is a special request that is not described above, we can negotiate a price (please send me a note). For example: book illustration, character design, etc.


If you use one of my original designs (example: outfit/character etc) you MUST reference my drawing if the design is used in another deviation.

I am
NOT

required to make a video on YouTube of the creation of your commission. If for any reason the creation of a video is required for the purchase of a commission on the buyer's end, you must let me know of this before the commission is paid for. There may be reasons that I cannot make a video.
Commission Status

If you have any questions or concerns, send me a note. I post the status of commissions at the bottom of this journal. If you still have any questions about the status of your commissions, please note me and I'll be happy to get back to you. Please check within the journal on the right if you want to see buyer feedback (Above the Shout Box). Thank you <3You can see completed commissions here: lemia.deviantart.com/gallery/4…

Originals for Sale from Gallery


I do not ship to outside the U.S.


Like the above commissions, buyer of these originals must pay for shipping. Shipping fee is an extra $5 provided you live within the United States.


Buyer has to pay PayPal commission. Find calculator here: thefeecalculator.com/


Sizes are ESTIMATED! Expect actual originals to be within a cm of listed size. :3

1) N/A


$0


Medium


0x0 Inch Size
------------------------------------------------------------------





Commission List & Status


Open Slot

Paid For / Working on it

---------

---------

---------