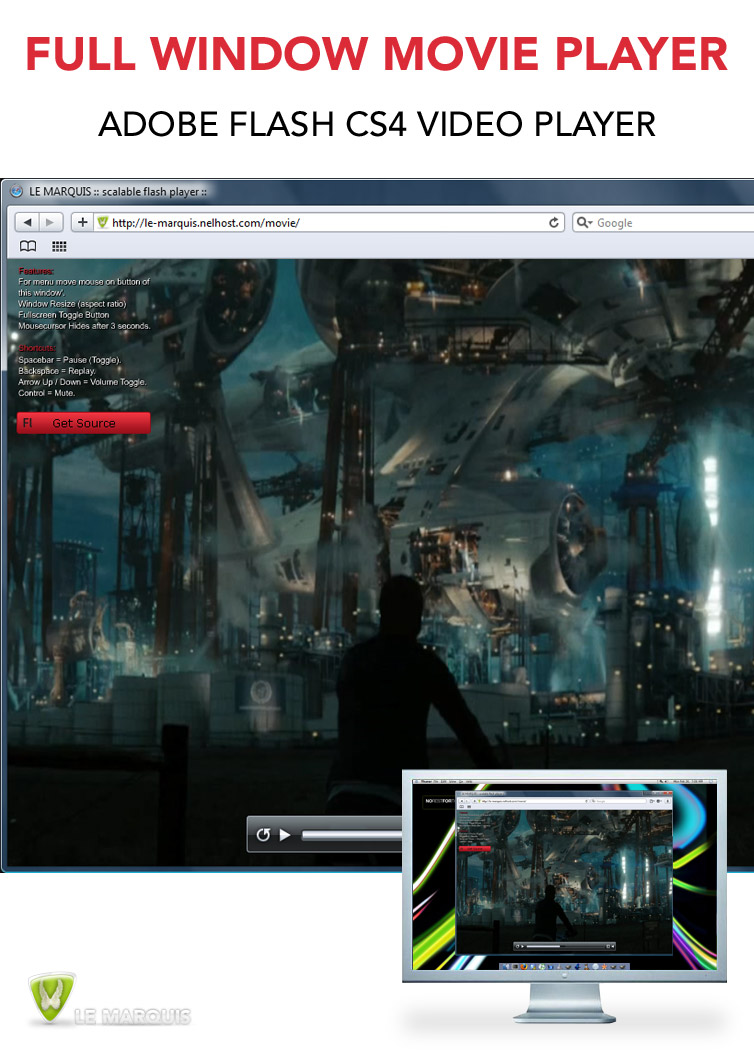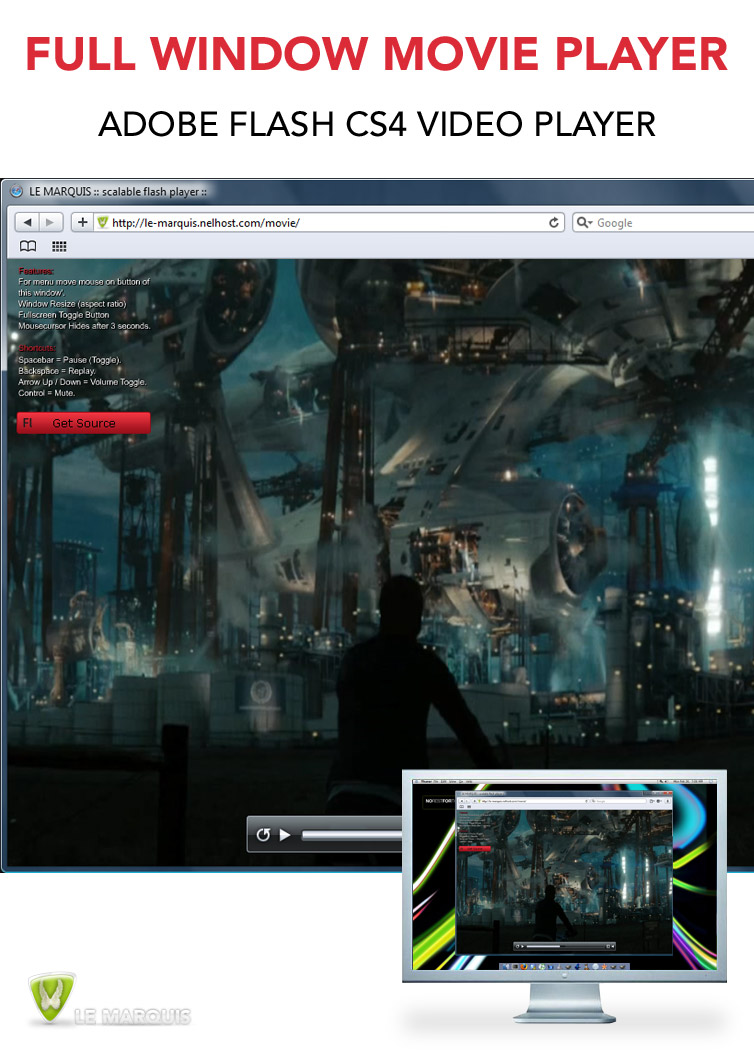 This is a full-browser video player with use of Flash CS3/CS4
! Knowledge of AS2 is highly recommended !
>>>>> Preview & Source at this [link] <<<<<
March 5th 2009 (ver 1.0): Updated to version 1.10 Added Fullscreen mode & Redesigned the menu assets.
March 6th 2009 (ver 1.2): Updated to version 1.20 Added Volume Control, Infobar, Hide Mouse After 2 Seconds.
March 17th 2009 (final release): Updated to version 1.20 Added shortcuts, Debugged actionscript, Notification bar on change,
Features:
*Full Browser Video (FLV, MP4, H.264)
*Keep Aspect Ratio on Resize
*Completed with HTML for Online Publication
*Navigation Menu
*Fullscreen Mode Toggle
*Volume Slider
*Infobar at Startup
*Hide Mouse Cursor (2 Second Delay)
*Shortcuts navigation
*Notification in Infobar
*Complete Source Inserted in Package
Adobe CS3 or CS4 Needed
(AS2) knowledge is needed.
*(movie not included)
If you like it? Please feature and share this work with your fellow friends...
Some rights reserved. This work is licensed under a
Creative Commons Attribution 3.0 License.

Reply

have fun... Someday... LOL

Reply

hi again, for being able to follow-up w/ this tutorial; do I need to provide my own movie (since you claimed that the movie is not included in the file)? if so, may I know the preferred file format?
Reply

Yes you can add your own movie. If you open the file in Flash ( vid.fla ) you can change the filename in the actionscript.
Change line 25 & 27 For your settings... That's all, have fun!
Reply

just one last question: can it play .avi?
Reply

Reply

Nope. Take a search in the video codec format for flash. You are using the Flash 9 version. An older version of flash, still good though... You should format your video in the .mpp4 format utilizing the h264 codec.

Quote from Adobe;
Additionally, Flash Player 9 Update 3 (9,0,115,0) improves the functionality of the FLVPlayback component by adding support for the high-definition MPEG-4 video formats that utilize industry standard H.264 encoding. These formats include MP4, M4A, MOV, MP4V, 3GP, and 3G2. Protected MP4 files—such as those downloaded from Apple iTunes or digitally encrypted by FairPlay—are not supported, however.
Note: The ActionScript 2.0 FLVPlayback component also supports MPEG-4 video formats that utilize H.264 encoding, beginning with Flash Player 9 Update 3.
Reply

umm... the source doesn't seem to exist...
Reply

read the text below the deviation...
Reply