Journal Entry:
Fri Apr 25, 2014, 3:53 AM
Commissions are close. Thank you to all the people interested in my work and of course to my commiissioners.
TERMS AND PERMISSIONS:
- These commissions are only for personal use, they may not be used to for commercial purpose under any circustances.
- If you're interested in a commercial work, please contact me at:
leliaalvarez@gmail.com
ORDERING:
Send me a note with the info of your commission. A bit of backstory or character's personality, hints are appreciated but please! keep'em short. Send me some referencial images too.



PAYMENT and ORDER:

-The payment must be done in EUROS at this Paypal account:
leliaalvarez@gmail.com
-
Payment must be done at first
, once I have received it I will start working. Your position on the list depends on the payment, if you pay first you appear first.
- The time to receive the order depends on the time that I have, the number of orders on the list. So please keep calm, more or less the average minimum waiting time to get your picture done is one month.
- Except in Sketche's orders you'll receive a preliminary sketch, which you must approve it or indicate faults or changes in the drawing, then I'll send the retouched sketch. Maximun two oportunities to make changes (And the second oportunity depens of my time)
TYPE OF COMMISSIONS:
The limit per commissioner is 4 slots and you can't ask for orders with more than 4 characters by picture.
Sketch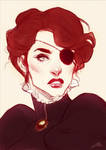 Choose from full body to portrait . No background
Price: 15€ one character (10€ more additional character) COLOR FREE!
Solid colors
Portrait to full body . No background or basic Bg
Price: 35€ one character (20€ for additional character).
Full CG Portrait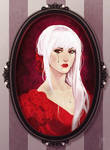 Portrait or bust-up . No background or basic Bg
Price: 45€ one character (25€ additional character).
Full CG Body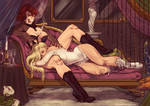 Full body . No background or basic Bg
Price: 60€ one character (40€ additional character).
Examples