This is my own closed species. Please do not create them on your own decision.
FAY
Many people say that if you see a shooting star, make a wish and it will come true. Fays born from that action. They are fragments from shooting stars that want to make human wishes and dreams become real so they send some little parts of their bodies to the earth. Fays have about 15 years lifespan on earth and grow half as fast as humans do. Their first forms always look like about 10 years old children. They have many cracks with colourful fragments inside all over their bodies. The only way that can hurt them is to destroy or steal those fragments. Many destroyed or stolen fragments can injure their body parts but each Fay has only one fragment that is a death point which can be destroyed to takes their life forever. Fays usually eat and drink like humans do to fit in but what they actually need for survival is fresh water.
Finding an owner
Every Fays have a goal to find a human who makes shooting stars sent them to earth. Fays can see people wishes and dreams by their eyes and that is the main skill they use to find their owners. Fays also have an ability to warm human hearts, make an illusion and induce people minds for a little while.
Fays that found their owners and make his/her wish come true can choose to live their life or ends them right after their goal finished. After Fays died their bodies will fade away and left their colourful gems-like fragments behind.
Fays that couldn't find their owners or cannot make their owners' wishes come true will have a different ending. they need to live their lifespan and when they die all the fragments will crack out of their fading body and they will become normal stone fragments instead.

Appearance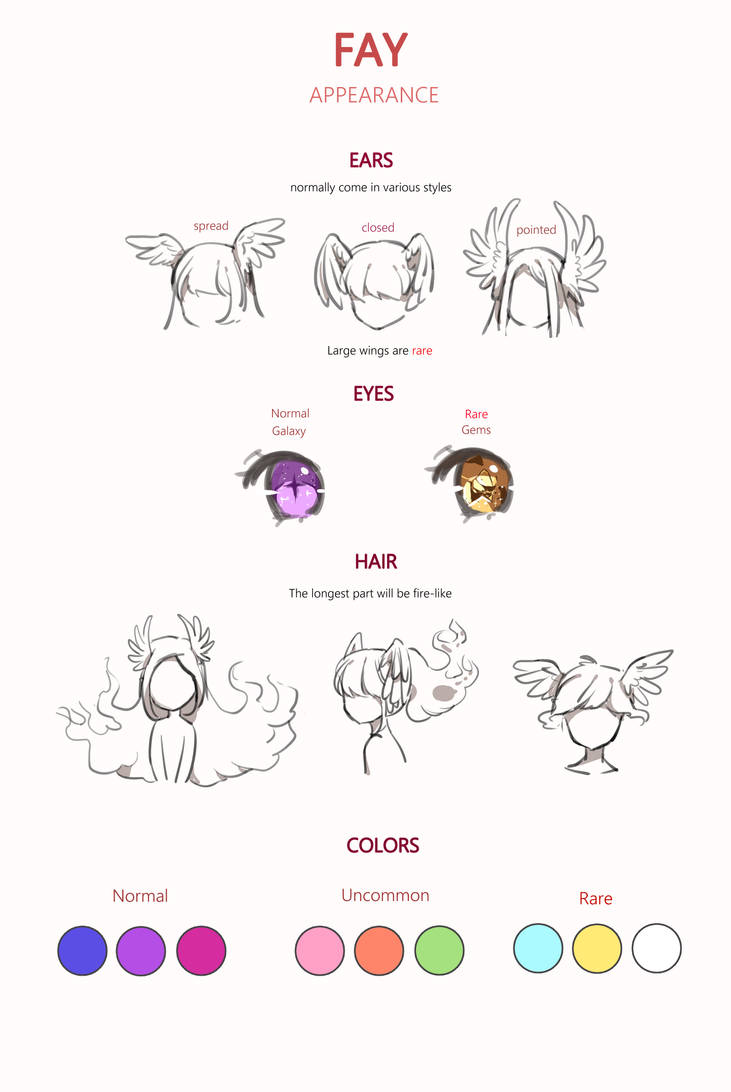 :. Normal Fays can't fly or do anything with their wing-ears but some Fays that born with large wings can use wings to speed up their run or help them jump higher.
:. Gem eyes can appear on one eye or both. They have the ability to see further than normal Fays do. They also can feel more amount of people hopes and dreams.
Thanks for reading! And if there is any part you don't understand please feel free to ask<3