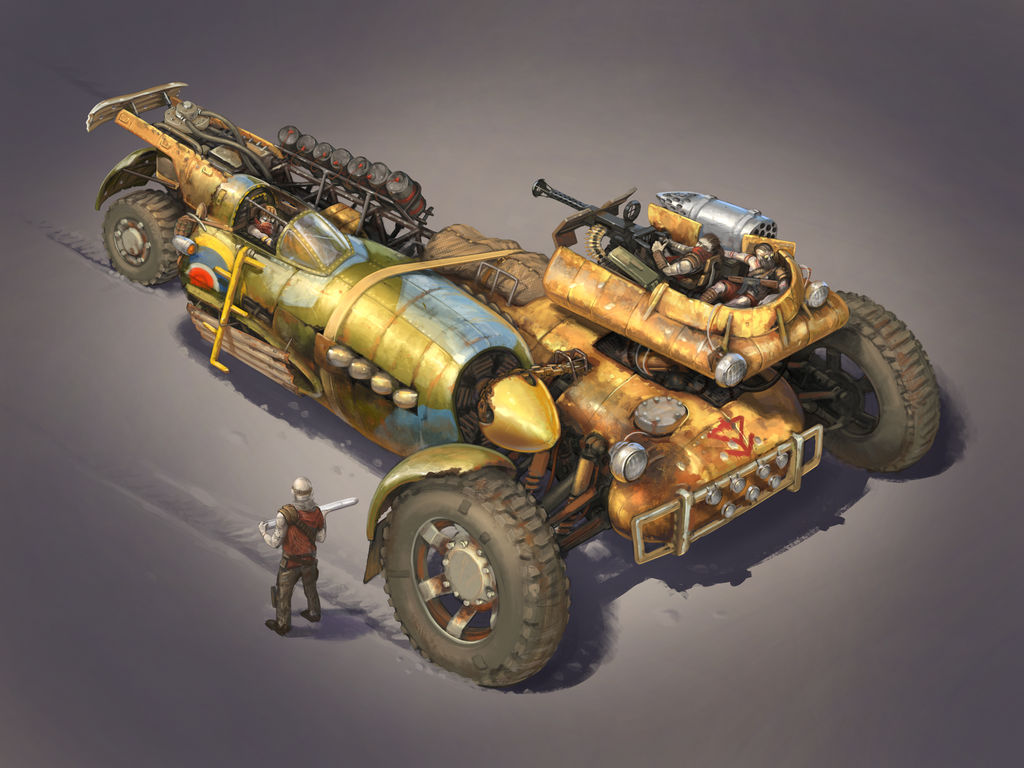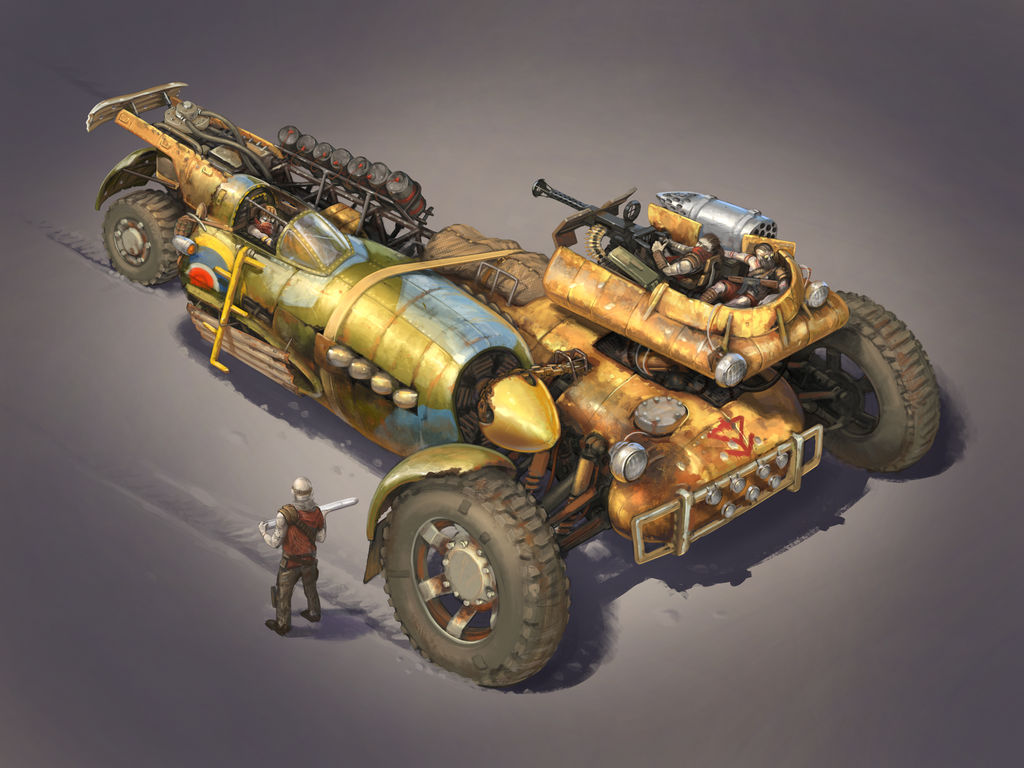 I didn't set out to make another vehicle powered by an old prop plane yet here we are.
Back when I did the Wasteland Scout (
www.deviantart.com/legato895/a…
) the vehicle was based around the idea of strapping wheels to a plane however this one started as a vehicle designed to only shoot and attack backwards.
If I were to do this one again I'd use a car frame for the rear facing turret. Oh well.

This is spectacular. It's hard to choose my favorite details, but I especially like the chain drive from the propeller shaft and the little parapet on the front of the gunner platform for the No.2 to lay behind.

As much as I like the idea, I don't believe the rear-ward facing rocket pod would work when this vehicle is moving at the speeds it looks like it would be capable of. Upon launch, the rocket would have to change velocity from moving backwards to forwards to speed that would supports is aerodynamics before it hits the ground.

Regardless, you've brilliantly accomplished your "vague look of functionality" and it would be hypocritical to say I don't strive for the exact same goal, regardless of physical limitations.
Reply

the vague look of functionality is all i seek!
I know that canceling out speed is why jets can't fire missiles backward effectively- however, if this thing made it up to 80mph I don't think it would have too hard a time firing some stuff off the back.... but what do i know!

anyway, it makes me so happy to read all the details you touched on. i often suspect that most people don't really pick up on the little functional details i sweat over

Reply

Rockets =/= Missiles, but anyway I just watched your timelapse and I enjoyed seeing someone else's design process. In so many others it seems like the idea pops out fully-formed and all that remains is coloring between the lines. However, your 'design journey' seems to mimic my own in which you start with a rough idea of how you want it to come out, but through actually building drawing you notice subtle impracticalities and maybe go back a few steps after rethinking. Or, occasionally, take an entirely new direction from your original idea.

It is fascinating to see the concept 'pinball' around within the design process before it finally channels into its ultimate form.
Reply

Awesome! Looks like something from a Weird World War 2 Game! Keep up the Superb Work!
Reply

Reply

Interesting design story

also really cool vehicle

Reply

appreciate it! just linked the time-lapse recording also so you can see a bit of its evolution
Reply

Very interesting design. May look like a souped up pile of spare parts but it is functional nonetheless
Reply

Reply

Very interesting design. May look l I keep a souped up pile of spare parts but it is functional. Very cool!
Reply

I meant to say it may look like a souped up pile of spare parts. Go home autocorrect your drunk
Reply

Tail end Charlie. Nothing wrong with that.
Reply

Reply