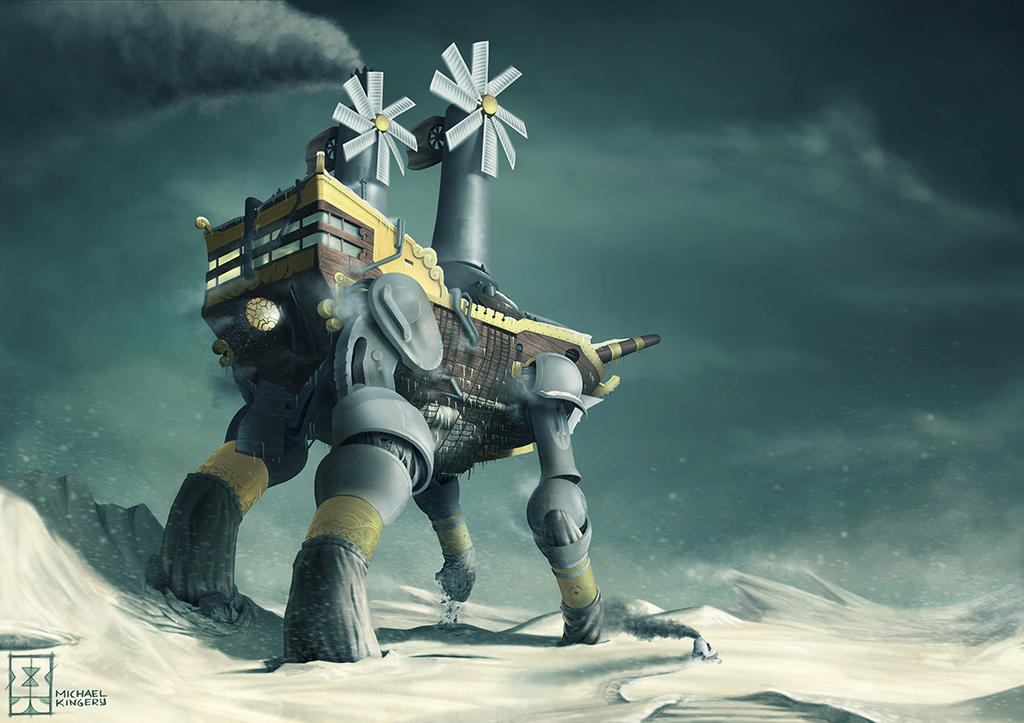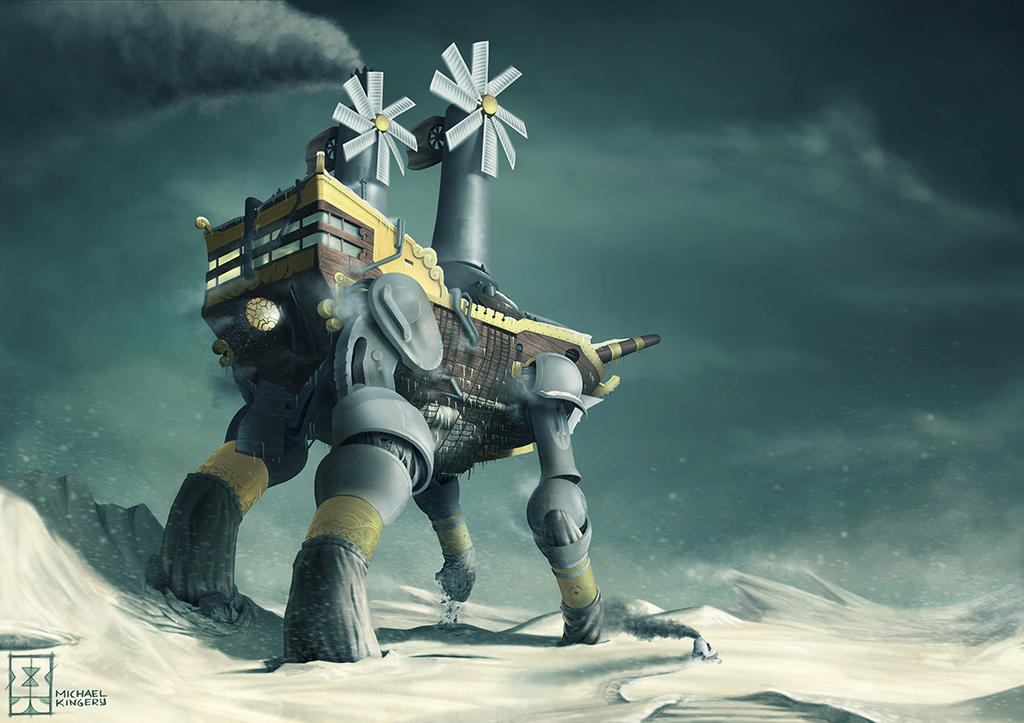 Watch
EDIT!...
as was the original plan, after the deadline of this challenge passed i was going to try making the piece more dynamic by lifting the front left leg. - but then as i should have expected it got a bit off balance and ronaika suggested i tilt the whole thing. after telling here i couldn't i did...
other edits that i worked in spontaneously include:
added 3 new pipes (two on the back over the windows and one on the side over the gold plating)
reduced the contrast of the forward left leg, while giving it more of a highlight from the sun AND added more blowing snow in front of it
/EDIT
Created for Conceptart.org's "Industrial Design of the Week"
[link]
the full title of this week's topic is "Steampunk Arctic Explorer" but it wouldn't all fit - such is life.
all i can say is, thank you for the people on my buddy list who refrain from blocking me as i take my artistic ineptitude to them.
specifically:
also, indirectly,
for his amazing brushes. i would have stagnated with the default two forever if it wasn't for his link. and even than, i didn't use more than 4-5. but without those this wouldn't have been what it is.
i will probably edit this a bit more for my portfolio, but its core is here, and thats what counts
lines in sketchbook pro, rendered in photoshop.
Daily Deviation
Given 2010-06-10
Suggester says: "
IDotW089 - Steampunk Explorer
by =
Legato895
has a certain exhilarating magnificence to it! With the scale of the steampunk engine and the quadrupled features, it has a great point of view, textures and details that make it something from an eerie surreal dream journey! (
Suggested by phoenixleo and Featured by MacRebisz
)
i have a few nitpicks for the desing itself of this walking ship. one of the main issues that bothers me(and that i pointed as a comment already) is that the windmill's sails looks too static for astructure thats suposed to be in the middle of a tundra with a strong wind.

another detail that might sound like a nitpick is that it doesnt seem to be affected by the snow carried by the wind either, it just doesnt seem to integrate with the scenery as much as it could. given the force and the amount of snow the wind would carry, it would be natural that some parts of the ship would be covered by it, and even some frozen edges could be visible in more exposed parts.

overall, its quite a simple, delightful desing. its clear that its closer to fantasy than to an actual technical piece of machinery. aside from the nitpicks i presented, i like the idea of a giant walking ship C:
The Artist thought this was FAIR
27 out of 33 deviants thought this was fair.