One of the tasks associated with scene editing is re-positioning and reorienting
actors and animated props on the set. Scene Re-blocker is useful if you want to move
an entire scene or rotate it by some amount. FlmFileReader (aka flmreaderzero)
permits one to obtain numerical data on the locations and orientations of objects in
the scene and edit that data. Calculating the scene coordinates can be tedious, but
while working on my airplane startup animation, I stumbled on a useful trick.
Navigation within a scene is controlled by Action blocks or Mopath blocks. The action
block specifies an animation to be played as well as a position and rotation. The
Mopath block specifies an animation to be played and start and stop positions and
rotations.
We can "setup" a scene's elements in blender by importing the mesh objects for the
actors and props, and then positioning them using the data obtained from
flmreaderzero. The position coordinates are in meters, and the rotation value is in
radians, so convert rotation to degrees and enter them into the Transform Properties
menu. You can then relocate any actor or prop in your blender scene and then read the
set coordinates directly from the transform properties menu (hotkey N) in object mode.
You can then enter these new coordinates into the action block in flmreaderzero and
save the FLM file.
Here is an example. I wanted to move the pilot in my airplane scene to the nose of
the plane so he could hand prop the engine. The coordinates of the airplane prop at
engine start up were x = 2.418 meters, y = -7.85 meters , and rotation = 2.566
radians. In blender you can import the airplane prop and position using these
coordinates. Next, take woody, and place him at the nose of the plane, like he was
going to hand prop the engine. You can then read the required coordinates from the
Transform Properties menu.
It works pretty good.
Before, the pilot is posed for the helicopter: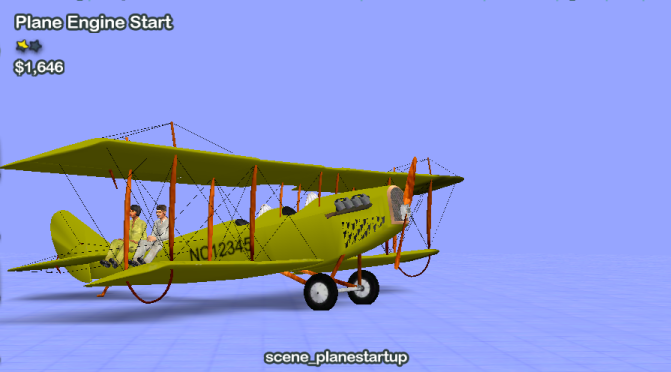 Blender setup: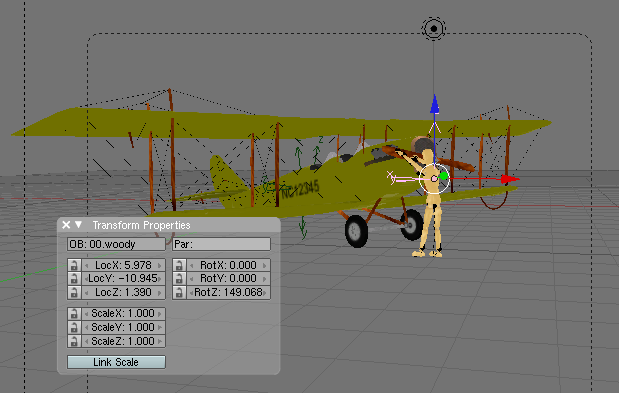 We pose the pilot in front of the plane, ready to hand prop. The Transform Properties menu gives the
coordinates to be entered into Action Block 645. Replace "heli_pilot_startup.anm" with the new edited
animation and save the FLM file to the Movies game folder.
After reposing the pilot at the front: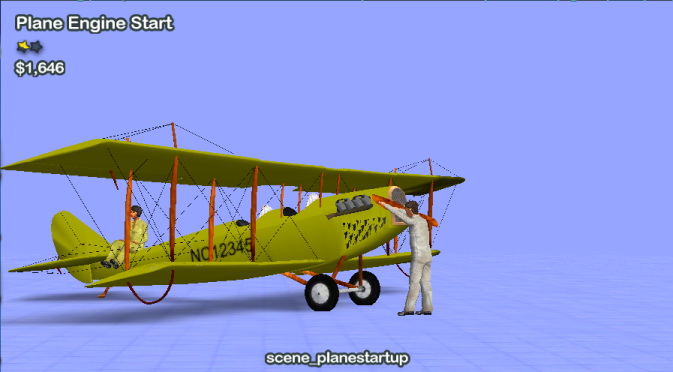 A similar procedure can be used to move the passenger into the front cockpit where
passengers belong in the Jenny.
This is a lot faster than my old technique of cut and try, cut and try, cut and try.