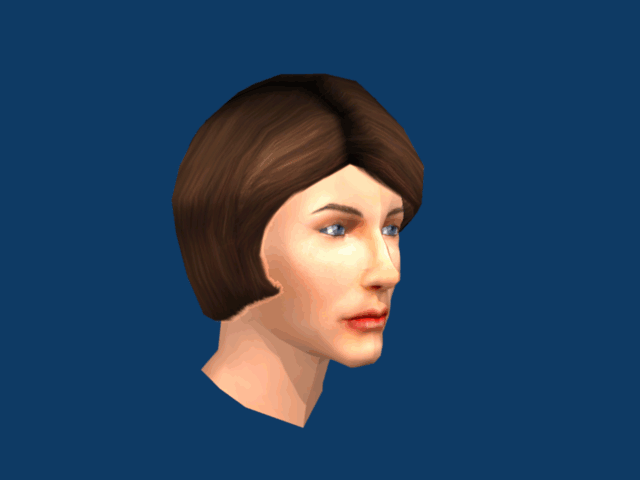 "Kate Wilson" is a Blender implementation of one of my "Starmaker" heads. I used the the head import script from
Sexymaria
to import the mesh, but all that gives you is the mesh shape and armature; you need to reapply the materials and textures yourself. The hair is a a separate mesh, which you have to import using the standard mesh import script. You can find out the mesh for the hair by viewing the starmaker info file that comes with the head in a hex editor and you can look at the star.hd file in your hex editor to find out what texture is used for the face.
I deleted the "eyelids" mesh for the head; no one has figured out how to make that work as far as I know. The first real problem was the eyebrows because the basic face texture had none. I found the eyebrows textures in the data/textures/makeup folder, but the starmaker files did not have any reference to a makeup texture, as far as I could see. The makeup is probably an integer entry in the starmaker file, but the format of the file is not completely been decoded. However, there is a slider on the "facial features" page that selects the facial hair and eyebrows. The first position appears to be "no eyebrows" but slider was set for the second slot when I checked it, so that is probably the first of the eyebrows makeup textures, which is named "mup_feyebrow_v00.dds."
One way to apply the eyebrows in blender is to use texture stacking in which you add an additional texture layer to your material. The "mup" texture is transparent except where the facial hair goes, so if you apply it over the face texture, you get nice eyebrows. I tried that and it works fine, but I decided it was easier to just create a texture externally that already had the facial hair applied. You can do that in "paint.net" rather simply. The face and mup textures are exactly the same size, so if you open the face texture in paint.net, you can import the mup texture as a second layer. You then merge the layers and save the result as a single layered texture with the eyebrows applied and use that in blender to texture the face.
The UVW map for the eyes was edited to change the eye color from the default brown to blue.
Finally, I added some lamps to erase unwanted shadows, set up the rotation and exported the animation using AVI CodeC option in the render window. I used the free version of Camtasia to convert the AVI file into a GIF.
Good fun for a leisurely Sunday.