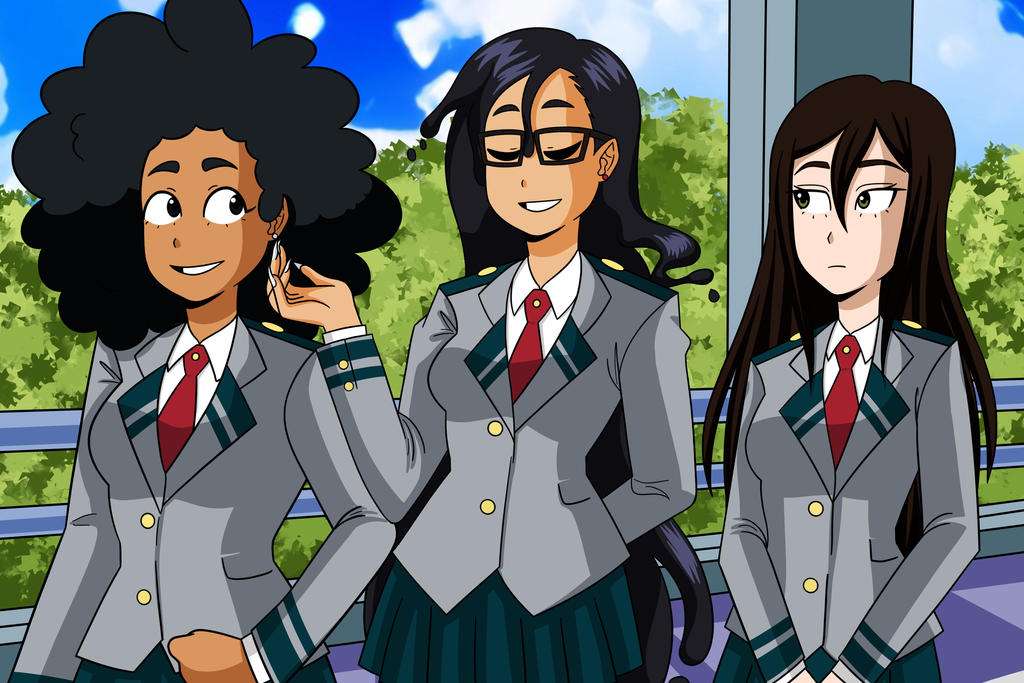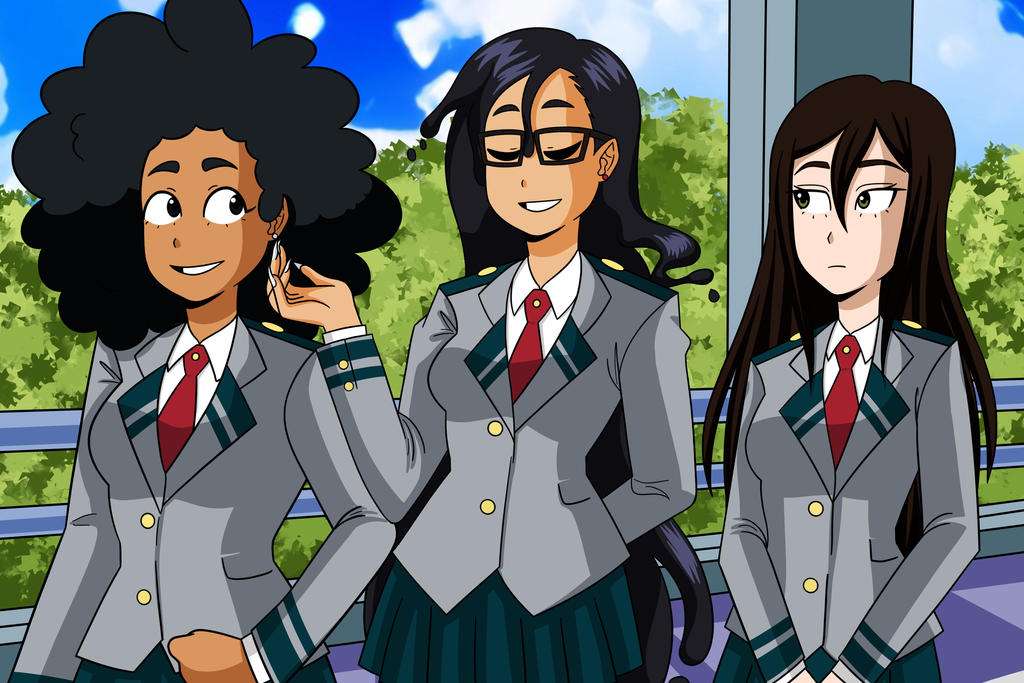 Watch
"I don't really see myself as hero material, so I've decided I'll just MAKE hero material!"
"I don't get it."
"She's going to be a costume designer!"
"Oh.."
"That's so cool!"
"Thanks! I feel I've really got it figured out now! I never really understood where I fit in here at UA, but I've finally got it! Everyone needs a flashy costume!"
--
I LOVE THESE GIRLS!!!! I decided I NEEDED to draw them all three together, you'll definitely be seeing more of them because I AM SO PUMPED ABOUT BNHA RIGHT NOW YOU HAVE NO IDEA!!!!
I think all in all this took about 10 hours from start to finish, I worked REALLY hard on it! I'm incredibly proud of the background... even if it took 20 references for me to be able to draw it. X'D
Check out these gorgeous girls!
LynnesGalaxy
Geminine-nyan
@ me!

AHHHHHHHHHHHHHHHHH
I LOVE THIS SO MUCH!!!!
I mean those two BFFs are the cutest thing ever, and having Michiru there, in the middle, it's like... I WANNA BE FRIENDS TOO THANK YOU FOR LETTING ME JOIN IF YOUR COSTUMES EVER NEED REPAIRING OR AN UPGRADE JUST LET ME KNOW I WLL HELP YOU OUT I LOVE YOU BOTH

Really well done, Leesi! I'm in love with the BG, so it was worth it! ♥
Reply

AILGFFIPGAFPHSCPIAHCNLKA!!! THANK YOOOOOOUUUUUUU AAAAHHHHHHHHHH!!!
they can all be BFFs!!! The amazing trio! I'm sure Michiru would make the BEST improvements!

o

AAAHHH thank yoooou!!! I'm so glad you like it ommmgggg I loved drawing it!

Reply

asñlfsijdñlsgkjrñlkg I'm still in love with this drawing, and with the whole scene!!!!
Best ideas come out from silly talking like we do on FB Hahahahaha ♥
Reply

LEESI HOLY SHIT

THIS LOOKS AMAZING HOLY SHIT HOW
Reply

Reply

Reply

AaAAAA I LOE THIS SO MUCH LKHJFGLKGG FD
PRECIOUS HERO BABIES THEY'RE THE B E S T



Follow your dreams, Michiru!!

Reply

I LOVE THEM THEY'RE THE BEST HERO BABIES!!! BEST FRIENDS!!!




!
YEAH!!! YOU'LL BE THE BEST COSTUME DESIGNER EVER!!
Reply

AAAAA The art is amazing !!!!!! I badly want to watch BnHA in VOSTFR but I can't find a good website to watch it ;-;
Reply

AHHHHHH THANK YOU!!!

! BRO you need to see it!!!! I think kissanime has season one and two!
Reply

You're welcome ! I'll try watching it on my phone then, my computer have a problem and sound won't come back ;-;
Reply

Reply