Upon receiving her license to be a hero, Mitsuko gets a brand new costume! This will be only one of many costumes, as a hero needs to update their look to stay fresh in the minds of their fans.
This new costume stayed in the same vein of exposing as much skin of her upper body to the sun. Her legs are covered, but her pants are woven with fibers that absorb solar power much like she does, and she can tap into it. Although she doesn't often fight in close quarters, the sun-pin that pins the cloth around her hips can be used as a weapon. The heels on her wedge boots are weighted just enough to put some weight behind her kicks, but not slow her down.
Her original: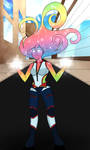 Thanks to
BluebirdsandCanaries
for helping me come up with an idea for the design of her pants! And for asking me questions about her and helping me flesh her out.





Any resemblance to original characters of other works by other creators is completely coincidental. Boku No Hero Academia is owned by its creator(s), but the character and design of Mitsuko is mine! The artwork is mine, so please do not post elsewhere without my permission. Do not trace, reproduce, or steal in any shape or form. If you want something drawn for you, I'm open to commissions, art trades and the like! There really is no reason to steal!