"I can't help but think all of this is my fault, but I don't know how to make it better. I keep thinking about how you said it was because of me that you came out wrong, and.. it's kinda crazy, 'cause I think you're perfect the way you are. Cheap words, coming from me I guess.. I also can't stop thinking about wha happened— at the kindergarten I mean. You didn't come finish the job like you vowed too, and I can't help but feel that you.. didn't really want to. Maybe it's just wishful thinking... I don't know if you stayed on Earth, or if you went somewhere else, but.. I hope wherever you are, the burden that you're carrying becomes so light that you forget it was ever there. I hope you surround yourself with people who accept you for who you are, and they treat you with the love and respect you deserve. And I hope you, too, accept yourself for who you are, and learn to love your supposed flaws. And when you do, I'll still be here, waiting for you.
Sister."
ANGSTY TOPAZ WHOA I didn't know she had an emotion that wasn't happy! Topaz wants so badly for Azotic to be happy, even if she did kinda try and murder her.. twice.
She recorded a little message for Azotic and left it at the kindergarten, where they last saw one another, in hopes that she'll find it and listen.
Will these sisters ever truly be happy together?
Like what you see? Consider checking out my commissions!

Leesi's Commission List.I decided I wanted to redo my commission sheet, but didn't have enough room to showcase everything I can do! So I decided a journal might be better. I wanted to showcase the different styles I can do!
I'm willing to accept points!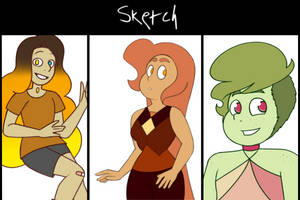 Sketch commissions are just that; sketches. They're not quite as polished as my other work and more relaxed, though the coloring takes longer than my other work.
Headshots: $5
Half Body: $8
Full Body $10
Additional characters are twice the original amount. So if you get a Full Body for two characters it'd be $20. Three would be $30, etc.
There aren't usually backgrounds for these, but backgrounds are twice the original amount of the commission if you want one.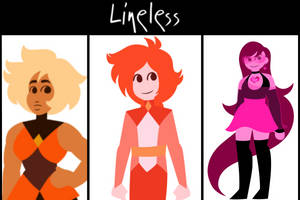 Lineless or Save the Light commissions take a very long time, as I'm sure you can imagine! I try and mimic the style or Save the Light, though I can do something different if the commission is not SU oriented!
Headshot




Any resemblance to characters of other works by other creators is completely coincidental. Steven Universe is owned by Cartoon Network and its creator(s), but the character and design of Topaz is mine. The artwork is also mine, so please do not post elsewhere without my permission. Do not trace, reproduce, or steal in any shape or form. If you want something drawn for you, I'm open to art trades, commissions, and the like! There really is no reason to steal!