Hello!
If nothing else, at least this post indicates that this account has not been wholly abandoned. In derelict-house scale from There're People Living In Here! to Just A Bunch of Bricks, this dA account is Dusty and Stale-smelling.
I just finished an attachment at a skin specialist centre, which was very very interesting and impressed on me the importance of putting moisturiser and sunblock,
especially
if you have eczema. It will help.
So maybe if you don't feel like reading personal news, maybe have a fanart feature? I've been reading Discworld quite a lot lately, along with a few other books, but there's also the lovely New Year's present coming up... Sherlock season 3!
Have nine. Nine is a nice number, it's three squared.
<da:thumb id="284656687"/>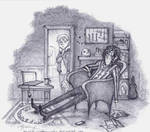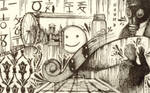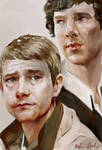 (I like the skin tones and the blocky painting style here)
also, a bonus Discworld feature- this is gorgeous and from one of my favourite books, Guards! Guards!-