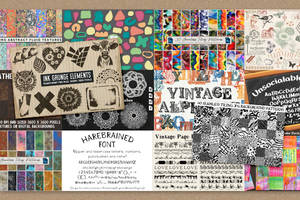 HG Designs Subscriber Area
Lots of high resolution goodies for graphic design including textures, photoshop brushes, seamless patterns and more.
---

Description
The file's in .TTF and as of now, I am not sure if they work with Macs. Feedback and comments are very WELCOME so don't be shy, yeah?
Could you guys send me a link to your deviation if you've used my font by any chance? I'd like to see it in action. YEEAAAAASSSS.
Conditions of Use
This font is for non-commercial use. This means no selling of items that have this font being used on it. If you plan on using this for your school assignment, that is acceptable. YEEAAASSS!
You are not permitted to redistribute this font without my permission.
If you are considering using the font for commercial work, please send me a note so we can discuss about this.