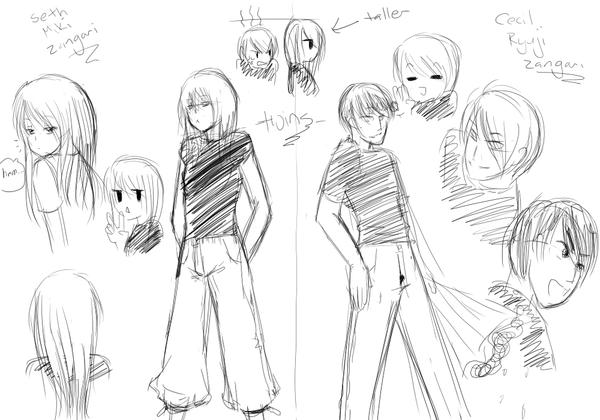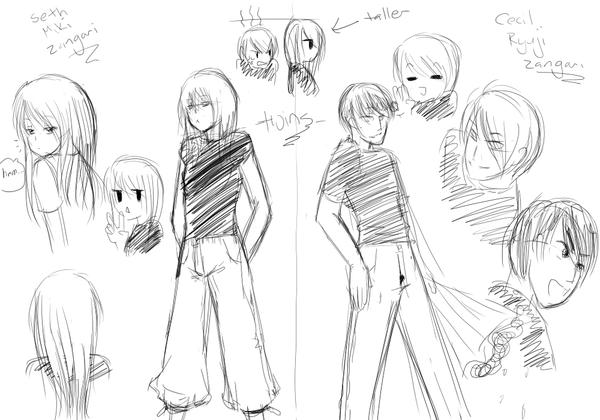 Watch
More character designs for me story

They are both italian/japanese. The Zangari twins are different sides of a coin.
Seth is tall and silent. Many people don't expect much from her but out of boredom she tends to break off from her normal still and silent routine to do something new. People would call her on it but they can't continue to move their mouth as she stares at them blankly (although she doesn't mean to.)
Cecil is smaller but much louder than his sister. He laments over his height and age when compared to his sister. He loves girls and is rather perverted but knows how to respect and treat them well because of his mother.
too many spoilers lol
hope you like

commish meeeee =3
Seth and Cecil Zangari (c)


I love it >:3
even if it's a rough sketch
I love all the angles X]
I wish I could draw like that.
but I suck at drawing anything in motion XD
and the characters are adorable XD
Reply

takes alotta practice..I still suck at it =/ but you keep going

and my children aren't adorable they are down right crazy LOL
Reply

hahah, I guess so, huh X]
well, I need to find out how to draw correctly...so they don't look so STIFFFF D:

hahahahhaa crazy children are the best!!! <3
Reply

I love it >:3
even if it's a rough sketch
I love all the angles X]
I wish I could draw like that.
but I suck at drawing anything in motion XD
Reply