Hey, a journal entry! Things and stuff! Be prepared for disappointing answers. ^_^
#DeviantArtistQuestionnaire
How long have you been on DeviantArt?
Let's see... looks like 3 years ago.

What does your username mean?
That's a fun story. See, just after I had joined deviantArt, I changed my name to Laura. However, the name Laura Rola is actually referencing Turn A Gundam, although it's often spelled Laura Rolla. The main character uses this name during situations where he decides to dress up all pretty and sweet and feminine.

Describe yourself in three words.
Sweet, thoughtful, uncertain.

Are you left or right handed?

Right handed, although in some limited cases, I can be ambidexterous.

What was your first deviation?

That would be this one right here: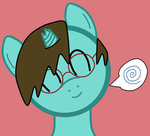 It's a pony OC I created, Rem Sleep. I'm still working on her story kinda, although I haven't drawn anything official for her in months (and those were just some sketches)

What is your favourite type of art to create?

I love traditional sketches, pencils mainly. Although I really want to learn digital art, but I haven't invested the time yet. Don't worry, I most certainly will do that. Laura, while uncertain, loves to learn, so she'll push herself to try some new stuff sometimes.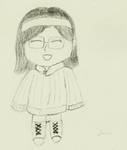 See how happy she is when she's learning stuff?

If you could instantly master a different art style, what would it be?

I'd probably want a style akin to

. She has such a beautifully cute style that I wish I could just steal so darn much.

What was your first favourite?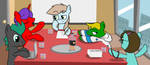 Some ponies chatting about stuff, including Rem, of course! Drawn by

What type of art do you tend to favourite the most?

Art from friends, fanart that I like, occasionally plushes... Just whatever happens to strike my fancy at the time.

Who is your all-time favourite deviant artist?

There are a few, a number of which are friends of mine IRL.

,

,

, and

are probably my favorites overall.

If you could meet anyone on DeviantArt in person, who would it be?

All those ones in the favorites? Yeah, I would love to meet all of them, and a few others.

How has a fellow deviant impacted your life?

The
deviant that has had the most impact on my life would be

, who happens to be my former boyfriend and the first person I really had a relationship with after I began transition. He inspires me, and I feel much better about myself thanks to him. He's pretty dang awesome and deserves more attention for his incredible art that just keeps getting better and better over time.

What are your preferred tools to create art?

Pencil and paper, or this rather simple Huion tablet for my computer. Basically, cheap but effective tools are my tools of choice.

What is the most inspirational place for you to create art?

Technically nowhere in particular? I just sit in front of my computer or laptop, and will occasionally sketch while at work or a friend's house if I'm feeling comfortable enough.

What is your favourite DeviantArt memory?

I don't have a specific one, but every time I get comments supporting my work, it means so much to me. Thank you to everyone who has taken any interest in my over my time here, and here's hoping I can somehow manage to get my rear in gear and bring you more art and fiction in the future!


Thanks much for reading!