Update
Thanks to the aaa~bsolutely kind
Euskelo
I got the premium far sooner than expected, so I'll be able to do polls and stuff already

The pool stays though and keep the same purpose :
- help me pay my premium when needed
- collect points for future contests or giveaways (or any good ideas which will comes to my mind until then)
Keep reading to know how it works !
Original Post
I've just added a donation pool on my
page
because I'd like to get the premium membership again. I usually try to get points through contests but unfortunateIy I don't have the time anymore, and like every artists out there, my wallet is totally and absolutely full of emptiness yihhha !

BUT
(massive BUT)

I would prefer that's there's something

for you in exchange for your points !

Reason why I'm transforming this pool in a "Get featured on my page for few points" box.

Whatever your art is about, whatever your level is, and as long as it stays SFW, your picture can be displayed here in exchange of 30 points.
How does it work ?

You can donate as much points as you want in this box. But if you want to be featured the minimum amount is
30 points
.
First, get the thumb code of the deviation you want me feature :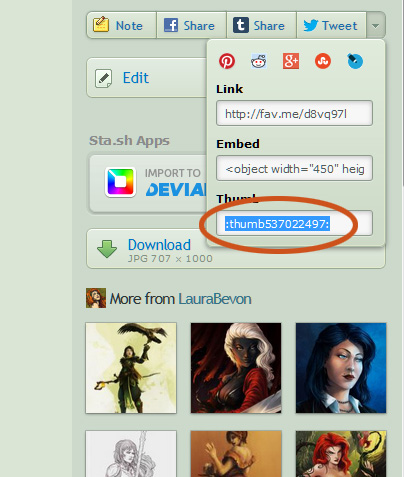 Then paste it in the donation pool's message box, when you are sending the points.
And....
That's it
! Your donation is done and I thank you.
Your picture will obviously not appear immediately, I'll have to put it there manually and will do it as soon as I see your donation. Be patient.
Once it's there it will stays
one week
on my page if you gave 30pts. If you give more it stays longer !
What's the purpose behind it ?
- As I explained it before, I would like a premium membership but can't afford it at the moment.
- Because you pay for it, it will push you to choose your best art only. Quality check.
- I'm also simply testing this stuff with a concrete goal, if this works and you guys shows interest, I'm gonna do it again, but with a better purpose for the points, like contests or giveaway.
I don't know exactly yet but cool thingggggs

Why would YOU do it ?
- It's a nice yet cheap way to support me if you like my work, and i couldn't thank you enough for that

- I do not have the pretention to have that much exposure, but as long as someone will see my page, he will see your art as well, because this box will stays at the top.
Hopefully as my own page grows, it will become more and more interesting.
- You like this simple win-win principle.
More INFOS :
- Yes, you can make a donation without wanting to participate this feature thing.
- You can feature someone else without problem.
- You can make two different donations to get more features (but I'd like to limit it to 2 per person at the same time)
- You can make another donation when the previous picture featured is removed (it can be the same)
- Questions or advice ? Just use the comments below

-----
Euskelo
Chitsuu
MamsuH
Getsuart
RetSamys
I took the permission to feature you on this thing for the first run, see it as a thanks for all those kind exchanges on the last journal if you want

If you want your picture to be removed or changed, let me now.