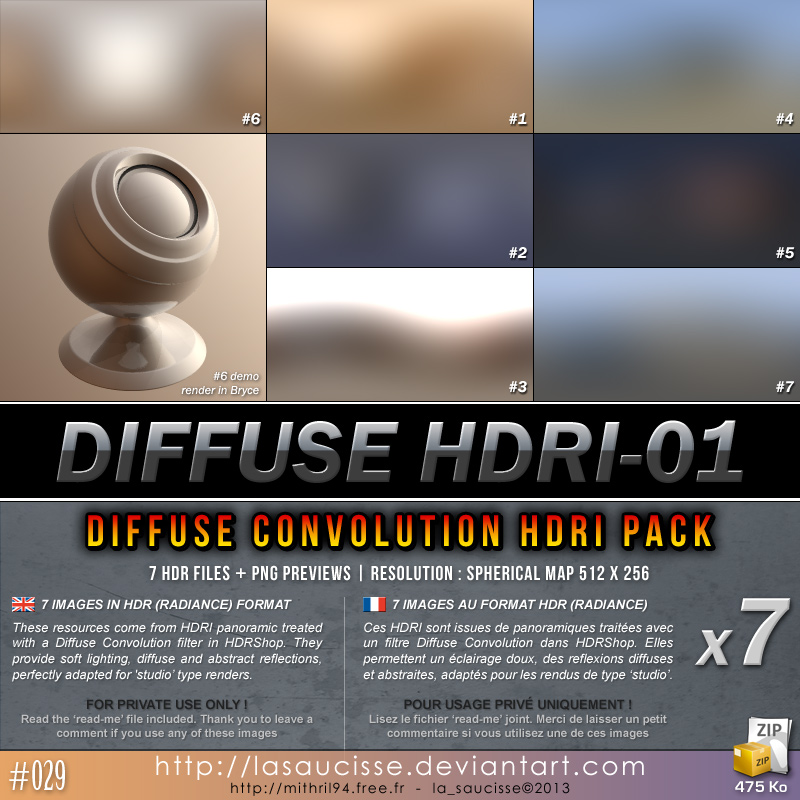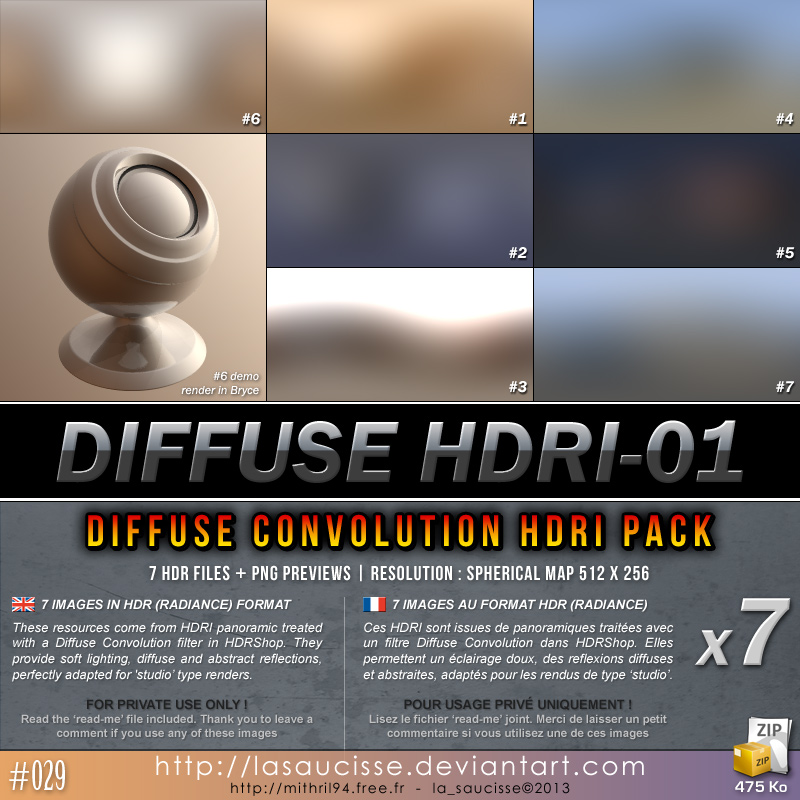 Watch
[EN]
7 images in HDR (RADIANCE) format
These resources come from HDRI panoramic treated with a Diffuse Convolution filter in HDRShop. They provide soft lighting, diffuse and abstract reflections, perfectly adapted for 'studio' type renders.
For private use only !
Read the 'read-me' file included. Thank you to leave a comment if you use any of these images.
- - - - - - - - - -
[FR]
7 images au format HDR (RADIANCE)
Ces HDRI sont issues de panoramiques traitées avec un filtre Diffuse Convolution dans HDRShop. Elles permettent un éclairage doux, des reflexions diffuses et abstraites, adaptés pour les rendus de type 'studio'.
Pour usage privé uniquement !
Lisez le fichier 'read-me' joint. Merci de laisser un petit commentaire si vous utilisez une de ces images.
- - - - - - - - - -
[DOWNLOAD THE FILE / TELECHARGEMENT DU FICHIER]
►
drive.google.com/uc?export=dow…
475 Ko

Reply

Thanks for these, can never have too many HDRI packs!
Reply

Reply

Thank you very much for these.
Reply

Nice! Thank you for sharing!

Reply

excellent boulot , merci pour le partage

Reply

Reply

note que ça fait doublon avec une partie du contenu de mes fakeHDRI, si tu les avais déjà téléchargées.
Reply

Whaou, merci beaucou pour tes ressources ! Et félicitations pour ta galerie

Reply

nice HDR it can be really usfull
Reply

Reply

still the really will be butter but it can be useful for people don't have any HDRI.
Reply

Reply

ohh... i didn't know about this.
this is the shop i use it is kind of expensive.
Reply

see also
www.unparent.com/photos_probes…
it's the source for the HDRI provided with Bryce 6
and free again

Reply

wow thx for all the free stuff.
i feel bad to say this that your HDRI seem useless with all these cool free one. XD
but the really arts know how to use them and i will try to make some work with them.
keep up the good work
Reply