Not may knew, however - yes, i like short-haired girls. Some would say that short-haired girls are actually guys than girls. Well, i have an answer for you - I doubt you are familiar with simple word called "Tomboy", google it. As for me, i'll start my TOP-5.
Just so you know, it contains my own & only my own taste & judgment. Alright, let's start!
5-TH PLACE - King (The King Of Fighters)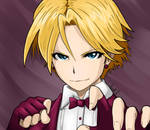 A character who had ambiguous gender from first game. She had nickname "King" which referred as a "male". But the truth is hidden when you defeats her & part of her cloth were torn off - you would see chest. More important, i'm not The King Of Fighter fan. But i like this character, the way she looks & live, is truly worthy.
4-TH PLACE - Naoto Shirogane (Persona 4)
Same as King, she hide her gender for just to be equal with others. As long as everyone sees her as a male detective prince, none would argue about her childish
affection to detective novels & everything. However, she forgot that it didn't change anything when her gender was revealed. Accepting herself was the more easy way than letting her own prejudice guide her. Which she did well.

BRONZE - Kara (Detroit Become Human)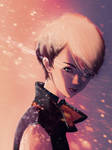 The game was released recently & i'm already like that character. Her hard life were not really easy. She was suppose to choose, what she would do? Fight for life - or die obedient. You would do the same as her.

SILVER - Power Girl (DC)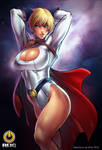 Power girl, sister of Superman (Alter-ego of Supergirl) in some universe, exist a super heroine, which is sister of Superman, named Power Girl. But let me tell you this. Power Girl IS Supergirl. They have same power, abilities & weaknesses, they are just called diffrently & they have different fashion. Like - Supergirl is like blue color, long hair & school-like outfit. While Power Girl is prefer to be more open, like white color & short hair. So... I prefer more Power Girl than Supergirl.

GOLD - Leo Kliesen (Tekken)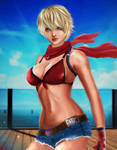 War about Leo's gender is still continues. However, i'd like to tell you about 1 story. Long ago, 1 guy said to me that she's a male, & i believed him. But when i saw female hairstyles, i was asking myself - is Leo really a male? That's where i'm started to searching the truth. So later on, i knew for sure, Leo IS a female. No matter what others says.
Leo is an orphan, who is seek for her mother's killer. In the game you will see that many characters & prologue tells that Leo is a male. But don't let that fool you. Japanese language prefer Leo's biography as in neutral terms. But in other languages is most hard to do, so, they had to choose to confuse the players. If you see Leo as a male, don't write anything here, okay? =\

That's all for today, see ya later!