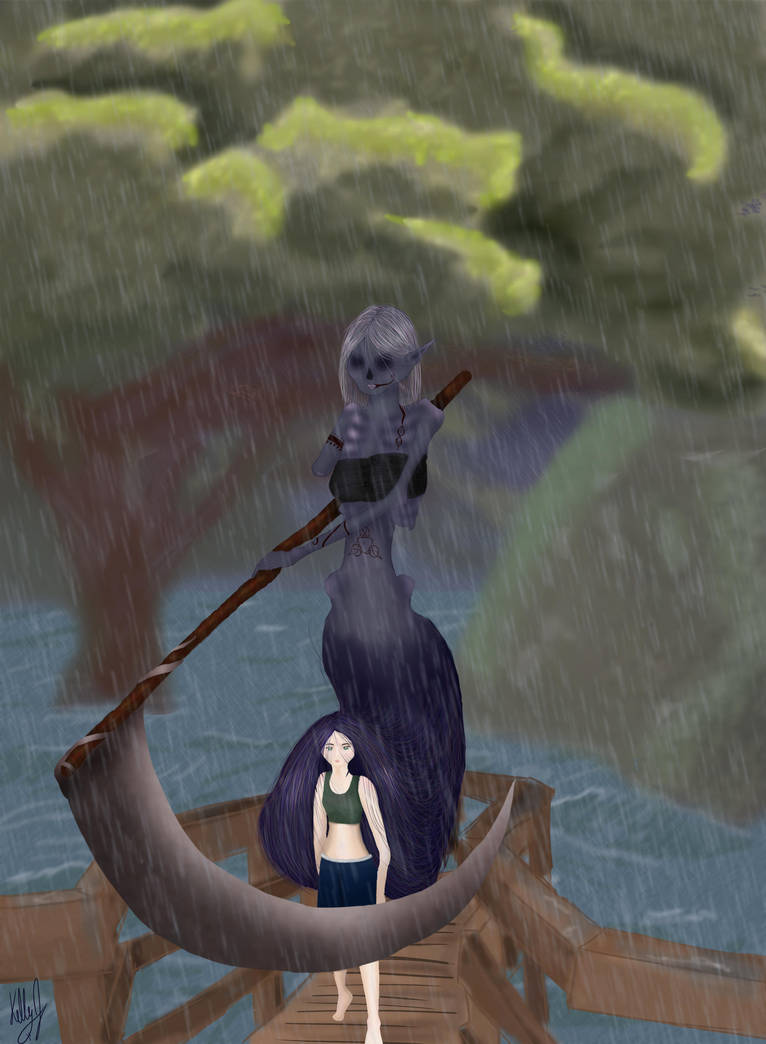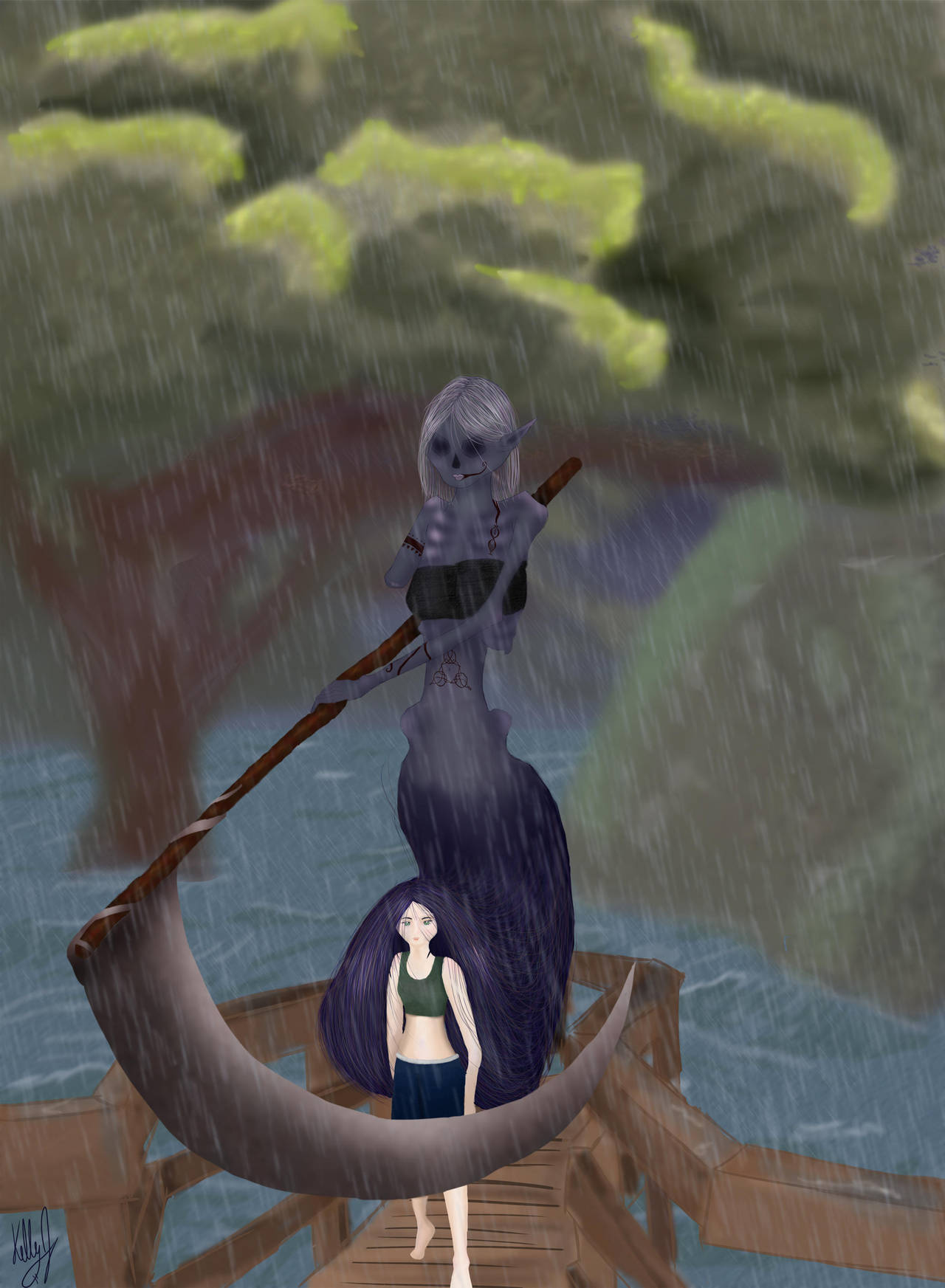 Watch
The very first save of this file was May 2. That was when I made the sketch.

This is the longest I have ever worked on one drawing. Of course this was not every day for 2 months for 8 hours per day. I stopped working on it for about 2 weeks when I finished the characters and the scythe. The background made me want to die. It took me about four tries to make it look like I wanted it too. The I decided to make it rain and yadayada. So many changes compared to the first sketch. I really have nothing much to say about this execpt for I hope everyone really enjoys it and please critique!
For once no stock or downloaded brushes were used. All of the reference photos were taken by me.
Well done. What an eerie feeling about it has. I would change the shade of the girls hair because it blends in with the grims body. You drew the the water and the waves very well and it does indeed look like it is in the middle of a rain storm. I like that you decided to draw the grim as a tall women who looks to be in the stages of decaying instead of a neutral person in a black robe. It gives it a new take and flare to the original idea and I think people will enjoy it.
The Artist thought this was FAIR
1 out of 1 deviants thought this was fair.
Ah, I was looking forward to this! I was ready to post a critique on this in the WIP version until I realized you had been working on it for a while after that point, so I waited until you posted the full version of this. And I have to say--wow! It's really incredibly well done

This is actually my first (I suppose you could say proper?) critique I've ever done on dA, so I'm not entirely sure how to use the stars correctly, but I'll certainly give you lots of pointers!
To start: the whole concept behind this is really awesome. I really like the idea of the grim reaper-like shadow following her like that, and how it emerges from her hair in such a way. The rendering and use of color is very well done and I love the centering and weighting of this piece. My favorite part has to be the hair--it's obvious you spent a LOT of time on it, and the strands and lighting on it looks amazing. The texturing is appropriate in the different areas here--the scythe is bumpy, the skin is smooth, and the clothes have a little bit of roughness to them. I'm really glad you paid attention to those small little details, it really makes them pop!
I'm going to start picking at little things now, just for the sake of improvement. Let me make it clear that there is absolutely nothing that looks atrocious or bad or any such term--this is definitely an amazing and solid piece! But since you're asking for a critique I'm assuming you're doing it for the sake of improvement, and I really appreciate how well you take them, so I'll try to give you some tips within my own experience

So, to begin, let's start with the central two figures, since they are obviously the entire point of this piece. The anatomy for both the two figures seems a bit off. For example, on the grim reaper figure, the skeleton is a bit disconnected. Her ribs seem to start where her collar bone should be, and if they are supposed to be both the collar bone AND the ribs, it's not entirely obvious that it is. (The middle section between her ribs should also have a bit of definition to it, as well.) The breasts actually are sort of in the top-middle of the rib cage, however hers appear as though they are at the bottom. I love the purple lighting you used in the rendering, but the left side of her ribs seems far brighter than the right, which sort of throws off what direction the lighting is coming from (which is actually a bit hard to tell at times--it the lighting of the girl implies it is from a dead-on frontal angle, while the scythe looks like it is coming from above, or even reflected from the girl herself. The grim reaper figure and the tree also implies that it's coming from the top as well, so there's a bit of confusion there.) But going back to the anatomy, the spine seems like it's too far over to the left, while the pelvis seems too far to the right--basically, it's hard to tell exactly where her body is lining up because of it. Her arm looks great and wonderfully bony, but the thickness is inconsistent with the one on the left--unless, of course, that was done on purpose. I understand that the skeleton was meant to be exaggerated, but even an exaggeration needs to feel believable or it breaks the illusion, if that makes sense

I would recommend studying pictures of skeletons and drawing one underneath your figure, especially if it's bony, so you can understand where exactly the flesh goes.
As far as the girl's anatomy goes, she seems a little off herself. It's easy to see that she is stylized, but some parts don't line up correctly and seem off--her shoulder and neck area, for example, seems rather flat, and her right arm is far longer than it should be (the elbow should line up with her waist, and the middle finger should go up to your mid-thigh.) This will sound odd but I love the ankle on her right leg, but her left leg has a curve to it that shouldn't really happen with the way legs bend

I also find it odd that she's missing her belly button, since the placement of the shorts implies that it should be shown. Her chest should also be much wider, as a woman's shoulders and chest should be as wide as her hips, and curves in the middle where the ribs end.
I LOVE the use of purple for her hair though--the transition works perfectly and it definitely adds some life, as opposed to using just black. Rendering-wise, her nose seems too tiny and too under-shaded to really see. Her lips seem way too tiny too, even from a stylized point, as it's really hard to see. I'm assuming realism wasn't what you were going for here and I have to say her face works within itself, but from a huge picture like this, they become finer details that just get lost

The tattoos on the grim reaper don't seem like they have values either, though they should--like the one on her ribs, for example, which are really bright but the tattoo isn't along with it. And while I love the hair, I have to say it looks a bit
too fine
. I LOVE the fact that you darkened the hair at the roots, because that's exactly how hair works and it helps define the parting, but hair isn't always just individual strands. Naturally, hair sort of clumps together, even really dry hair. Having a few strands in your face is perfectly fine if your hair is dry, but considering how it's raining in this piece, the hair should really be more weighted down and together. (And maybe even a bit shinier, with the wetness.) While I'm at it, while the dock has water on it, the characters show absolutely no evidence that it's raining--to make a raining piece, you have to take in account the full effect of rain aside from the drops; the rain drops bounce off of things in splatters upon impact, things get darker with the added water, clothing and hair sticks together, that sort of thing.
Overall though I think it's a bit TOO obvious that you didn't know what to do with a background, and it sort of hurts your piece. Backgrounds are such a pain to do and I can totally relate, but this background kind of makes things a bit confusing. For example, with the overall vision of this, I feel like this piece should be much more dramatic and darker, yet it seems a little more lighthearted with the colors and such. For example, the upper branches on the tree seems way too bright to me, almost like it's a sun shower. The lake needs a bit more substance to it--the waves look like they're being kicked up by the storm yet there's no white splashes when it interacts with the cliff or the tree (I think maybe even it crashing behind the dock would have a nice effect!) The style of the dock with the colored lines doesn't match up with the lineless art of the two main characters, which makes it look out of place. The tree itself looks more like a motion blur rather than out of focus, and there seems to be a random thick branch coming out of it that doesn't really look like it belongs on that part of the tree, since it looks way too thin to support it. The background gives off an overall rushed feeling that sort of takes away from the piece--it isn't
terrible
, but you could have done so much more with it. Personally I think the greens of the forest-like area doesn't really work with this piece, and although I like the rain, I think a more blue-ish rocky cliffside by the ocean would work much better for this piece. (Maybe even in the moonlight, although the girl looks awfully bright, unless that was a symbol for her life vs. the death that hangs above her?)
Phew! That was certainly a lot to say. I hope I've provided some insight to you with how long this post is. I meant it when I said I think you have a great piece here--you really do, and as soon as I'm done with this, this is going straight into my faves! But there are a lot of things that you can add or improve to that will help make it better. Hope I helped and great job overall

Gotta admire an artist that can stay committed to such a huge project like this! If you have any questions or concerns please feel free to ask as well.
The Artist thought this was FAIR
1 out of 1 deviants thought this was fair.