Hello, dear members!!!
As previously announced a few days ago, beginning this week we will be picking Winners for our new
Weekly Deviation Award (WDA)
The Winning Deviations will be featured in our journal for an entire week, and each Winner will have the right to display this Award in their deviation description along with the Journal link announcing the Winners: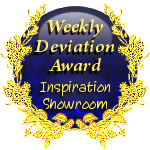 or

We are organizing everything to make it easy and interesting for everyone.
We have decided to increase the number of Weekly Winners to a variable number, depending on weekly submissions of different types of art.
Also, we have created an account associated with our group:

I-S-WeeklyDeviations
.
This is where you will find the works submitted to our group for each week that will participate in our WDA.
In the Favorites Gallery for
I-S-WeeklyDeviations
, we will create folders for each week of our WDA.
And now the interesting part...
Members are allowed to make suggestions for WDA, but this has some rules:

We will only consider and accept suggestions from members of
Inspiration-Showroom
.

These suggestions can only be made in the comments for the faves folder of
I-S-WeeklyDeviations
. (e.g., the folder for WD - Friday November 22, 2013 is:
i-s-weeklydeviations.deviantar…
)
In the comments you may add a link or thumb of the work you want to suggest for WDA.
Every Wednesday, after approximately 12:00 noon (EST) we will not add more deviations to the folder WD of the corresponding week.
All submissions submitted to our group after that time will be included in the folder for next week WDA.

Please do not make any comments other than the suggestion of a WDA.

Just one suggestion per week per Member.

Do not suggest your own work.

All suggestions will be considered until the close of the weekly folder, every Thursday 12:00 noon (EST)
The publication of our journal with the announcement of the Winners be every Friday.

The final decision of the Winners will be made by
Inspiration-Showroom
Administrators.
We hope you will enjoy and participate!!!

We do not want to be the only judges of these Awards.
Warm regards,
Your Administration Team.

© Weekly Deviation Award (WDA) is an original idea by jim373 and LaraBLN, shown in deviantART on November 7, 2013.