Purpose of this journal is to alert you guys and gals of updates that occur over on my Patreon Gallery (Link here
www.patreon.com/laprasking
). This will be similar to my Commission Guide.
This list will be updated whenever there is an exclusive upload on the Patreon Gallery. You can also use this to ask questions about exclusive content and I'll happily answer them.
So without further ado;
----------------------------------------------------------------------------------------------
UPDATES

28/05/17- The Classic Comic Saturdays has begun. Every Saturday a classic installment of the Anabel+Greta Show and a Page from The Cleanser will be added to the Patreon gallery.

This join the Classic Upload Wednesdays themed update where classic Artworks and Fanfiction are added every Wednesday.

15/05/17- The Thought to be Long Lost Dawn of a New Gender has been found and uploaded to the gallery.......for $2 donators.

Hey, its older work that people have been requesting me to share again.... XD

14/05/17- A Classic Fanfic has been added for Donator's Content, one that was always too hot for DA.

In the process of colouring Bimbo Ashley which will only be uploaded for Donators and you can find previews of.

Also in the middle of practicing with a new art tool to improve speed and quality.



12/04/17- Wednesdays are now Classic Upload days, where 3 past Artworks/Fanfiction will be added. This week we have 3 Fanfictions, all too naughty to be on DA.



Lots of preview content and other uploads since the last update. Should hopefully soon end the spell of drought at least here on DA....

21/03/17- All past Patreon posts have been tagged, making searching a whole lot easier!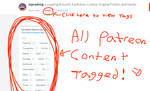 Added a guide to the F.A.Q section to this journal.

Fair few images added since last time as well.



27/02/17- A heck ton of content, both new and old, added since the last update (Really should update this journal more. XD). All the old content has almost been tagged so searching for certain content will be miles easier.



19/01/17- Plenty more content including a new Preview, some Classic Uploads, the debut of Donator's Choice pics where Donator's get to decide what character to use in a pic (Even $1 donators can suggest characters!) and more.

Speaking of the first Donator's Choice pic, voting on the first character ends this Friday.

07/01/17- An absolute heck ton of Ball Bound pics have been uploaded on the Patreon Gallery.

Seriously, if you enjoy the Ball Bound pics at all, you definitely might want to consider becoming a $2 Donator today!

Quite a bit of content also added since the last update to this update journal. Xmas was a busy time as usual, but we're back in the full swing of things.



16/11/16- A few Classic Uploads including all the Premium Content that comes with them have been added along with a preview that might excite those that are fans of a certain type of Artwork by me.



06/11/16- A very sexy Cowgirl Misty (Or Moosty if you prefer. XD) Preview pic has been added along with the next part of the TG Princesses commish I'm working on.

23/10/16- Much more tagging done on older posts, and a preview to a Cowgirl pic I'm in the early stages on working on. Wonder if its anything to do with a Fanfic series of mine, hehheh....

09/10/16- Long overdue, I've begun Tagging the older Patreon posts so it'll become much much easier for you guys to look up content.

The most notable thing is that ALL the HootHoots related art and the story have been tagged and to make it even easier for you all, the HootHoots content even has it's own dedicated "HootHoots" tag!

26/09/16- Guess another update here is due huh. XD

Since the last update to this Update Journal, there have been plenty of Previews and Classic Uploads. Just recently, the classic upload Naked Anabel has been added, along with the complete Yet More Dawn set for $2 Donators.

For newer Content, there's Tracer from Overwatch who's free to view but $2 Donators can enjoy her Naked Variation as well as all the contents of her DA Zip Folder.

Work has resumed for the next Ashley artwork and you see Previews of the Topless Variation and h iconic Orange Dress.....with a shorter skirt. XD Thi and the normal longer orange dress will be uploaded to DA once complete.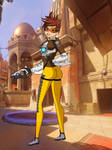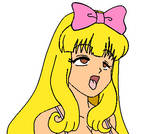 27/07/16- 2 more previews, a shaded HootHoots pic and a sneak peak of the hypnosis pic I polled for the facial expression, all for $2 donators once more.



12/07/16- 2 Previews, one for a TG themed pic and a coloured HootHoots pic, all for $2 donators.



28/06/16- 3 Inked previews have been added for $2 donators including Sling Bikini Cynthia, Sling Bikini Serena, and a commission preview.

I also made some Patreon stamps for use on DA if you wanna use them to say "Hey, I have a Patreon gallery!" on your journal or such.



14/05/16- The Iris Mummification pics have been uploaded, including all their alt variations (Like the ones too nudey for DA. XD) for $2 Donators. Also added the "nipple-ier" version of Rikamon for free visitors.



04/05/16- 2 Exclusive Sketches added, both are Metrobay Superheroine themed.

The Donator's Rewards have also been updated to include new entries in the "Paths to Adventure" series I recently started, while the series can also be found on Patreon. A reward of Roleplaying Sessions has also been added.

26/03/16- A bunch of brand new sketches have been uploaded all exclusive to $2 donators. The themes include;

*Gender Bender with Ashley (She gets a little "playful".)
*Sling Bikini with Candice and Zoey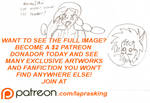 *A brand new Hoothoots pic with Dawn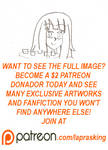 *2 commission previews, one ball bound related, another is a furry mermaid (Rogue the Bat believe it or not. XD)

On the subject of pic commissions, all my current pic commissions are now SKETCHED. Just the matter of inking and colour em next so hold tight.

17/03/16- Wow, should really update this now. XD

Long story short, there has been tons and tons of stuff added since the last time I updated this journal, both free and donator content. You can now also find the uploads on my Patreon homepage (Though keep in mind the Donator content is only visible to those who donate $2 or more.) so it's even easier to find the gallery now!

Also the recent Shantae Special Edition is now up in watermarkless view, including a nude alt.

24/11/15- You can catch an early preview of my birthday pic right now.

The theme is TG within.....tons of universes technically. XD

29/10/15- A few previews to a couple of commissions I finished sketching you can see an early preview for right now. Also a brand new Patreon exclusive sketch, the theme is Age Regression within the Sailor Moon Universe. Preview here.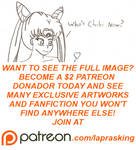 Also in the process of adding the Hypno Hornet comic to Patreon, which will include the pages too hot for DA so keep your eyes pealed (Free to view of course)

24/09/15- Couple of artworks exclusive to Donators. First Anabel+Greta as Bunny Girls as previewed here.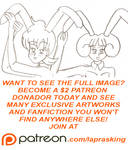 Another 2 secret sketches only Donators get access to. The themes are an unfinished installment of "What If" and an Ashley Pic.



06/09/15- It's been awhile hasn't it? Well just because I had a suspension on DA does not mean the work load has not been halted.



The Baths Vs Showers story that was removed off DA can be found on the Patreon gallery. The theme is Dawn and Age Regression.

Baths Vs. Showers?!?!?It was a normal day in Twinleaf Town. The sun was about to set for the night, the Starly were flying back to their nests, and the Bidoofs were finished one last swim by the nearby lake.
On this day however, a certain blue hair eighteen year old had returned home from her most recent adventures from Pokemon Contests to visit her mother. She was already welcomed home by her mother Johanna but after a quick catch up, Dawn asked if she could have a shower before supper as it was quite a hot summer's day and she had been sweating a lot. As her mother agreed, Dawn hit the shower scattering her dirty clothes on the stairs as she made her way upstairs and Johanna started making dinner...at least that was what Dawn thought...
...as she could not even get into the bathroom, noticing a sign saying "Locked by DA, use a Patreon key to unlock." Instead Dawn just stood there annoyed, tapping her foot as she waited for everyone to go the the Patreon gallery.
To Be Continued...over at Patreon (See Arti

A whole heap of Sling Bikini sketches have been added to the Patreon Gallery, which you can see previews of here.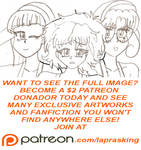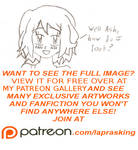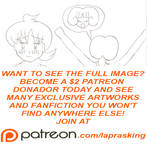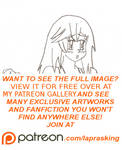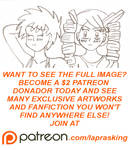 There is also a secret Sling Bikini sketch only $2 donators can see.



05/07/15- Another entry in the Summer of Sexy 2015 series and a Diaper Hypnosis sketch. I've also updated the stretch goals and funding rewards a little more with some things like a Free Stamp Request every month for as little as $1!



02/07/15- First in the return of the Summer of Sexy series has been added. Donators get early access to the sketch version (Once coloured, a safer version will be uploaded to DA, but only on Patreon will you see the true version and a nude version.

)



07/06/15- The recent Metrobay Fanfic has been added to Patreon but there's a catch. Only $2 Donators can read it on Patreon. If you wanna read it for free, then you HAVE to go to the Metrobay Comix forums.





17/05/15- An unfinished Shipping Meme that'll probably never be finished has been added. Also added in the Serena Ball Bound Extras Pack 2 for $2 Donators to see along with all the other exclusive images.



The whole "Marina at the Beach" trilogy has been added too, along with the very rare Sketch and Inked versions!

09/05/15- An exclusive Ball Bound Pic with Hyrule Warriors' Princess Zelda and Lana together. Also added is another lost 1 page sketch. The themes include Age Regression and Progression (Though this is more comical then...you know.) and involves Sonic the Hedgehog and Amy Rose.

01/05/15- We have reached 100 uploads on the Patreon gallery! As well as adding the recently removed stuff from DA and an Exclusive Naked TG Me Sketch recently, to mark 100 uploads I have uploaded the start of a TG Sequence I started but have not moved any further with. The theme is a Duel TG Sequence involving Ash and Dawn (So Boy to Girl AND Girl to Boy!)



13/04/15- Exclusive 4 Page Comic has been added (Sketch only thus far), the theme being bondage, striptease, and involving Anabel and Greta. The first page is free to view as a preview but $2 donators see the whole comic.

Also uploaded are 2 lost sketches that are free to view, and an Exclusive Colouring of Sleeping Beauty Dawn, including the Sketch and Inked variation, for $2 Donators.



10/04/15- Exclusive 5 page comic has been uploaded (Keep in mind its in sketch form). The theme is hypnosis and stripping, and the characters are from Metrobay Comix and Finister Foul's Pink Pussycat and Kitten.

09/04/15- Full version of the Dawn Bondage 4 Sketch.

First Update- Currently there are 66 Submissions on the Patreon Gallery. This includes exclusive art and fics, DA Premium Content, Adult and General Audience works, free and $2 Donation content. More achieve uploads, both free and only for $2 donators, will be uploaded as we go along, as well as exclusive new works.

----------------------------------------------------------------------------------------------

F.A.Q

GUIDE

How To Search For Content Using The Tags


How come I cannot see all the artwork/fanfiction?


Some of it is free and the rest can be viewed with a $2 a month donation.
How come all the uploads can not be free?


Patreon is about supporting content creators, whether it is a $2 or a $50 or more donation. You can see just about everything as a $2 donator but as you can imagine, there are more rewards such as commissions and I'd certainly reward your generosity for supporting me.

Will we see some of that exclusive content on Deviantart?


Perhaps, it depends on the upload. But to see it sooner rather then much later, it's better to make a Donation.
Are you leaving Deviantart?


Hell no! Deviantart was my first home for artistic creation and I would never dare leave all you wonderful people. You will still see uploads here on Deviantart but the Patreon page will offer content for those who either want something a little extra from me or just want to help support me and my art via donating.
What about the blog, The Angelic One's Void?


Undecided. It might end up be more of a Preview of the Patreon Gallery, but uploads on the blog will be less often. Not to worry though, there will be free Adult works on the Patreon Gallery too, as well as Exclusive ones for Donators too.

How come Ash has to walk everywhere, yet Gary gets to ride around the Kanto region in a freakin' car even though he is not old enough to drive (And for that matter, has older fangirls at his age)?


Why indeed? Crazy ol' Pokemon anime...
If you have any further questions, ask away in the comments.
Stamps (Free To Use)