Changes/Additions

Prices and certains options updated and changed 25/06/17
Slots System Added for Art Commissions 03/05/17
Prices Amended for Extras Characters in Sketches 27/06/16
***NEW***Paths to Adventure and Roleplaying Sessions Added 03/05/16
Fic Commissions are CLOSED for the time being 17/02/15
Points Now Accepted. Look for the Widgets on my main page 29/06/14
Standing To Attention pose 29/06/13
New Paper Child Preview 27/02/13
***NEW***Paper Children+Reviews 04/02/13
Rise in Fanfic Prices 20/10/12
Change in Extra Characters Pricing 06/07/12
Logos/Symbol pricing for Ball Bound pics+Stamp Commissions added 15/05/12
Change in pricing for Ball Bound pics 16/03/12
Added a bit about Character Pricing in the Ball Bound pics and Sketches 08/03/12
***NEW*** Ball Bound Pics! + Sequence pics slashed a bit! 02/03/12
Slight increase on drawings, and an anime list with animes I like and am knowledgeable on added 11/12/11
New rates. A raise in fics, but a cut on pics!- 26/09/11
Fanfic Prices risen due to demand- 29/05/11
Neutral Fetishes added 10/05/11
F.A.Q added +Haigure added 05/05/11
More Fetishes added 20/02/11
New Rates + Fetishes Section Added 25/08/10
Added Paypal Stamp, lol. XD 19/06/10
Added descriptions and examples 18/02/10
Added TG/TF Sequences 23/01/10
New rates 30/12/09Current Commission Slots

Current Commissions SlotsArtwork
1. :iconemlc3690: 6 Character Pic
2. :icondekra234: 2 Character Pic
3. :iconfinister: 9 Single Character Pics
(An Indigo Commission will be posted very soon.)
Fanfics
Slots Coming Soon (Once the pile is down to 3 anyway, lol. XD)
Interested in a Commission? Check the Details here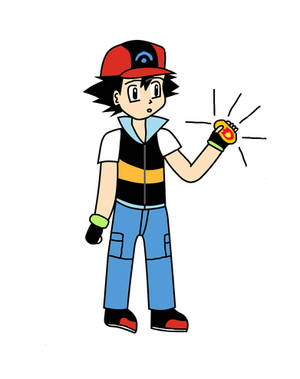 Please note that I will not be extending the Slots beyond 3 for the foreseeable (Artwork maybe but probably not the Fanfics.). If you are interested in a Commission but the slots are full, send me a Note anyway and I can put you on a "Get Back To" list.
If you are on the list, then please be patient for your turn as these will be done in order. In regards to the Fanfics, I am working hard towards getting them all complete and down to 3 so I can also introduce a slots system so they don't ever get out of hand again.
Single Pic Commissions will be worked on in-between larger Commissions (i.e if someone orders 6 pics, I'll do 1 of their pics then
Righto, rates.


Digital Drawing* £5.00/$9.00 Per Character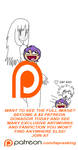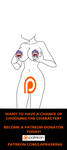 Inked Digital sketch. Price may differ if the commission involves many characters etc.
Inking+Colouring of the above** £5.00/$9.00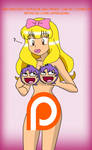 <da:thumb id="640355761"/>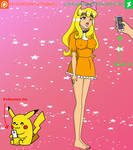 An inking and colouring of your commissioned drawing, or an inked drawing you'd like to see coloured.
TG/TF Sequences £5.00/$9.00 Per Step Inked or £10.00/$18.00 Per Step Inked and Coloured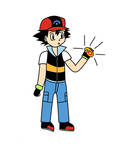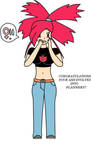 A sequence of a character changing gender, transforming into something, altering body part, or whatever. As a bonus, I can do both a full sequence pic and each part individually posted.

If you'd like, you can pay 1 step at a time if money's an issue.
Paper Child £4.00/$8.50 Per Character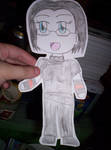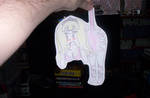 More Previews coming soon.
Paper Children are usually chibis, sometimes normal, anime or videogame characters drawn and coloured on cardboard paper, then cut out to hold and whatnot. Sometimes, you can even be creative and make it look like you're holding their hand or even their skirt. XD
Characters are £4.00/$8.50 each, stuff like objects to go with the characters cost a little extra. I also offer the choice of sending your chibi to you, but you have to pay postage too (£1.50 for anywhere in the UK, £3.50 for everywhere else worldwide.
Large Comics*** £100.00/$200.00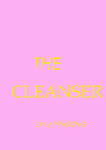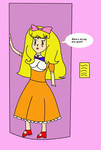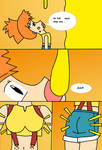 By Large, I mean 10+ pages Under 10 will require discussion via notes. Why so much for 10+? Because the Cleaner took a heck of a lot to do and took a lot of my time!

Fanfics £12.00/$18.00
Please note that Fanfic Commissions are CLOSED. However, you can ask for one if you want and IF I like the idea enough, I might accept it.
Lovers of the Eterna ForestIt was a late Friday evening in the Eterna Forest. A young Pokemon Trainer walked through the seemingly empty forest to meet with a dear friend of hers, one who she has feelings for. She deeply regrets not confessing how she felt towards him the last time they met, maybe now she would finally have the chance to do so as he phoned her to arrange a time and place to meet up. He was currently traveling the Sinnoh region with friends to compete in the Sinnoh League, so Anabel had to travel to Eterna City and cut through the forest to get to the meeting point, the Valley Windworks.
Locals from Eterna City had warned Anabel to be careful as Ghost Pokemon tend to roam the forest at night. Anabel did not know this in advance and had only brought her Espeon with her. Psychic Attacks do not effect Ghost types, so this proved quite troublesome for Anabel. Nothing was going to stop her from seeing "him", so she figured as long as she was quick and did not bother the Ghost Pokemon, she would be alr
A Greta LoveA Greta Love
"Are you alright?" asked Scott.
"Yes, I ll be fine." Replied Anabel "I just need some time to myself."
"Alright then. I gotta get going myself. See you soon."
"Bye Scott."
Scott got into his car and drove off. Anabel meanwhile walked away from the Battle Tower, to the place where she first met "him". It had hardly been five minutes since he had left with his friends, heading to the Battle Pyramid for the last of the Battle Frontier challenge, but Anabel was already missing him. She had wished she had just said something to him, but she was too shy to say anything to him. Soon, she had reached the small river where they made met. Sitting at the spot where they had sat together with his favourite Pokemon on her lap, she watched the sunset as she continued thinking about him. Anabel looked at her hand, remembering the handshake between them before he had left. Holding her hand with her other hand she quietly w
Text story basically. Don't expect tens of thousands of words though, or there'll be an increase.

If I get stuck, you might have to help me think of how to get unstuck. lol. XD If you want multible chapters, its £8/$14 per chapter.

Paths to Adventure £4.00/$7.50
A "Pick Your Own Adventure" story where you can select different choices or pathways for the story to go. You can add to an existing pathway, create an all new pathways that's yet to be created or heck you can create a brand new Paths to Adventure with a different character if you want by commissioning.

Roleplaying Session £25.00/$45.00
I get asked this a lot and I do not get time due to art/writing time and such, so if you want to do a roleplaying session with me over Skype or something you can commish a session to make up for the loss of artist output that evening.
Times and such will be discussed upon booking and may result in rescheduling if something comes up. Sessions may also be adapted into a fanfic if I chose to.
Ball Bound Pics £10.00/$16.00 per character (If you want to add a character with an existing Ball Bound pic, it counts as one)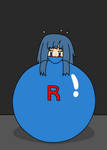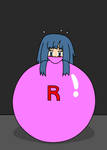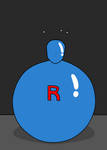 With these, I can simply change the hair to any anime/videogame character you wish. I can also change the background and colour of the ball to whatever you like plus remove the Rocket R.
Stamps £1.00/$2.00 per Stamp



Simple stamp image (Cannot do GIF stamps, sorry). As they do not take long to make, I can have the stamp/stamps done on the same day as payment (Baring no real life issues).
SPECIAL OFFER: Buy 3 Stamp Commissions together, get a 4th stamp absolutely free!
£= Great British Pounds $= US Dollars

For payment options, I only take Paypal atm. I ll provide payment e-mail address if I agree to the commission. If you want to ask me about other payment options PLEASE ASK IN A NOTE.
For Point Commissions, look for the Commission Widgets under my Deviant ID on my main page.
Acceptable Fetishes/Whatever
Transgender, Transformation, Age Regression and Progression, Bondage, Bubble Blowing, Mermaids, Adult Baby (NO SCAT OR PEE), some Furry (Like Krystal, Renamon, etc.), Breast Enlargement, Inflation, Shrinking, GTS, Evil Conversion, Superheroines, mermaids, vampires, robotification, Bimbo TF, Haigure, etc.
Keep in mind, most nude/sexual stuff goes in my Patreon gallery. Can't see your fav fetish? Just ask.

Neutral Fetishes (Ask First)
Furry (My interest is very limited. I like characters turning into furries and a few exceptions, but do not like anthromorphic Pokemon tbh, unless a character turns into one)
OCs (Drawing them is fine, but writing a fanfic about them would be very difficult for me as I not know or relate to the OC as well as an official character.)
Now, rules.
1. Try to keep the drawing within DA's rules if you want it on my DA gallery. If a mature commission, it will go where my mature drawing are submitted.
2. NOTHING EXTREME. I mean gore, violent stuff, bloody, scat, loli sex, etc.
3. I have the right to refuse requests if I find the idea too hard to draw or if I am not comfortable with it.
4. I mostly draw Pokemon, most anime and videogame characters. Try stick with a series I m familiar with. If I've never seen the series or played the game, I won't know the characters and may reject the idea. Sorry.
5. Super Awesome Anabel requests may get a small discount! XD XD XD
6. If I receive many commissions, then the commissions will be closed until I get the current pile out the way.
7. I m a very busy person at times, so you ll have to be patient with me, okay?
F.A.QDo you do requests?
No, unless I offer them as prizes.
Aww, why not?
"Humankind can not gain anything without first giving something in return. To obtain, something of equal value must be lost. That is Alchemy's first law of equivalent exchange..."
...so yeah, in other words, I really don't get anything outta it, and I need to dosh.
Do you accept points?
Yes, but ONLY via the Widgets on my profile.
Can we art trade?
Depends on your skill. Most the time, I'll be asking people to art trade.
Right, I think that is everything. If you are unsure about something or want to commission, send me a note.

Interested? Just send a note.

---------------------------------------------------------------------------------
REQUESTS
Closed, for now.
COMMISSIONSOPEN
laprasking.deviantart.com/jour…
Info on my *Cough*Mature*Cough* Works
laprasking.deviantart.com/jour…
List of animes I like/have seen UPDATED 25/3/08
laprasking.deviantart.com/jour…
List of Mangas I ve read/Own UPDATED 25/3/08
laprasking.deviantart.com/jour…
List of Games I Own UPDATED 25/3/08
laprasking.deviantart.com/jour…
FRIENDS AND COOL PEOPLE









































If I left you out, send a complaint to me and I ll add you.

CLUBS I OWN


CLUBS I M APART OF
laprasking.deviantart.com/jour…