So I figured a long time ago I should do more landscape paintings. Sometimes I even actually do it XD
This time I decided to use a photo reference which doesn't belong to me. There's this guy who is a photographer from Norway, I love his work and find it very inspiring. So it felt like a nice thing to practice and the inspiration I need. Especially since his work features some of my most favourite elements of scenery: winter, mountains, fjords, nights, and of course, Northern Lights. I adore them. Delight them. Now that their significance to me is also spiritual, these words are pale.
Nothing much to the painting itself. TWas fun to draw and I'm happy with how it turned out. I hope you enjoy.
Reference by
Trichardsen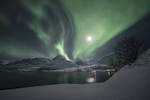 Ps CS6 with a Wacom Intuos4 tablet.
Original size: 2400 x 1600 px. About 5 hours.
Featured:
Dream Lover 13th Feb 2020
#ShowYourHeart
Winter Wonderland Area
Image details
Image size
1200x800px 451.4 KB