1. How long have you been on DeviantArt?
Forever. It will be 14 years in December. Remember when you had to go through 10 pages to submit an image and it was focused on skins and things more than drawings?
Oh, and I've had this same account this entire time. I used to be in the habit of plowing through my gallery and cleaning it up now and again.
2. What does your username mean?
Lantairvlea is the name of one of my Guenitha characters. It means dark blue in their language because Guenitha go for descriptive names and she is predominantly dark blue.
3. Describe yourself in three words.
Horsey, creative, persistent
4. Are you left or right handed?
Right handed for most things
5. What was your first deviation?
My first one is lost in the depths of my hard drive, but this is the oldest one in my gallery:

6. What is your favourite type of art to create?
I love my pastels, but I also enjoy watercolor immensely and have had good fun with brush and ink ... and I guess I could say traditional art in general. I do enjoy the flexibility of digital, but I really like the textures found in real media.
7. If you could instantly master a different art style, what would it be?
It's more fun exploring the process. I think it would get dull too fast if it was instantaneous. The journey not the destination!
8. What was your first favourite?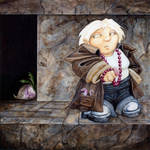 Not sure if it was the first, but it's one of at least! I am a bit of a stingy miser when it comes tobadding things to my favorites unless they are of my characters.
9. What type of art do you tend to favourite the most?
Anything particularly poingant, funny, or beautiful. I also favorite memes I will someday never do and art of my characters.
10. Who is your all-time favourite deviant artist?
There's no way to pick just one people!
11. If you could meet anyone on DeviantArt in person, who would it be?
I think it'd be fun to gather all of my horsey DA buds together and have fun-filled horsey shenanigans at my place.
12. How has a fellow deviant impacted your life?
At nearly 14 years here I think it'd be unfair to mention just one single person, but I have enjoyed the encouragement I have gotten for my continued artistic growth as well as the opportunity to share what I have learned as well. You all are awesome.
13. What are your preferred tools to create art?
Traditionally I enjoy my pastels of various brands, Van Gough travel watercolor set, Staedtler pens, Sumi-E brushes for ink, and I really got to enjoy the texture of the Staedtler Ergosoft colored pencils. I am debating on my relationship with Prismacolor pencils now, but we'll see about that.
Digitally I still love my 14 year-old Intuos II Wacom tablet and Painter X (someday an upgrade, but why fix what isn't broken?). I have gotten into using my phone (Samsung Note 4) with it's stylus, though I don't think I will get into doing any "serious" art with it.
14. What is the most inspirational place for you to create art?
Where I don't have internet access...
15. What is your favourite DeviantArt memory?
April Fools shenanigans are always entertaining, especially people's over-the-top reactions to a temporary thing.