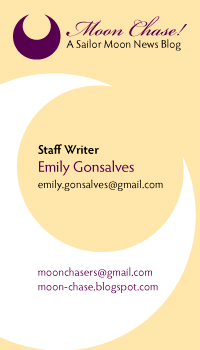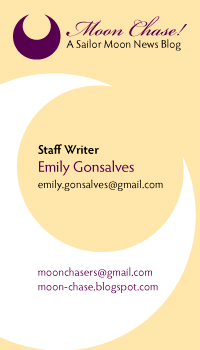 Watch
Business card design for
Moon Chase
. I'm a new writer over there

This one is my card, but if the other staff members want a jpeg like this, of their own card, to share; that's okay as long as I get credited for the design.
Design ©Emily Gonsalves. Not to be used without permission.

Thanks for the link! It looks like a pretty interesting/informative site

Reply

It is! I'm trying to a get a press pass to FanExpo this year so that I can do an official con report. The cards are so that we have something to hand to industry execs and voice actors.
We're also launching a new
Flash Point blog
soon, if you like that show

Reply

Haven't seen Flash Point yet, though I probably should, I heard it's pretty good

I saw the star of the show last year at Fan Expo (didn't get a chance for an autograph but I was like 2 meters away from him

Reply

It is good. It's refreshing to see a modern Canadian crime drama. I love Murdoch Mysteries too, but that's set in the late 1800s.

Who did you see, Enrico Colantoni? I didn't realize he was at Fan Expo last year. I didn't go last year though, the scheduling didn't seem worth it for me. Still undecided about this year. I'd like to see the schedule first!
Reply

O wow, I forgot to reply to this...

I've heard good things about Murdoch Mysteries, though haven't seen it yet...I like Victorian settings though

As for Fan Expo last year, I saw Hugh Dillon (didn't get an autograph but was standing pretty much next to him).
Reply