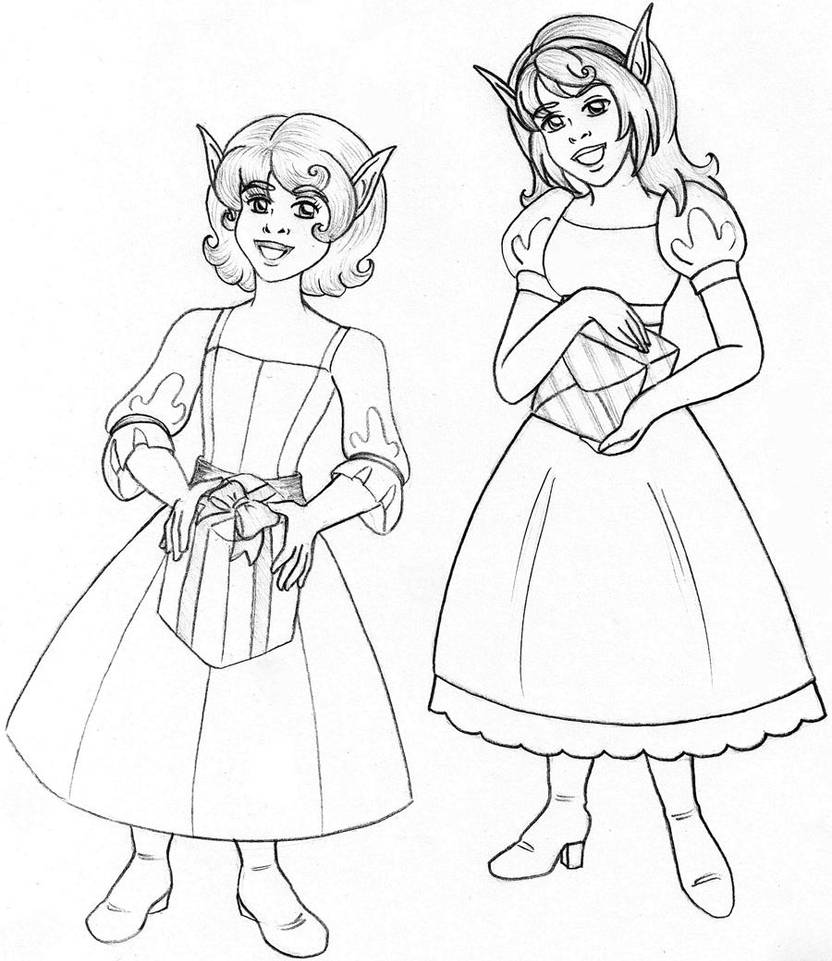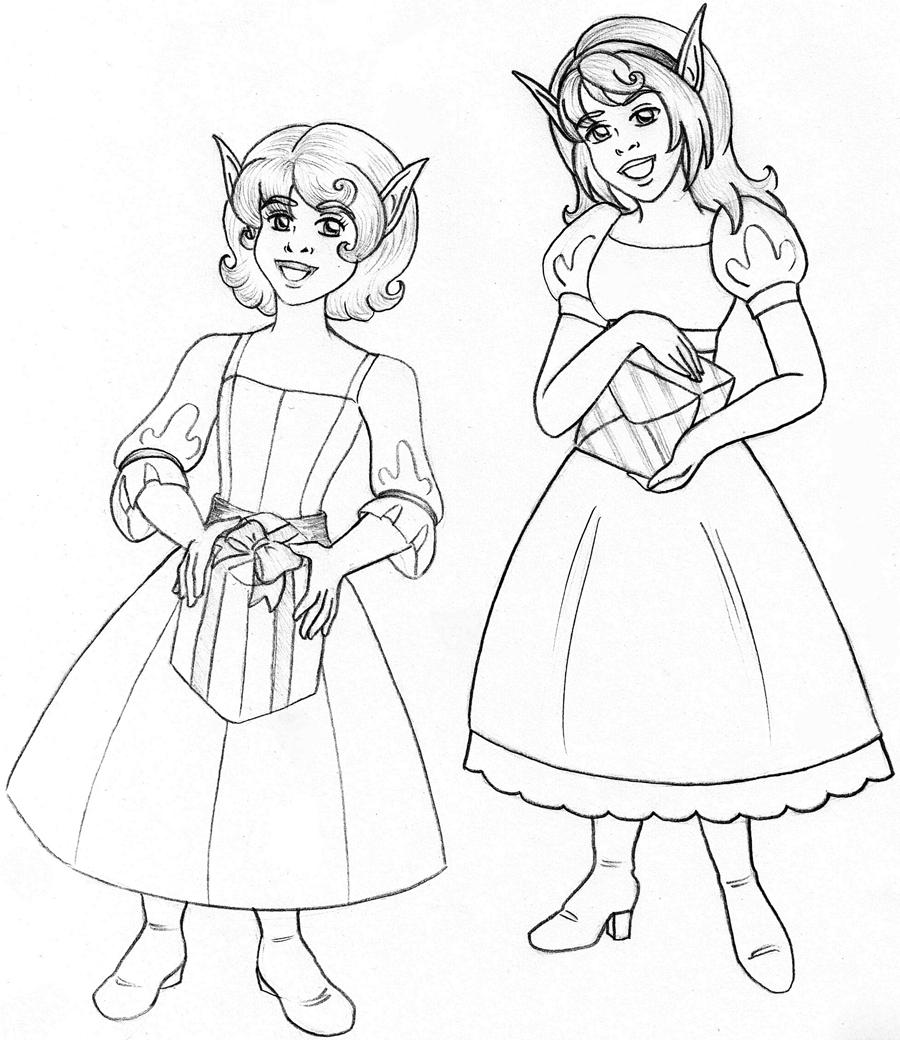 Watch
Pencil of an upcoming
Green Corner
special that I'll also be using for my holiday cards this year.
On the left is a young Aena, on the right her sister Zalanda (she started to mature early). This is back when they were cute and played nicely more than they argued

I was trying for ages nine and eleven, but I always find it more challenging to draw younger subjects.
The drawing isn't to scale, I adjusted their relative heights for the digital and modified the placement of Aena.
© Emily Gonsalves. Not to be used without permission.

Oh, those delicate little curls in their hair! As charming as ever, you're style. I bet you LOVED Alice in Wonderland when you were a little girl. Those sweet smocks and pinafores, lacy edges. Girly girl stuff that is sweet like candy.

Reply

Thanks. Glad you like it

I do like drawing curly hair. It's funny, because I hated my curly hair when I was a child. I like it now, but it took a long time to like it!
I enjoy Alice in Wonderland now, and I think the fancy dresses are something that I've liked drawing more in recent years. I really like fitted waists and poofy skirts.
I don't remember how much I liked Alice in Wonderland when I was little. I do remember being a big fan of Disney's Beauty and the Beast though. There were some lovely dresses in that film

Reply

Beauty and the Beast was pretty dazzling. For fitted waitst and poofy skirts, I like the dresses of the 50s - they made a woman's figure just vavavoom! And I have curly hair too, so I know what you mean about hating it when you're a kid, then liking it later.

Reply

I love the ladies' outfits in Mad Men. It's set in the early 60's, but they have a lot of very flattering dresses

But yes, I like dresses from the 50's too. I tend to combine things from different time periods, so most of my artwork has unique fashion. I like to be influenced by different things, but sometimes I will focus on a specific period. My Alice project is Victorian, so it's a different approach for me, but I like the research.
Reply

God, you don't even know how big a Mad Men fan I am. I

Vincent Kartheiser, hard. And all the others too, but Pete's my fave. Joan Holloway is the definition of lush feminine beauty in my mind. Hardly anyone whatches this show, nice to know you are familiar with it! It's the best, and the style -killer.
Reply

*lol* Pete drives me crazy. He's such a brat sometimes. I like Don Draper, but I think he really took Betty for granted. Yes, she had a cushy lifestyle with him, but can you blame her for getting upset that he's cheating on her constantly and ignoring her? I don't think he's the monogamous type, but I really like him as a Creative Director.
I just loved when he told Conrad Hilton that he doesn't do spec work! I was all "YES! Good for you!"
Joan looks stunning practically all the time. So feminine and classy. I really like that they have some strong female characters in the show

And I'm a graphic designer professionally, so of course I like this type of show. And it's done SO WELL! I love all the little details and the way they incorporate historical events, older companies, etc. I wonder where they'll take it next season

Reply

Yeah, I'm hoping next season is better. As interesting as S3 was, S1&2 were off the scale for me. The ending of this season was wonderful and loaded with potential. Cannot WAIT! Peggy is a powerhouse and I love that both she and Pete made Don do right by them.

this show so hard. It really is literary and visually beautiful. I could go on and on... We'll have something to chat about next season!
Reply

Yes, it was very nice that Don acknowledged why he needs both of them for the new company

I think there are still odd episodes I've missed in season two, I keep looking out for them on TV. But I'm pretty excited about where they're going to take it next season. It's definitely one of my favourite shows!
Reply