HAPPY BIRTHDAY
Nala15
! Sorry girl, I'm spamming you a bit, today.

A quick lil' gift for an awesome lady who's been nothing but friendly, supportive, and kind.

I hope this is your best birthday yet!!
This is her character, Naomi!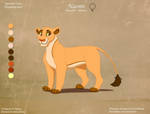 Of course I was a fool and put her in a pose where you can't even see her super cool neck markings.

Regardless, this was so fun to draw, and fun to play around with a cuter style.
I hope you like it!

Thanks for being so awesome!

heart:
Naomi ©


Art
©

Image details
Image size
712x900px 246.69 KB