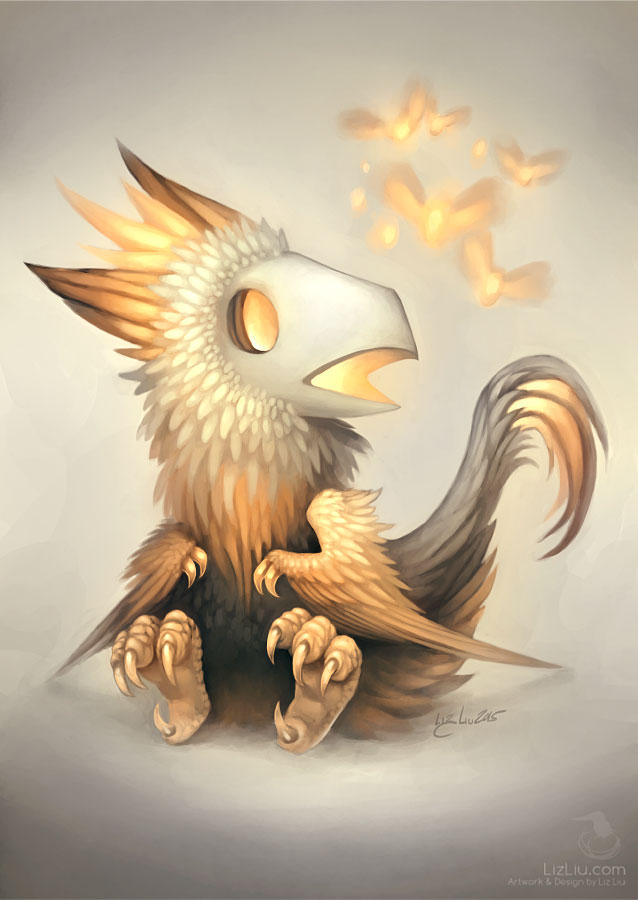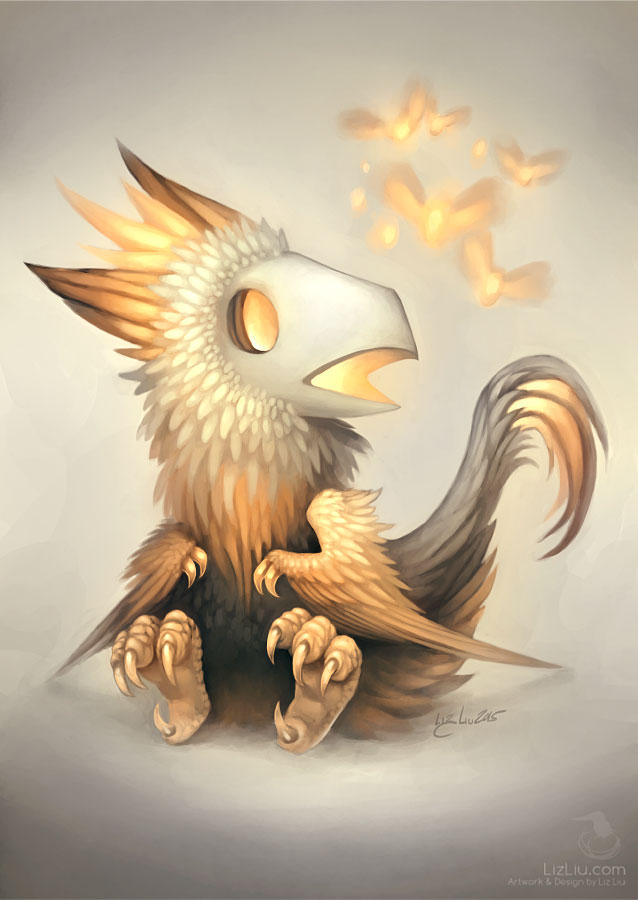 Watch
Painting of an aged specimen of "Lion-Maned Skullbird," which is a luminescent subspecies of skullbird. Various feathers across the skullbird's body emit a golden glow, mainly among the head crest feathers, horns, and tail feathers. The long mane and wings also emit a soft, much duller glow. Despite its luminscence - or perhaps because if it - this species of skullbird loves all things that glow, and is equally drawn to both city lights and lantern flames. Like most skullbirds of diminutive stature, the Lion-Maned Skullbird has been observed to be highly curious and intelligent. This can be seen in this particular specimen, whose many years have not dulled his sense of fascination and wonder of the little things in life.

--
It's been a while since I finished a skullbird! I miss drawing them. I'll have to try and draw them more often! They come in many shapes and sizes, but I imagine this one is similar in size to the Ice Forest Skullbird - a large beach ball or so.

This started as a quick and silly doodle that I later decided to try and finish! Here's the
very messy sketch
And this painting posted on tumblr
here

It's been a while since I saw your gallery and it's still amazing! This Skullbird is beyond adorable. I love how it's head is like a lantern and the feathers are wonderful. I'd love to have one of these if they were real and cuddle it and maybe lose a finger or two. You did a fantastic job on this!

Reply

Thanks for your very kind words! Aw, I think it would snuggle against your finger instead of biting it off. :
)
Reply

It's very cute! I missed them too.
Reply

Yay, the skullbirds are back! I really missed them. |D

This one is really very cute, I love it!! I love how it's glowing from within, making me think if this little guy can also double as a table lamp. XD

Good to see you again, btw. |D
Reply

They missed you too! :
D
Haha, now I'm imagining a bunch of them hovering around a table at dusk during a barbecue - floating around like mosquitoes, only you'd enjoy their presence!
Thanks, you too! I need to check/update DA more often.
Reply

Heehee! Would it kill me if I want a hundred of those? *brick'd*
...That scene is just so very, very cute! Though that'll mean they'll now double as party decor. Ehehe... |D
Yeah, same here. |D

Reply

I'm having fun imagining that scene now, haha. It would make a nice screensaver to have them all floating around on a loop!
I miss your artwork.

Reply

Yes! That would be absolutely cute! Them flying around, the internal glow from within their bodies trailing behind them as they float around...The visual effect must be mesmerizing.

Aww, I miss yours too. |D
Reply

I love this little guy! Your skullbirds are awesome, now I gotta think about mine some more too!
Reply

Thanks Teavian! Happy you like this one. I love yours as well, can't wait to see more from you. :
)
Reply

The skullbirds are back

It's so cute!
I've been waiting for you to bring the skullbirds back!
Reply