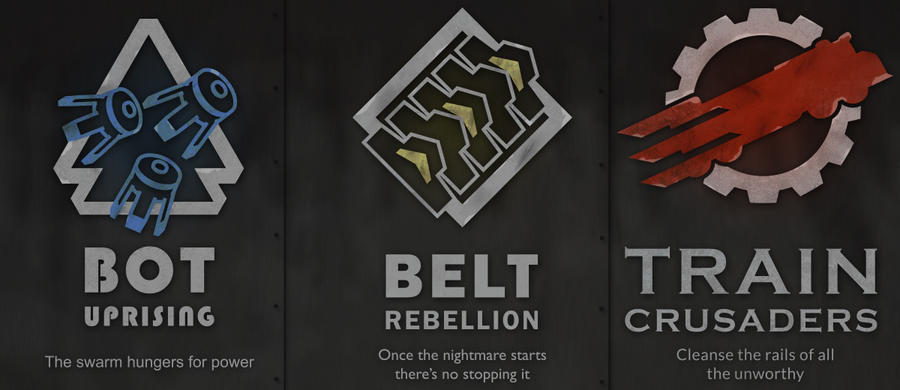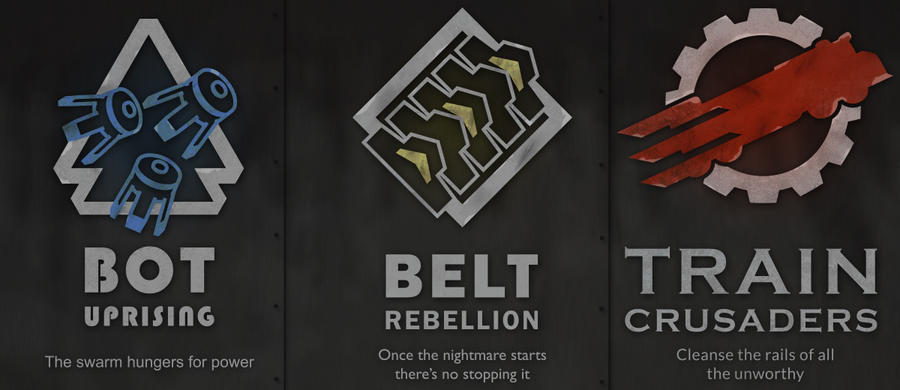 Watch
Constructing factories is no simple task. 3 distinct factions fight for dominance over best optimized factory. The equipment you use defines you, shapes your style, and gives you your own identity. Which faction do you side with?
Wallpaper Downloads are here - included are the trio of factions, versions with just one faction, and some choice as to what text (if any) you want.
1366x768, 1920x1080, 2560x1440, and 1080x1920 for phones
5760x1080 and 3440x1440 wide wallpapers
1920x1600 wallpapers
1080x1920 Phone size only
The Bot Uprising - The Bot Swarm obeys the "Network" to a fault. Their power plants are impressive, organization impeccable, and their factories are massive and quick. The swarm will consume all for ultimate power.
Notable Machines: 'Power Plant Alpha', Roboport 42, Bot C4692, and Bot D5586
The Belt Rebellion - Chaos. Beautiful chaos. They may be slow to get going, and their factories may not be the biggest or fastest, but once they start to act they are a nightmare to get rid of.
Notable divisions: 'Pasta Platoon', 'Spaghetti Squadron', 'Chaos Crew', and the 'Anti-Bot Brigade'
The Train Crusaders - They seem friendly and helpful, but make no mistake, they will slaughter anything and everything that interferes with their crusade for the "Perfect Railway".
Noble Vehicles: 'Lightning Locomotive', 'Flatline Freighter', and the twins 'Out-of-Sight' and 'Out-of-Mind'
About the design:
There were many renditions of all these designs while I tried to find the style that fit Factorio best. I eventually returned to the classic C&C Tiberian Sun, which shares a similar atmosphere to Factorio, and the GDI and NOD logos helped form the concepts I used. Each faction has it's own shape and piece of equipment featured prominently; the colours resemble the default ones in-game. To make each faction interesting and unique, I added some flavour text to give insight as to what the motives of each one are.
Want more Factorio designs?

Reply

Reply

I love this little snippet and the posters and icons for each faction are very, very cool. Being a huge fan of Factorio, I have spent hundreds of hours playing around with all of its technology and trying to discover what works best. I personally find a mixture works best, though I'll admit most of my operations focus on belts and bots because I settle my bases in places that have tons of trees, so trains don't get involved until the late tech part of the game.

I also play around with writing fanfics, of which my initial idea focused around a single character (either a human or an android) that crashed on a 'default' planet and now had to escape to space and return home. This became boring quickly with just one character, so later versions expanded this to be a small group, working purely with humans at this point, but getting home was always the end goal. However, I never really had any details about the universe at large, but this gives me ideas both for that and to bring androids and more robotic entities into the story:

. The universe is in a state of industrialization. Planets across the galaxy rich in resources are targeted for processing and production while others with no sentient life forms are militarily cleared for colonization. All aspects of these efforts, as well as everything in between, is handled by Factorio; the galaxy's largest corporate organization, harnessing and exploiting the valuables of the universe for the benefit of sentient life.

. Unfortunately, this massive endeavor has encountered an unexpected brand of competition and, more surprisingly, resistance. The Automata, a self-designated 'race' of robots, androids, and machine, created with artificial intelligence to handle and accelerate the efficiency of these efforts, both compete against each other within Factorio's employ, each proclaiming themselves superior to the other, and rebelling against Factorio and the organics, denying themselves as 'merely machines built to serve' but deserving of their own place in the universe; some arguing they are even more deserving than the organics as it is their efforts which harvest the resources, produce the technology, and clear and colonize the planets the organics reside upon.

. Caught in the middle of one of these conflicts, one of the Factorio company's Prospector-class starship, The Lady Fortuna, has gone missing while on a mission to evaluate several systems and planets beyond the territories of colonized space to determine their value in the growing boarder expansion efforts. It's surviving crew, a mixture of Humans and 'Automata', have crash landed on one of the planets they were sent to evaluate and must now return to space and make contact with Factorio in order to return home. However, they must first develop the technology to do so and survive against the native creatures of this new world, all while being wary of those who attacked them returning to finish the job or, potentially, A.I. rebellion. Will the survivors be able to work together and return home? Or will they fall victim to the threats and enemies around them? Or will they be too busy fighting each other? Can they overcome the differences in their beliefs? Or will their own internal struggles be their ultimate undoing?

I can see the cliches in this plot, but I can also see it becoming a really interesting story if I can figure out how to handle the characters properly. Add in references to Fallout, Starship Troopers, maybe even some Dead Space, and it'd be pretty fun to write as well.

I think I'm going to be busy with a new alpha for the next week or so.
Reply

Seeing as how I cannot do anything other than spaghetti I probably fit in with the Belt Rebellion.
Reply

Reply

Could you update this? Someone suggested a great addition:
Combinators: You can't stop the signal!
Reply

I've got a second series (Liquid, Electricity, Inserters) in the works. Maybe I can do combinators in a third series, we shall see.
Reply

BELTS, BELTS EVERYWHERE, 2FPS! At least i got plenty of iron plates now, right?
Reply

It's all about quantity, eh?
Reply

Hell yeah!
I really like this plus the description.
Reply