1. How long have you been on DeviantArt?

I've been on for a lovely 3 years now!

2. What does your username mean?

Well, Lallie was a nickname I got 10 years ago in school by some friends, the nickname kinda stuck. After a while they add 'bear' to the end of Lallie to make Lalliebear. Apparently it was because I gave big bear hugs? I dunno XD


3. Describe yourself in three words.

Friendly. Compassionate. Fun


4. Are you left or right handed?

I am right handed! Although ambidextrous at certain things - writing is definitely not one of them

5. What was your first deviation?

Oh jeez, I hate looking back at my old art, I cringe every time. Ah well, here ya go


6. What is your favourite type of art to create?

Well I love digital art now, even before I got my first digital tablet, I was intrigued by Digital Art, and once I got my tablet (which was a bamboo tablet from wacom) I never looked back at traditional. Although I still do traditional sometimes


7. If you could instantly master a different art style, what would it be?

Currently I work with semi-realism and I'm fine with it, however if I could master traditional
Photo-realism, like omigosh I would die


8. What was your first favourite?

I loved the Mortal Instrument Series at the time so here we are! My first favourite!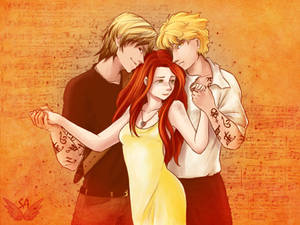 9. What type of art do you tend to favourite the most?

Digital artworks; however I have a tendency to fav digital landscape works the most. I admire artists who can do those sorts of works


10. Who is your all-time favourite deviant artist?

Do I have to answer this? I don't have one favourite, I have many, but some of the artists I adore are - Kibbitzer DestinyBlue sakimichan Ravietta moni158 DocWendigo KiyuMiyu


11. If you could meet anyone on DeviantArt in person, who would it be?

Oh man, probably Kibbitzer He's an amazing artist with an awesome personality to boot and I'd commission a thousand and one works from him if I had the money to do so ;-;


12. How has a fellow deviant impacted your life?

Well a lot of deviants have impacted my life, I can't really name any at the moment, but one thing I've learnt is to never give up


13. What are your preferred tools to create art?

My IntuosPro 5 medium tablet is amazing and I use it all the time, as well as Paint Tool SAI. Would be lovely if I had a Cintiq, but monies ;-;


14. What is the most inspirational place for you to create art?

If you're asking where I draw? then my bedroom XD it's warm, cosy and I can blare music as loud as I want. However there are times when I'll sit outside with a sketchbook and draw the landscape
15. What is your favourite DeviantArt memory?

I have too many to count, in general it's all the amazing people I've met through this site. I look forward to creating many more happy memories with everyone

#
DeviantArtistQuestionnaire